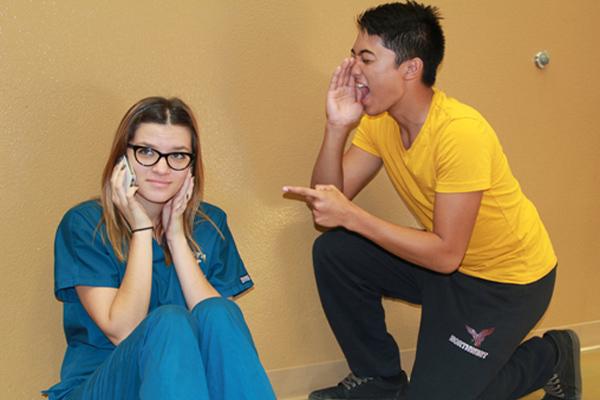 Communication between two or more people is supposed to be used to gain or extend information and knowledge about a certain subject. It is like a dance: it requires the work of two people in order for the connection to work properly.
For example, much like the students at school, communication plays a major factor in our lives. Whether it be for a project, or a homework problem, communication is needed in order to receive help. Thankfully, there are social media networks, phones, and even person-to-person interaction in order to obtain the information quickly and efficiently.
However, when communication is non-existent, some begin to blame others for it due to their frustration and confusion. Sure, miscommunication does happen, and yes, miscommunication can have a negative impact on different situations, but blaming others should be the last solution to resort to on a person's mind.
As a matter of fact, think about all of the talking we must do on a daily basis. Something as simple as a "good morning" is communication, and so is talking out a math formula, such as "the negative number is not presenting to be a function due to (insert mathematical term here)."
Communication does not always have to involve complex subjects. For instance, when communicating, one does not necessarily need to be on the phone, or speaking to their boss about stocks. Even argument is a form of communication.
[vision_pullquote style="1″ align=""] Failing to teach proper communication skills stops the whole process of giving information, not only affecting you, but also the recipient. [/vision_pullquote]
The striking part about "communication" is that it is literally defined as "the means of sending or receiving information." Failing to teach proper communication skills stops the whole process of giving information, not only affecting you, but also the recipient. Think of a world without communication. How would we know what medications to prescribe to the ill? How would we know how our lover is feeling? How would we tell people we are in pain?
A perfect example of this would be the Journalism II class. Communication is the most important aspect. How do we know when a story is turned in? We communicate. How do we know when a yearbook spread is due? We communicate. And how do we know who will be taking picture on a specific date? Yep, you guessed it, we communicate. Admittedly, acts of miscommunication have been displayed, making tempers flare and confusion frequent.
Our acts of miscommunication are not the only ones displayed in everyday lives; miscommunication can be found in every personal conversation and relation. For example, we can go from an error as small as a missed text message, to a huge problem such as a yearbook spread being completely forgotten. Miscommunications like these can turn from such as small mistake to a huge one instantly.
For these reasons alone, we strongly advise everyone to work on their communication skills. If you are someone who lacks in this field, work harder to become better. And if you are someone who excels with communication, help those who have a hard time with communicating.
Now, imagine a school full of communication. PBL's would be easier, class projects would be a synch, and for the most beneficial aspect, everyone would be able to get along. So talk to your classmates, friends, and teachers so that you and everyone else can improve. This will not only make your life easier, but it will also benefit those you are communicating with.