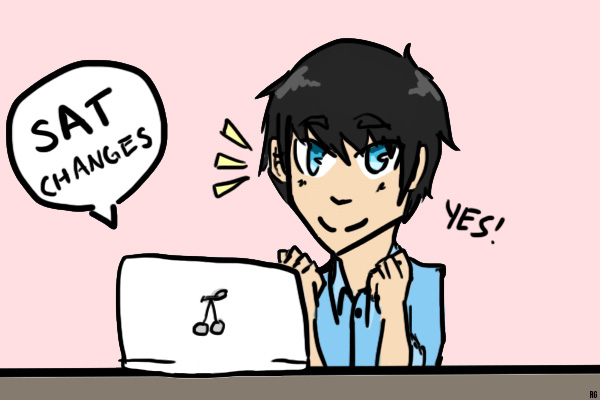 Throughout high school, we are reminded by teachers, counselors, and students how challenging and important the SAT test is to our future, and how we should prepare by reading heavy test preparation books and attending SAT preparation classes. A great deal of time and money is dedicated to attempting to earn a high score on this test. Many say the exam is strategically designed to examine how well students are able to take the SAT test as opposed to what they are actually taught in school – until now.
The College Board announced earlier this month that as of Spring 2016, the SAT test will be redesigned, applying eight major changes to the test. The redesigned test will focus more on the curriculum taught in the classroom, as opposed to the random content of the current test.
"Standardized tests have become far too disconnected from the work of our high schools. They're too stressful for students, too filled with mystery and 'tricks' to raise scores and aren't necessarily creating more college-ready students," College Board President and CEO David Coleman said.
These changes include:
more relevant words in context

command of evidence, in which students will be asked to interpret and use evidence in reading/writing sections

essay analyzing a source

math focused on three key areas

problems grounded in real world contexts

analysis in science and social studies

founding documents and great global conversation

no penalties for wrong answers, meaning that students will only receive points for questions they have answered correctly, and will not have any points taken off for incorrect answers
(see link for more information on each of these changes).
In addition to these changes to the test's content, the scoring will return to a 1600 point scale as opposed to the 2400 point scale system authorized in 2005. This is the result of the essay portion of the test now becoming optional; if one chooses to take it, the essay score will be reported separately.
We believe that these changes for the redesigned SAT test will most likely prove to be positive, and were needed for creating a better exam. Coleman said, "The need to create more opportunities for students, rather than obstructing them with test questions that felt detached from their educations and the preparation colleges needed," and we couldn't agree more.
For the past several years, it has seemed as though the content of the SAT test was deliberately made irrelevant to high school curriculums so that College Board would make a larger profit from test preparation classes and resources.
"Admissions officers and counselors have said they find the data from admissions exams useful, but are concerned that these exams have become disconnected from the work of high school classrooms and surrounded by costly test preparation," Coleman said.
These new changes seem to diminish that case, making the test more classroom connected than ever. Likewise, starting in Spring 2015, College Board and Khan Academy have teamed up to provide free test preparation materials, making test preparation resources much more attainable.
Ultimately, these adjustments to the test only seem to be in the best interest of the students taking it, and we commend College Board for recognizing the current test's deficiencies and applying needed modifications.