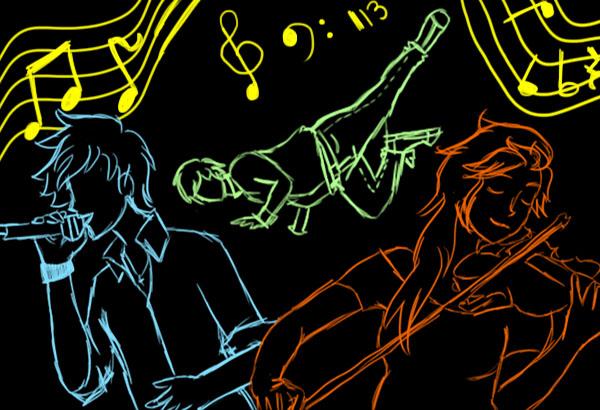 According to a 2008 Gallup poll, 85 percent of Americans believe that music is a priority in their lives, but classes teaching this material are not offered in some career and technical academies. Whether it is the simple elective of choir or career preparation in music production, the option is not available, and is preventing the maestros from expressing themselves in a way that is valued by over half of the citizens in our country.
We feel that performing arts should be implemented at our school, as electives and possibly even new program areas.
Dance, orchestra, band and choir; whatever the discipline, these are all performing arts classes that we should have access to.
In our school, the only getaway for these artists is currently Talent Club, which also hosts the annual Talent Show. While the club is an open and welcoming environment, it is only a mere way to prove your skills and impress your friends. What we want is another realm: a symphony conductor, a professional dancer, or a record producer who can teach us about this form of art that we share.
[vision_pullquote style="1″ align=""] In order to appeal to those who want to participate in the performing arts, we should install elective choices for music, dance and theatre. [/vision_pullquote]
A foreseen issue with the addition of dance, music and theatre classes is the forceful tug on the school's bank account. With music comes accessories, much like a girl and her vanity. Applying a shade of melodies to the silk, fleshy canvas of music would require instruments, sheet music, a music stand and more. Supplying several classes of 20-30 students with these essential accessories would cost a hefty sum.
Some may wonder if the probable, bulging price tag would be worth the benefits it could reap. According to the College Entrance Exam Board, drama students scored 55 points higher on verbal and 26 points higher on math on the SAT than those uninvolved in the arts. Introducing these new classes will also give those in the Professional Academy another way to earn their required Fine Arts credit, since their only options are the art and graphic design pathways. On the other hand, the design academy's opportunity to earn their fine arts credit is already implemented into their program areas. Dance would be an option for those who are unable to withstand the rigor of Physical Education, but can still accumulate that credit.
On the other side of the spectrum, and the city, lie students who are surrounded by the arts. The performers at Las Vegas Academy constantly submerge themselves in their specialties, while continuously dealing with their core classes of math, science, English and history.
"Many people in our society believe that school is simply a cycle of continuous grades and tests within the whirl of core classes. This [artistic release] can then benefit the student not only as a possible stress relief but can catapult society into a world of appreciation for art," sophomore Las Vegas Academy student Melanie Rodriguez said.
In order to appeal to those who want to participate in the performing arts, we should install elective choices for music, dance and theatre. In addition, alterations could be made to the way that Talent Club operates. Instead of an atmosphere to perform and demonstrate your skills, we could have sessions where the students learn from a specialist.
While we are not yearning for our school to initiate the conversion from a Tech school to a Fine Arts school, a little entry point into the jist of music and movement would satisfy those with that special taste.