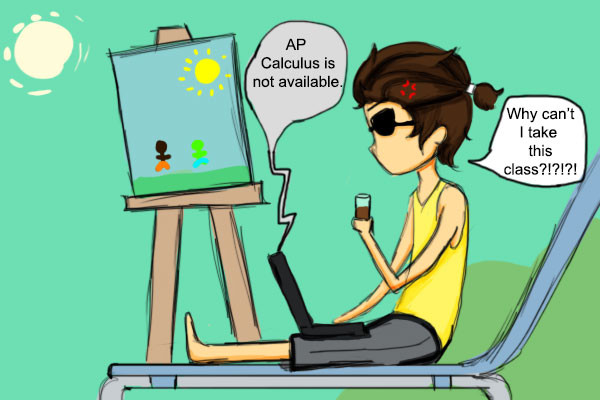 Once again, it's that time of the year: class registration for the new school year. Registering for future classes is often a nerve-racking time, with the many decisions to be made in regards to one's academic future lying ahead. Just the thought of the possible workload that may be ahead while juggling eight classes, (some of which could be honors and Advanced Placement) can be unsettling. When program area classes, internships, extracurriculars, and large-scale projects such as capstones are thrown into the mix, for most, the overwhelming amount of school work can simply be too much to handle.
VHS, or Virtual High School, is a program that offers courses online for students that either failed a course, want to take a course to replace a low grade or to get ahead. It can be taken during the summer, or during the school year, depending on when students sign up and what courses are available at that time. Another course enrichment program, AIS, or Academy for Individualized Study, offers a similar opportunity, in which student complete a course in 60 days and take an exam to receive their credit.
Currently, VHS offers 12 online courses (see full list here) which consist only of core classes, and other classes required for graduation, including Personal Wellness and Health. However, no elective courses such as foreign language, art, etc. are included in the VHS curriculum during the summer.
If CCSD virtual high school and AIS had more extensive options in regards to taking courses online during the summer, many students would be likely to consider earning certain credits in advance.
We believe students should be provided with a wider variety of courses to partake in, not limited to what they can take during a certain part of the year.
There are several benefits a student may experience if they were given the opportunity to take one of these courses over the summer through Virtual High School. Firstly, extra space typically occupied by a core class or elective, such as a foreign language, would lessen the intensity of the student's workload and relieve stress. This could allow the student to sleep more due to the minimized hours spent doing homework, resulting in them being more alert during class. Not only will they be able to apply more focus during school, but through a more individualized study program during summer, they will have learned the subject matter of their class more thoroughly without struggling with an intense workload during the school year.
If the classes and activities they may partake in become too much to juggle all at once, having one less class to worry about could save them from a sliding GPA, or from not working to their best potential in each class. Furthermore, students looking to apply to out-of-state colleges that recommend several foreign language and art credits in order to be considered for acceptance to their schools may be deprived of the opportunity to obtain such credits, due to the several required program area classes.
Also, if a student would like to earn a specific elective credit to receive a certain diploma type, such as Honors or Advanced Honors, but wants to take a different elective that they enjoy more, such as Broadcast Journalism, Leadership, Psychology, etc., they should be able to fulfill the required credit over the summer so that they do not have to compromise taking a course they are interested in.
We believe students should be provided with a wider variety of courses to partake in, not limited to what they can take during a certain part of the year. If more course options were offered to students during the summer through VHS, not only would it be more convenient, but make class registration a lot less stressful for students when choosing classes for the next school year.
VHS should hire a teacher(s) who can teach foreign language and/or art classes strictly over the summer. We understand that the pay for teachers and/or administrators may not be affordable, however, if the classes have high enrollment, it would cover the cost of their salary. Classes should be based on enrollment, meaning if there is low enrollment, the class would be cancelled, and vice versa. Additionally, sign-ups can occur at the same time (after spring break) for both core classes and art/foreign language courses.
By adding more availability to some core classes, and including elective courses such as foreign language and art classes in the curriculum over the summer, VHS could help students as they try to earn more time to study for core classes during the year.