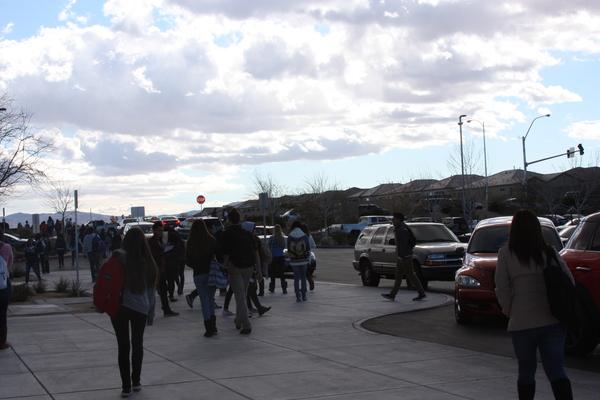 More lines are forming. Horns are blaring. Students are rushing across the street in order to arrive to school on time. Over the years, the term "traffic" at Southwest Career and Technical Academy has taken on a whole new meaning; catastrophe better suits it.
Each morning, students and their parents have difficulty driving into the parking lot and leaving it before 7 a.m. and after 1:25 p.m. Shelbourne Avenue is packed with cars filled with students and parents, who apparently think it is acceptable to create their own "rules of the road."
In the morning, the primary source of this traffic is from students who arrive to school late. Tardies are strictly being enforced this year, and to avoid detention, students are rushing both on foot and by car to enter the parking lot during this heavy traffic.
Additionally, parents pull over on Shelbourne and drop off their kids on the side of this road, simply letting their kids cross the street through all of the traffic. Considering there is no walkway, students are putting themselves in danger by not, "Looking both ways before they cross the street." Learned during childhood, this rule is pushed aside at the thought of being tardy and receiving a detention slip.
In the afternoons, students also use shortcuts and cut through lines irresponsibly in their cars, rather than going around the parking lot and waiting their turn. Three lines have formed at the intersection, with cars coming in and out. This is hazardous. This is irresponsible. This is ridiculous.
Part of the reason why there's traffic is because there is only one entrance/exit, while most schools have at least two entrances for vehicles. On the other hand, students and parents do not follow the "right of way" rules; individuals cut in front of the line, even if that means driving through the dirt and forcibly cutting through. They do not have the patience to wait their turn, especially when they are running late.
Therefore, students need to arrive earlier to school. Making an excuse is not acceptable for high school anymore, considering they are transitioning to adulthood. Arriving earlier would allow students to beat the traffic and enter the school with ease, since there is minimal traffic between 6 a.m. and 6:40 a.m.
It's one thing to complain about the traffic, and another to do something about it. The school is currently working with Las Vegas Metro Police and CCSD School Police on a solution to fix the ongoing traffic issues. But, the current system should be reemphasized immediately, and more parents and students need to read and follow it.