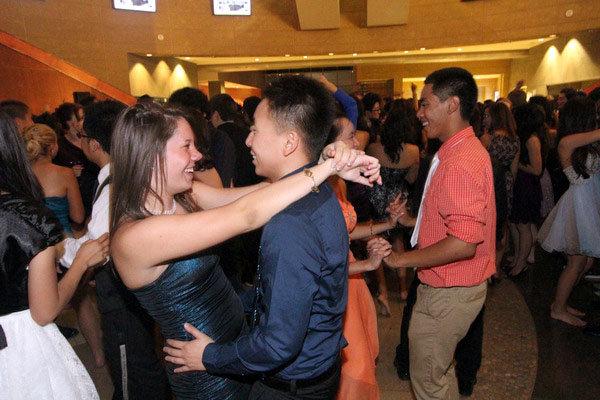 When spring rolls around the corner, there's more to this beautiful season than just the blossoming of plants and the sun shining. It's finally prom season! This is the time when students wear their "suit and ties," or wear pretty and relatively expensive dresses.
As the final event of the year, prom is for students to create new memories as they spend time with their friends/dates. It's their last dance of high school, and for some, it is the last high school memory with friends they will not see for a long time or ever again. This is supposed to be the dance of a lifetime, and many older people will reminisce about this event as years pass by.
Girls go to the end of the world to find their "perfect" prom dresses and matching shoes. Some may look for the cheapest option, whereas others purchase their clothing without even looking at the price tag. They get their hair, makeup, and nails done in order to look stunning for the night of the event. On the other hand, the boys buy or rent their suits, ties, shoes, and maybe even a corsage for their date. Their clothes are relatively simple, but can be costly as well.
From their clothes to their dinners, students spend quite a lot of money to have a remarkable time during their prom. In fact, some students go to dinner and take pictures before the event in places with beautiful scenery like The Lakes or Rhodes Ranch, and can visit The Las Vegas Strip right after. They spend all of this money….
…but when the event finally arrives, students walk into the door looking glamorous, and find their friends so that they can take a few pictures to commemorate the memory. The DJ plays some music, and students may take time to dance with their date for one song. Then, within a few minutes, they exit the door, with the intention of not returning.
However, spending time on The Strip with a couple of friends is not equivalent to spending time with most of your class for the LAST time. In fact, the dance is the MOST important part of the evening. This is the day where everyone is brought together, from both the Professional Academy and Design Academy; this is the day where you will see friends you have not been in classes with since freshman year. Why miss such a memorable event? Sure, it is Vegas, but students can walk The Strip any time they'd like and on any weekend; there is not anything special about going during prom, especially in heels.
Think about it: prom is unique in that there's a dance with a decorated location and exquisite food. Not to mention, many students have worked so hard all year, and prom is the one day where they can finally be rewarded for all of their diligence. This event, only held once a year, encourages students to be more school spirited as the day of the event gradually comes through a spirit week. And, because it is exclusive to upperclassmen, it brings even more enjoyment to those that attend.
Don't spend $50 to $70 on a prom ticket if you have no intention of attending. Going to the Strip and playing the role of a tourist for the day can be a remarkable time with friends. But, to truly enjoy the last high school experience, go to the actual dance and have a memorable time with your class. If you do not, then don't call it "prom," just call it another Saturday.