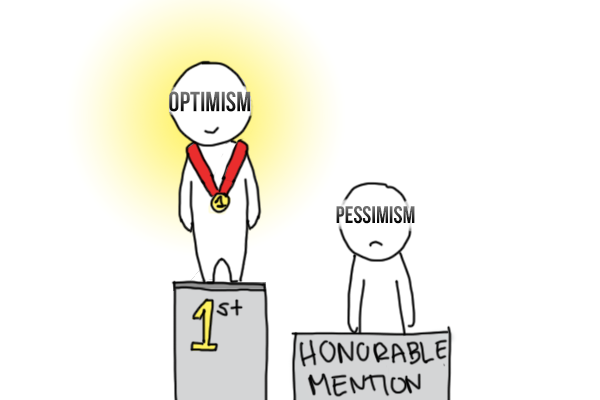 "Believe and you can achieve," the saying goes. But can one really achieve a goal just by thinking they can? Optimism itself isn't always as successful on its own, and believe it or not, goals do require work to reach. Between the delusional belief that thinking positive will help one achieve what they want and the dull view of reality lies a happy middle: realistic optimism.
Optimism is the hopefulness of what will happen in the future; it is looking at the bright side of every situation. Realism, on the other hand, is accepting a situation for what it is and knowing how to deal with it accordingly. Though they are beneficial on their own, both views have a downside: optimism doesn't really promote working for what you want, and realism doesn't show any hint of positivity in a situation.
We believe that realistic optimism is the most beneficial way of thinking. It retains a sense of reality, yet it still sees positivity in situations, as stated by Huffington Post. This way of thinking tends to be especially beneficial in school-related instances. For example, a student with a realistic and optimistic view balances their workload correctly to complete assignments on time. They know that there's work to do, and they finish it successfully by the deadline.
Although others may think that being a realistic optimist isn't ideal and that the two personality types should be kept apart due to their differences, it is found that put together they're better.  "Realistic optimists… believe that they will succeed, but they also believe they have to make success happen, through things like effort, careful planning, persistence and choosing the right strategies," Ph.D. Heidi Grant Halvorson said. Not only does realistic optimism keep one positive, but it teaches one to work for what they want.
An example of where realistic optimism can be used would be in group projects. If one wants to receive a good grade for the end product, optimism is not enough. One must recognize that there is still a chance of failure and that in order to receive the grade they want, they must do their part and work for it. If the team all has a realistic outlook on the project, it will be finished more accurately. As stated by the Dailymail, realistic optimism is more successful, as those who practice it tend to work much harder than others.
It is true that having an optimistic view on situations may be beneficial, but it eventually gets to the point where it's unrealistic. We believe successfully completing tasks requires full understanding of the situation and knowing where to go from there. Realistic optimism is about keeping a sense of reality with tasks that need it. Can optimism alone get work done? Not really. After all, good things don't come to those who want them; they come to those who work for them.