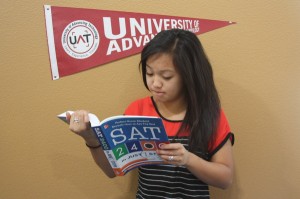 SATs are more than just a test. They are THE test that determines the quality of the college you gain acceptance to (besides the ACT). Though it's true that colleges look for more than just your test scores, it doesn't feel like that for most students, who feel they need the perfect grades, test scores, and extracurricular activities to gain entrance to colleges for a high quality education.
During the school year, SATs are held almost once every month and test students on reading, writing, and math. Every right question guarantees a full point, whereas 1/4th is taken away for each wrong question. The highest score possible is 2400.
The SATs cause stress primarily for students who actually want bright futures. Some students could care less about the college they attend as long as they're earning a college education. Therefore, they perform poorly on the SATs because the college they would like to enter has low standards or may not require this test. On the other hand, those who are scouting ivy league level colleges with rewarding programs, like studying abroad and honors, want to do better than average in order to become a better candidate for admittance.
To do well on this test, students must study. Even though there are many books to aid studying for the SATs, some students cannot learn as efficiently by themselves as they can with tutors. The problem is, tutoring programs, like 2400 Expert, cost over $500 and can cost up to $1100 per course. Some can afford these programs, but others cannot, and therefore their scores suffer due to financial issues, unless they find free tutoring classes or scholarships.

Loading ...
According to colleges, SAT scores measure a student's range of knowledge. Even if it might not be true, we feel that circumstances like simply being a poor test taker or having an off day does not mean much to the admissions board. To students, having high scores shows you have the potential to be beneficial to their institution and it proves yourself to them; you feel like you're more likely to be admitted, especially since many colleges look at a student academically first. There may be some truth in the saying "There's always someone better," but as students in a magnet school that pushes us, we try to be that "better person."
In short, better SAT scores leads to admittance to better post-secondary institutions. Better post-secondary institutions leads to better careers. Better careers leads to a whole lot of money and happiness. SAT scores may seem irrelevant to some students now, but it can definitely affect whether they make it or break it in the future.