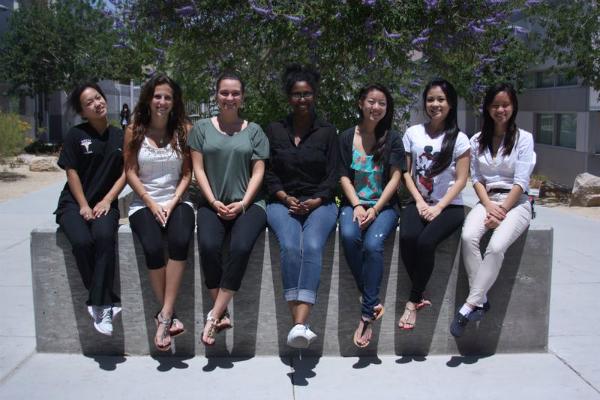 Bserat Ghebremicael, Editor-in-Chief: Throughout my three years in journalism, I've had my share of ups and downs. There were moments where I wanted to jump for joy because I was ecstatic about what our members have achieved, and there were plenty of moments where I was overwhelmed, stressed, and about to lose my mind. But, through these moments, I can honestly say that I've become a more disciplined and focused individual.
Journalism is more than writing stories for the newspaper. As my adviser calls it, journalism is a "student-run organization" and it has also developed the leadership and communication skills within each senior. Although sometimes I've completely lost it, the good times have outweighed those moments. Bonding with my staff in Seattle, WA during the National Scholastic Press Association conference and winning many national awards was honestly one of the best experiences I have ever had. Not to mention, I made it my goal to become a NSPA Pacemaker winner by the end of my term as editor-in-chief. This year, we became a Pacemaker finalist, and that was adequate for me. Being with my senior girls this year has been an incredible journey, and I'll miss them, but I surely know that they will accomplish amazing things in the future. Until our paths meet again, I plan on attending Georgetown University in Washington D.C.–the city of politics and action.
I'm incredibly grateful for my journalism adviser and everything he has done for me. Because of his constant academic push to do better, he's certainly one of the reasons why I have developed into a confident leader and that's something that will stick with me for the rest of time. Thank you, Mr. LaPorte for all of the opportunities you have introduced me to, for being a compassionate adviser, and just everything….I mean it. Goodbye SWCTA; I'll always cherish the memories and long-lasting relationships I have created here.
Jordan Sutton, Newspaper Managing Editor: After moving to Las Vegas my sophomore year of high school, I was that quiet new girl that had a few friends here and there, but it was in my journalism class that I met the girls that changed my high school career. These have made a huge impact on me as a friend, a student, a journalist, and as a person. We laughed, we bickered, we cried, we complained about all the work the class entails. And now that I am saying my final goodbye, it breaks my heart knowing that I don't get to see them every other day during 7th period.
Without this class, I truly would not be the writer that I have become and would not be pursuing a degree in Journalism and Communications at the University of Las Vegas, Nevada. I have learned the true meaning of what it means to make a deadline as well as the repercussions of not making a deadline. I just want to thank every one of you for this wonderful journalism experience, especially my adviser, Mr. LaPorte. UNLV better be prepared for the Assistant Editor-in-Chief of the Southwest Shadow!
Elaine Wong, Yearbook Editor-in-Chief: These past four years in Journalism have truly been an amazing and enriching experience. I came into the class not knowing anything about writing stories or designing a yearbook, but was thrown into the whole process. As I started to get the hang of things, I learned so much to make my writing better and my yearbook pages more modern. Mr. LaPorte, our adviser, pushed me to work hard on stories and helped me learn how to let out a creative side while designing pages.
During my freshman year I was honored to be named on of the two Editor-in-Chiefs of 'The Howl' yearbook staff. In this class, I also made some close friendships that I will miss as I move onto college.
For college I plan on attending Central Washington University and majoring in biology. As excited as I am to start my college career, I will miss SWCTA and it's friendly yet competitive learning atmosphere. Goodbye Southwest, and thank you for the wonderful experience full of memories that I will forever look back on grateful.
Nadia Manivong, Yearbook Editor-in-Chief: Overall, I can honestly say that I have enjoyed my three years in journalism. I have grown a remarkable amount throughout the years, not just as a journalism student but also as an individual.
I remember my sophomore year I was a staff writer; I walked into class each day waiting for the instructions. Now, as one of the two yearbook editor-in-chiefs, I have developed the ability to delegate tasks to others while leading a large group towards achieving a set goal. Not to mention, my creative sparks excelled beyond what I would have ever anticipated. I was able to design yearbook pages from scratch using resources such as Adobe PhotoShop and InDesign.
Prior to joining the class, I would not know how to use half of the tools on those programs, let alone complete a yearbook spread on my own. The best part of the class is the tight bonds and friendships that were created through the long days and even longer nights. I was fortunate enough to have been able to work with such incredible and hard working individuals, especially my adviser.
As for college plans, I will be attending the University of Nevada – Reno majoring in biology. I know it will be a tough transition, but SWCTA's strong learning environment has helped prepare me. Goodbye and thank you Southwest CTA for the endless opportunities.
Marina Triplett, Yearbook Managing Editor: For the past three years, I have had the opportunity to learn, grow and become close with a group of girls who have truly touched my heart. From late night work sessions to our first trip to Seattle, we have bonded and become somewhat of a family. Without Journalism, my high school experience would not have been as great as it was.
Next year, I will attend The University of Mississippi where I will study Pre-Dental. Without the constant motivation I received from my Journalism family, I would have not been so caring about my writing, deadlines and leadership skills. This next year, I hope to find something that brings out my passion for learning as much as Journalism did.
Rochelle Mae Ruiz, Yearbook Design Editor: Journalism to me was the most stressful class I've taken. It was always about deadlines, deadlines, deadlines, but I'm proud to be a part of journalism, and I shared a lot of memories with them. Whether we stayed late nights after school or spent our Saturdays at school, it was fun pigging out with them, watching dumb videos, and singing to all kinds of music. I hope to see everyone again soon since a lot of them will be going out of state, and I plan on staying here at UNLV.
I'm really going to miss this class, especially all the journalism girls that I worked with and travelled to Seattle with. Through the stress, the laughter, the eating, and the endless cups of Starbucks, our hard work paid off. Amen.
April Bitanga, Social Media Manager: Journalism was probably the most stressful club I have ever been part of, but it was the best club that I am proud to be a member of. The journalism girls know me more than anybody else even though we are not the best of friends. Since we always had to stay at school late nights together I became more myself around them. They know that I always have to use the bathroom every second and I always have to lay down on tables in order to work correctly. We shared so many nights listening to all kinds of music, singing all kinds of songs in any way that we wanted. I spent 95% of my high school career with these girls in the journalism classroom.
Even though I am going to UNLV while all the other girls are going to schools outside of state, I will always cherish the moments we had together. Most of my best high school moments happened with them, and I have never met a group of girls that worked as hard as we do. I am really going to miss them a lot.