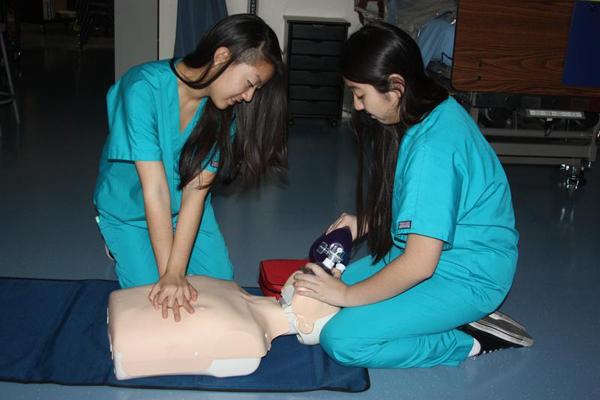 Southwest Career and Technical Academy. Thirty-four letters. Five words. One home.
This school is the location for students who want to pursue their dreams and challenge themselves academically. It is home to many local chapter and state officers from various Career and Technical Student Organizations, including, but not limited to, HOSA: Future Health Professionals and DECA (previously known as Distributive Education Clubs of America).
2009-2010
Remember when the school was founded in 2009—the first year that it was open to students? If so, you'll remember the chaos as dances were being planned and Project Based Learning was being launched.
In fact, the very first PBL consisted of freshmen and sophomores intermixing and working together to present a skit to the entire school about peace. From 7:00 a.m. to 1:25 p.m., students worked with limited technology and had one requirement–a project card with a unique design and explanation.
2012-2013
PBLs have improved so that students have the opportunity to become more involved with their community and use the six tenets as a guideline or rubric for students to follow:
Presentation Skills

Writing Skills

Content Knowledge

Use of Resources

Teamwork/Collaboration

Work Ethic
Projects now are more aligned with community service and real-world application. They are graded on the six tenets, but the process now includes practice presentations and presentation materials such as a Prezi, posterboard, video, etc.
2009-2010
Laptops and computers were very limited. Even though there were only freshmen and sophomores, there still was not enough for each individual. It was difficult transitioning from PC to MAC, as well as knowing how to convert projects to the proper format for submission. Teachers were also learning alongside the students about how to make the best use of the technology.
2012-2013
Since we now hold the status as an Apple-Distinguished school, we have various types of technology to help guide students in their learning. Some of the products we own include Macbooks, Apple computers, iPads, and iPods. The school's partnership with Apple has brought beneficial opportunities for students to keep up with the newest technology needed for the workforce. Not to mention, after a few years, most teachers can now assist students with computer complications.
2009-2010
Besides PBLs, some teachers took on the "do homework and projects at home" standard, where students had a limited opportunity to work on assignments in school.  Instead, teachers would lecture about the lesson for a majority of the time and it was difficult to balance the time that students would learn and the time when students would work in their teams. Most teachers were still trying to adjust from the traditional model of completing projects at home.
2012-2013
Now, students do have time in class to work on their assignments and projects. Teachers were further trained on PBL/Flip Model, and most have applied it to their classrooms. However, it does mean that group members will share the workload, and it may require some extra attention at home.
2009-2010
During our very first school year, teachers were still learning the best ways to teach their students to prepare them for their future. Teachers were building their program areas and looking at details such as to which classes students would need to take as introductory courses before going head-on into their program areas. Instead of taking the hands-on approach, program teachers primarily taught out of the book because there was only a limited amount of equipment for each student to practice with and use.
2012-2013
Teachers have used their exceptional skills to teach to the best of their abilities. Many program areas have an adequate amount of equipment for students to use and have the "hands-on" approach. Because of the high standards that teachers expect from students and the work ethic that each student brings to the table, SWCTA has been recognized as an Apple-Distinguished School, a Magnet School of Excellence, and has been awarded a Five Star Rating for two years thus far. Also, 97% of the Class of 2012 have graduated from the school, and most have moved on to a post-secondary institution.
2009-2010
Clubs such as DECA and HOSA were in place, but it was uncommon for students to win "first place" in their competitive events or at least rank in the top three. Many of the clubs on campus were unorganized and contained only a small numbers of members.  However, fundraising for students to attend conferences and other trips was relatively easy, considering there were only freshmen and sophomores in the school.
2012-2013
Other than the improvement students have shown in their academics, this school has also grown in the number of clubs and student organizations on campus. Cheer Club and Mahjong Club are the newest additions to the 2012-2013 school year. Student Council has especially continued improving to provide fun-filled school dances and assemblies. Additionally, many Career and Technical Student Organizations are now on campus and are composed of dedicated students. Members of DECA, HOSA, FBLA, and Skills USA have won first place in their competitions and have also run for state office. It's an honor to have at least one state officer from each organization and to have one graduated student be a national officer of DECA.
SWCTA has developed into one of the best schools in the Clark County School District (www.ccsd.net) and has been recognized by many of Nevada's legislators. Each year brings newer recognitions, and from here, we can expect this school to continue to thrive.