Lining the trash cans with clean bags, janitor Darryl Bryant goes about another day of work. Mere minutes ago, the cafeteria was filled with loud students voice's echoing off the recently cleaned floors and walls, reverberating across the scrubbed tables. Few people appreciate what it takes to clean an entire school campus as most people are content with walking past hallway staff and not giving another glance. However, the stories behind the people we let fall into the background are some of the most interesting.
Janitor Darryl Bryant has been a custodial worker for CCSD for a number of years, but only started working on SWCTA's campus last school year.
"I offered [Bryant] the position because CCSD is always low on custodial workers and I knew he was a floater so he wasn't tied to [his old] high school," Assistant Principal Cameron Roehm said. "Janitors get paid the lowest salary in the district, so it's always hard to get janitors."
Bryant works day shifts, cleaning tables, throwing out trash, mopping floors and more. During the summer, he waxes floors and cleans lockers in preparation for the next school year.
"I show up at five o'clock here in the morning every day," Bryant said. "I open the building, lift up the flag, and I basically run this [cafeteria]."
Many things led up to his current profession, but his previous career choices centered around his main passion: cars.
"I actually have an automotive background, for thirty years I've been an automotive mechanic, I've owned my own business for 7 years," Bryrant said. "I'm an AC certified master technician and I specialize in on-board diagnostics."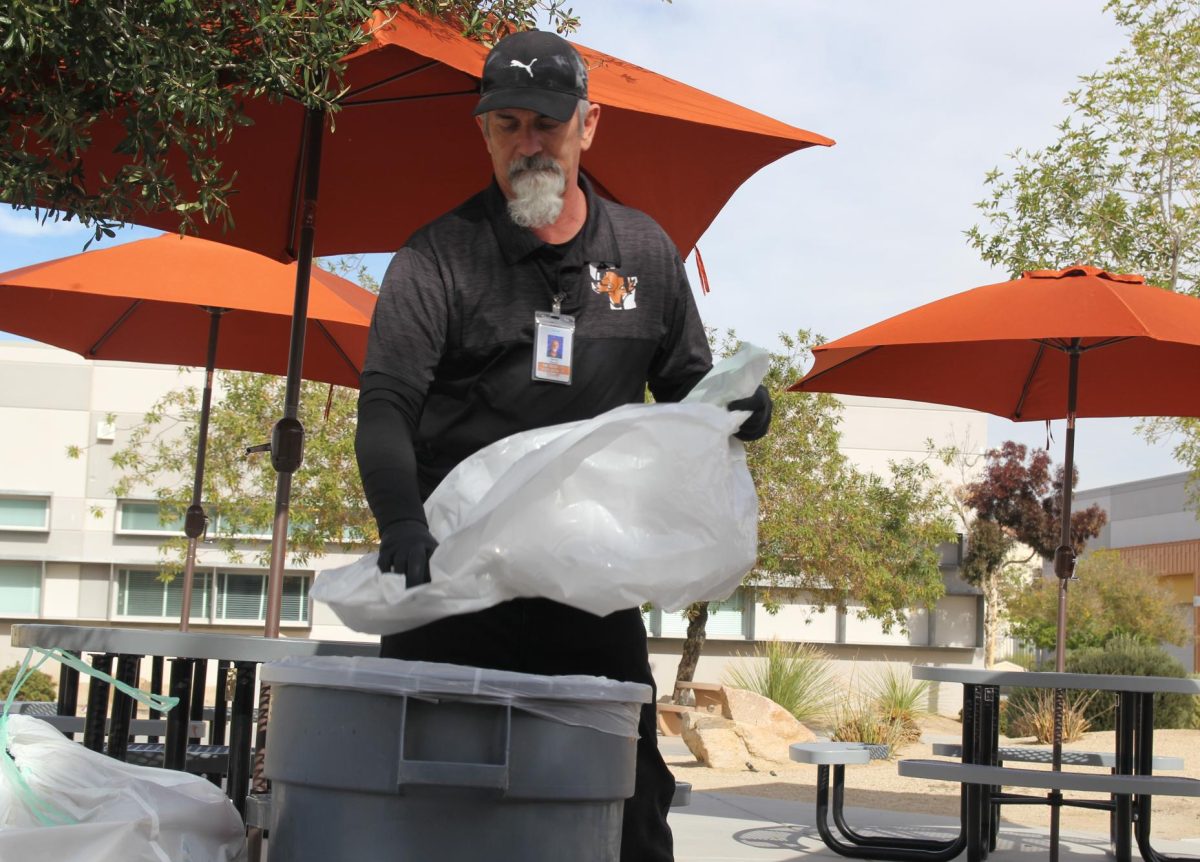 In the morning, students might see him pulling into the teacher's parking lot on his Harley, or maybe in his mustang. Riding his Harley has been a big part of Bryant's life.
"You can't just wake up one day in your 40s and say I wanna ride a motorcycle. That's when people get hurt because [they] don't have the experience or years of doing it," Bryant said. "I've been motorcycling since I was 19… I ride in the snow, I ride in the rain."
Owning a car shop was a big part of Bryant's life, but ultimately, he doesn't regret the career change and accepts that things happen.
"Owning your own business is a headache," Bryant said. "There are days where you wake up and ask yourself, 'Why am I doing this?' and there are days where you just enjoy it immensely. It's one of those things where you love to hate it or you hate to love it."
Prior to being an automotive worker, Bryant served 11 years in the Navy.
"I went in when I was 19, I loved the camaraderie about it, the training, but when you're 19, being away from family members is just the hardest thing."
Growing up in a military family, he felt compelled to do military service. His military background and upbringing taught him about organization, order, and neatness.
"Being a military brat, my dad was brass [a high ranking officer] in the military so we cleaned the house because the brass would come over," Bryant said. "So as a little kid I was responsible for cleaning the house early. That's where I learned to clean, it comes natural to me.
Bryant has taken pride in his work no matter what it is, from military service to custodial work. He enjoys having a clear purpose every day and knowing that he is making a difference in his country and community.
"I like the fact that I can come in and make a positive effect on students by cleaning the school," Bryant said. "Making sure it's a clean and safe environment for you to come in and you don't have to worry about trash being on the floor, or getting sick because someone didn't wipe down the table or clean the door handles."