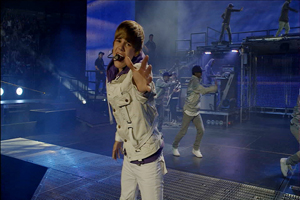 With clips from his childhood, behind-the-scenes footage of his crazy lifestyle, and a few inspiring words from the teen singing sensation himself, Justin Bieber's new movie 'Never Say Never', directed by Jon Chu, was an inspiring film about the young teen's crazy life living in the spotlight.
"Bieberized" purple 3-D glasses were said to come with the experience, but many viewers were disappointed when the usual pair of plain black glasses were given out. But the 3-D glasses were only really needed for the concert scenes. Other portions, such as the home video clips and life inside his tour bus, they weren't necessarily needed, but wearing them didn't affect the movie in any way.
For fans with Bieber fever, this movie was more than worth their time and money, but for others, you might have a better time watching 'Beastly' or 'I Am Number Four' in a more quiet theater, opposed to one fully packed with overly excited, screaming, teenage girls.