It started out as a small cookie shop in Utah that was really popular in the Mormon community, offering cookies and sodas that became loved by many, allowing them to grow and spread their delicious treats across the country and become a sweets hot-spot. Being first founded in 2017 in Utah, this new bakery shop called Twisted Sugar specializes in freshly baked cookies of all kinds, along with a wide variety of sodas, twisters, and ice cream treats to choose from. From Utah, Twisted Sugar  migrated to Las Vegas, the first one being located in a Smiths on Centennial's Sky Canyon Drive. 
Twisted Sugar offers 20+ cookies to enjoy, with two new cookies introduced every month,  this month being Birthday Cake and Pretzel Crunch, and a wide variety of gluten free cookie options. As for sodas, the soda menu is huge and seemingly endless, as you can order a preexisting drink or create your own by choosing one of their many soda bases,and additional add-ins such as creams, fresh lime, and purees. They constantly have specials and deals going on as well, like their $15 air fresheners that come with 15% off all purchases for a whole year.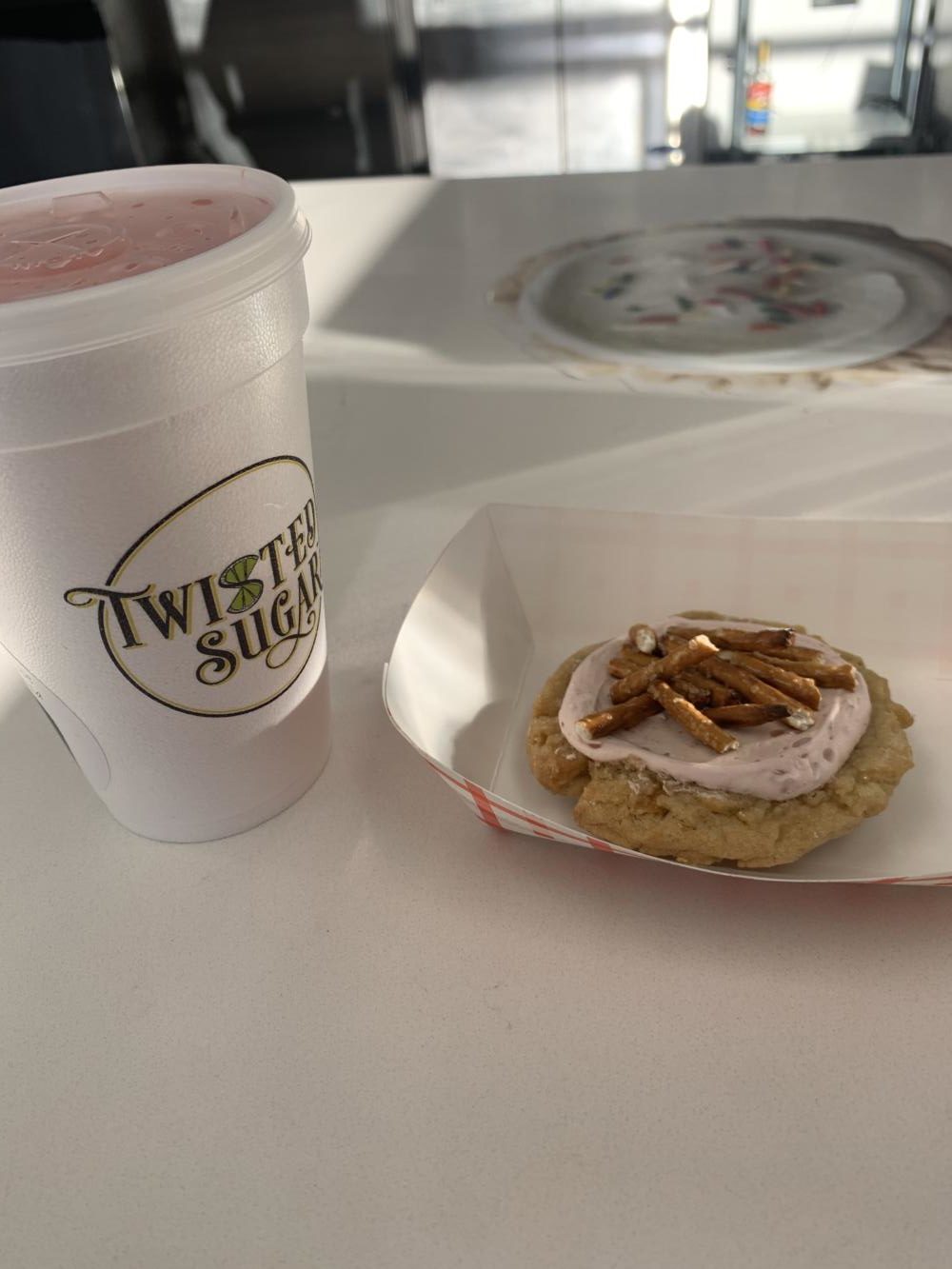 Pretzel Crunch ($2.89) Berrylada 16 oz ($3.35)
These cookies were amazing and did not disappoint, even though I am not a huge cookie fan I ordered one of the cookies of the month, which was the Pretzel Crunch ($2.89) and it was the perfect combination of sweet and salty. The raspberry frosting was an interesting choice to put on a pretzel cookie, as it almost tasted like yogurt to me. The cookie itself was soft and easy to bite into, with little to no mess while eating. I did not get a mouthful of frosting like you do with other cookies, which I appreciated. Plus, the cookie itself is very aesthetically pleasing and looks great for pictures. 
For drinks, I decided to go with one of their flavored waters, the Berrylada ($3.35), which had raspberry and coconut syrup, topped with coconut cream and fresh lime. I felt as though the other sodas were too sweet for me at the time, so I went with water hoping to not get a mouthful of sugar, but still having a sweet flavor to it. I was definitely not disappointed, as the Berryladas were delicious and addictive, I could definitely have multiple without overloading on sugar. 
Overall, Twisted Sugar is a very cute and aesthetically pleasing cookie shop. The staff is very helpful and extremely positive; plus the stickers the employees put on my order were adorable and put a smile on my face. It let me know who made my food and did a  great job at doing so. The drive thru option is very helpful when I don't feel like going inside, as it's a little small. I recommend Twisted Sugar for those who want delicious, pretty treats that aren't heavy on the stomach for reasonable prices.