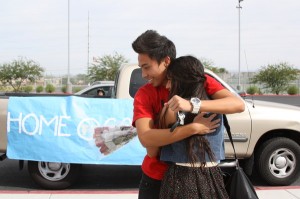 "I'm so lonely without a homecoming date. #ForeverUnappreciated"
"Just bought my babe flowers. I really hope she says yes! #HomecomingProblems"
"Running for court this year! #VoteForMe"
These desperate tweets flooded my timeline, and I could not help but remember that homecoming is a catalyst for loneliness. I forcefully clicked the red button on the top left corner of my screen and vowed I would not visit Twitter for a while. Why are girls so dependent on boys asking them to school dances? Why does it even matter if you have a date or not? As a freshman, I went to homecoming without a date, and I take pride in that.
As my first homecoming ever, I can say that it was one of the best nights of my life. Although it seems like everyone is going with a date, there were many people there that went single, just like myself. After all, you can dance with whomever you would like.
As a huge high school event, homecoming excites teenagers. As a girl, this dance in particular requires the perfect hair, makeup, and most importantly, the dress. For boys, on the other hand, it is a normal school dance, where they must find that significant other to ask. The pressure of seeing others invite each other is daunting for some individuals, as they feel the need to take someone to the dance and ask them in an extravagant way.
Certainly, a Starbucks cup with the question written clearly would be romantic. Most definitely, a large banner and flowers in front of a large crowd would reach perfection. But what about originality? Whatever happened to a decorated car and scavenger hunts? Recently, it just seems like individuals are just going off of what Twitter is telling them to do.
Girls: just because no one has asked you to homecoming, does not mean you cannot go. Homecoming is for everyone, and I consider it to be fun to mingle and dance with everyone. My closest friends this year are people I met at homecoming during freshman year. This is a yearly event, and no social network should be the definition of someone's hopes and dreams.