Press play, not fast forward
Is this high school or college?
It's February now, and for every time I hear a teacher bring up class recommendations, I see at least one of my peers break into a whole conversation about how they're taking four AP classes next year.  
As second semester looms, often, the question of whether or not to take college level courses becomes an issue. However, several people are quick to decide, focusing on the gain over the sacrifice.
Teenagers tend to forget that their adolescence is limited. After high school, there's no way to escape adult responsibilities. But does that stop them from rushing to grow up? No. Why? Because they think it's the answer to their future.
Enrolling in college classes they can't handle or applying for jobs they don't have time for, teenagers act as if it'll get them ahead in life, yet they only end up harming themselves. Robbed of energy, teenagers barely have enough time to close their eyes. According to a poll by the National Sleep Foundation, over 87 percent of U.S. high school students have less than eight to 10 hours of sleep, which puts adolescents at risk of mental illness.
And for what? An Advanced Honors Diploma? A wallet full of cash? Students fail to understand that these are merely trivial things. I've had countless alumni tell me diplomas are little more than a pretty piece of paper to use as decoration.
Although gaining college credit in high school may lessen the cost of tuition, there's no point in advanced classes if a student can't keep up with the workload. I shouldn't see some of my peers skipping class every now and then because they weren't ready for class at 7 a.m. There are other ways to lower college prices–financial aid and scholarships exist for a reason.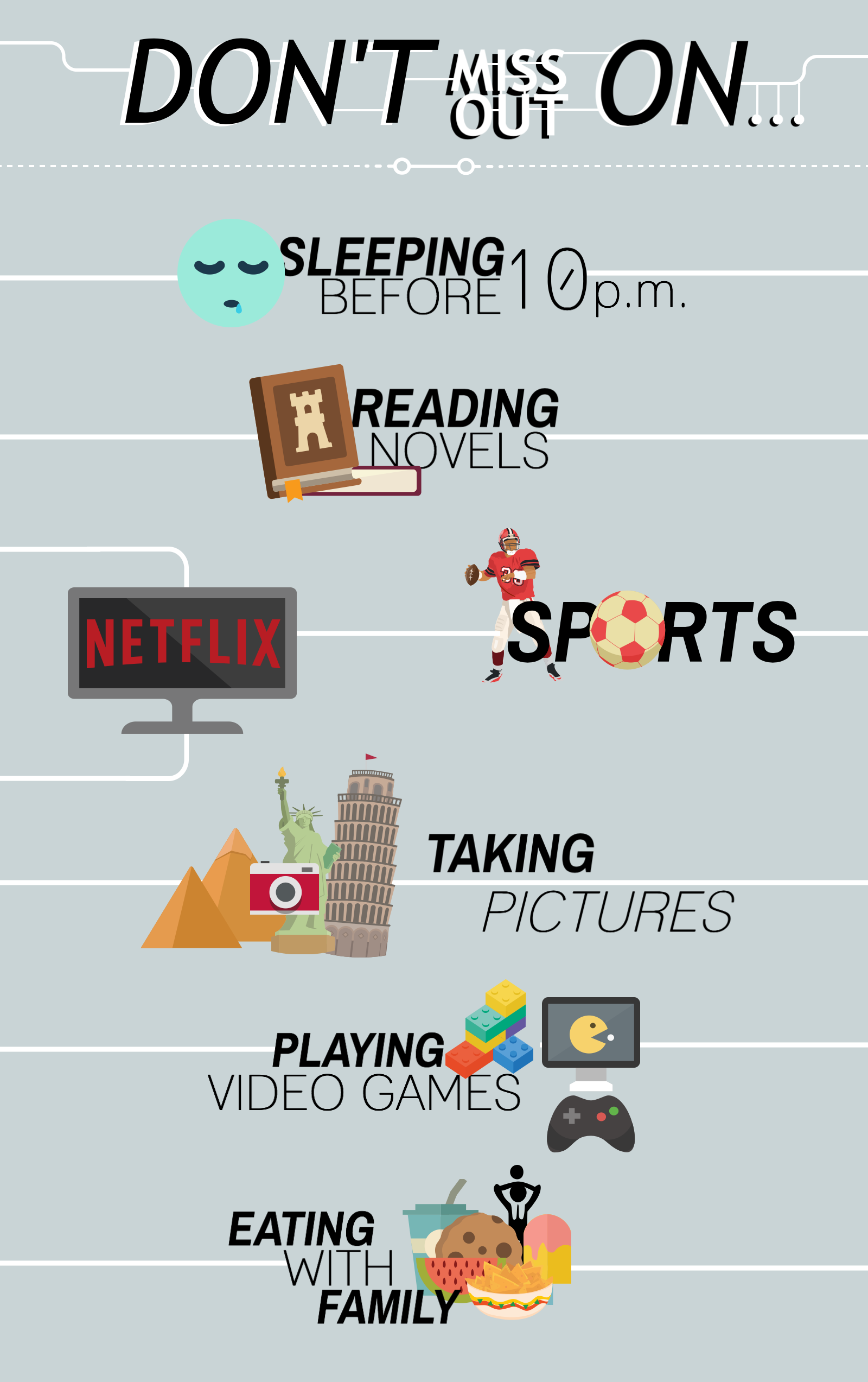 Teenagers blindly invest pieces of themselves into unnecessary work, thinking it'll pay off later when in reality they just fast forward through their adolescence. There are experiences exclusive to these four years, yet people fail to realize the opportunities until it's gone. Instead of hanging out at club socials or attending school dances, students ignore the fact that there won't be another time and focus on filling up a résumé or transcript.

I'm tired of hearing people around me complain about not having enough money to buy a car, so they get a job, ignoring the amount of effort it takes to find a balance between work, school, and free time.

It's okay to challenge oneself; however, experiencing what it means to be a teenager should be prioritized. There's no such thing as a rewind button or a do-over. The future is for being an adult. Before highschool ends, one should reap the privileges that youth offers. Don't restrict teenage memories to times spent studying or finishing homework at 2 a.m.

[poller_master poll_id="145″ extra_class=""]