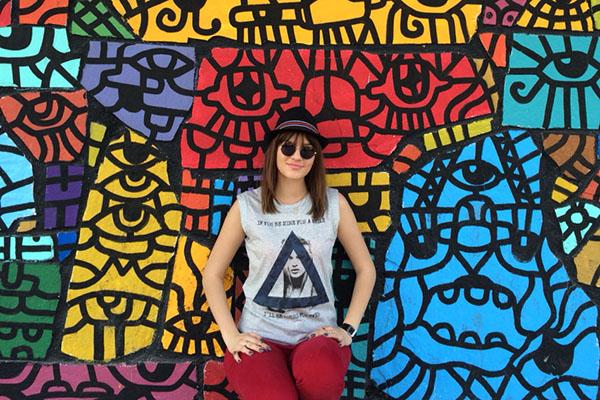 Confession: I had four hours of sleep last night.
Confession: I ate too much and too fast when I said I was on a diet.
Confession: I don't understand the quadratic formula.
Confession: I used to hate Las Vegas.
I've always appreciated art. I was the kid in the doctor's office leafing through various magazines and admiring the graphics of that particular publication. Though I was never any good at drawing, painting, or creating sculptures, I still sought art everywhere I looked. To the average tourist, the Las Vegas Strip seems comparable to the Colosseum, the pyramids, or even the Taj Mahal. However, I have never been fooled by the glitz and glamour of any part of Las Vegas, and after the constant letdown of not seeing art everywhere I went, I began to hate Las Vegas.
Where was the creative architecture? The place where I lived did not look anything like the Las Vegas in the magazines and history books. This year, I visited Boston, MA with my journalism class, and I was mesmerized at the beautiful building structures and historical quality that Vegas simply lacked. After arriving home from my amazing trip, I gave up on the thought of ever finding and appreciating art as much as I used to when I was a young child.
Why did people's eye light up when I told them I lived in Las Vegas? To me, Vegas was nothing but slot machines and cardboard foundations. Vegas in not the Colosseum, and it sure as heck is not the Taj Mahal, so why is the opinion of Las Vegas so positive to outsiders?
[vision_pullquote style="1″ align=""] I was like a kid in a candy store: turning around to take everything in. I could not believe I hated this place for so long. [/vision_pullquote]
Just as I thought my artistic niche was over, and I was just another vanilla personality like most people around me, my best friend thought it would be a good idea to visit Downtown Las Vegas. And being the history-loving, new-activity-seeking, explorer that I am, I agreed to join her in learning more about where the glitz and glam all started.
Little did I know I was to be swept off my feet at the sights and history.
As soon as we exited the freeway, the city turned-around. After nearly nine years of living in one of the world's most-visited cities, I had no idea what this area of it looked like.
We stepped out of the car near The Western Motel, where there is a sign that says "Viva Lost Vegas." Surely, I thought Vegas was lost, until I discovered the downtown area. Almost on cue, my artistic eye sparked, and my appreciation for my city grew immensely in only a matter of minutes. I was like a kid in a candy store: turning around to take everything in. I could not believe I hated this place for so long. The city's history lingered on every street.
I looked around and everything had color. Every building–no matter how rundown–had some kind of art on it, whether it portrayed heartbreak or simply abstract paintings. My favorite piece was made up of various abstract faces which could easily depict anger, sadness, happiness, and euphoria. Sixth-grade Alex came out as soon as my eyes caught a piece in particular. This piece featured a blue background with abstract trees. I immediately started to observe the color schemes and patterns and couldn't help but wonder what the artist was feeling upon drawing it. I was absolutely mesmerized.
Las Vegas is a city that started in the downtown area, and then progressed to the Strip as the economy grew. Street art is so abundant in the downtown area and creates an urban ambiance. I felt like a little girl again. I felt like I was in a magazine page, and the art blew me away. Visiting that area was a beautiful experience, and I am glad I took the opportunity to do so. I appreciate my city so much more now that I discovered a beautiful portion of it. Vegas is the definition of glitz and glam, and I am so happy to be living here.