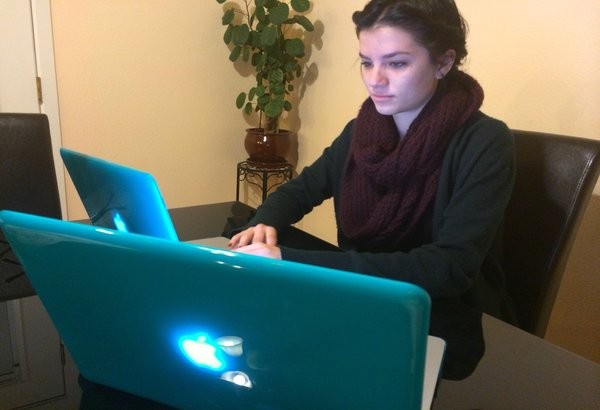 This article was written Nov. 7 as part of the JEA Writeoff Contest. It was awarded a "Superior" ranking.
Technology is often patronized for being too addictive, too difficult, and, in some cases, too overbearing. However, we live in the rise of technology–phones are growing, portable devices are shrinking, and printers are neglected due to alternative ways of turning in a paper. It is no doubt that the "bring your own device" (BYOD) movement is the next wise step in educational advancement.
Project-based learning is reaching beyond traditional poster board assignments in schools around the U.S. Instead of having to create a redundant project, the use of technology in the classroom makes it possible for students to collect ideas in a new light. Additionally, the use of technology in a classroom ultimately prepares students for future work implications. In Lisa Nielsen's "7 Myths About BYOD Debunked," she writes "schools can no longer be the last place to catch up the present… Our students are being left unprepared for their futures."
If the future of technology consists of the requirement of knowledge in coding, school administrators should be diving head-first into BYOD.
It is true that financial implications may be the barrier between students and their ability to bring an electronic device to school. An article in the Washington Post expresses: "[a] class was working in small groups with their smartphones–so everybody didn't need one."
This could be the eliminating factor of skepticism regarding BYOD.
Ultimately, BYOD has the possibility of being a saving grace in scholastic financial stability, as well. With the use of devices in classrooms, schools will save money on paper goods and textbooks. One large investment, such as one that would involve the purchasing of a mass amount of technology, can be a giant benefit for school budgets. Needless to say, students will be prepared for involvement in the use of technology during the future, whether they plan to pursue a job in the medical field, or one in public relations.
"Students are inclined to take more care of their property," Forbes suggests.
Not only does BYOD present a benefit to school funding, it induces responsibility, enforces teambuilding, and sparks creative relevance.
R.I.P. poster board. We won't miss you.