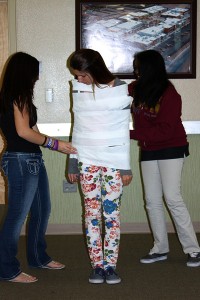 HOSA members participated in challenging games and friendly contests on Oct. 30 during the annual Halloween potluck.
"Overall, I think the party went very well. The abundant amount of members and the great food truly made this party great," sophomore Alexis Bright said.
Preparations for this event were handled by the HOSA board members. Students signed up to let the HOSA board members know what they were bringing for the gathering.
"We prepare by giving our event committee the information they needed to plan the event. Then we helped them by getting the supplies and made sure everything got done," senior Jessica Wolf said.
SWCTA HOSA plans on having two other parties this year for the holidays. They intend to play games and eat during these upcoming events.
"It was a good idea for HOSA to have a Halloween party, it gave me a chance to hang out with friends while at the meeting," sophomore Gentrit Bajrami said.