Mon-Sun: 12 p.m.-11 p.m.
3650 S Decatur Blvd, Las Vegas, NV 89103
Cash and cards accepted
In Las Vegas, there are loads of undiscovered restaurants of all different cuisines. From mexican to french, there's always something for everyone. Inside the Decatur Twain Shopping Center sits Hwaro Korean BBQ. Offering 55 different types of meat, appetizers and side dishes, customers will surely be satisfied.
The restaurant's location makes it easy to find with its name facing the street. After finding a parking spot right in front of the doors, I walked in immediately greeted by noises of people laughing and old R&B music playing over the speakers. There are booths big enough to fit quite a few people, and alongside the south wall is a board where customers can write whatever they want.
After being seated, my mother and I were met with the standard starters for Korean BBQ, which often include banchan. Moments after sitting down, the waiter immediately informed us about the specials for the day and asked if this was our first time at a place like this. We decided on All You Can Eat ($23.95), making ordering easier and the price cheaper. With appetizers like Corn Cheese, Egg Rolls, and Gyoza, we knew what we wanted to have first. The egg rolls and gyoza were perfectly crisp. The corn cheese, filled with sweet corn and melted mozzarella cheese, was the perfect sweet and salty combination. As for the egg rolls, they were filled with shredded cabbage and pork then fried adding an extra crunch. The gyoza was filled with the same kind of fillings, and like the egg rolls, they were served with a savory crunch. 
Soon after that, the meat came. Being only the two of us and having already eaten the appetizers, we only ordered four types of meat. We got the Skirt Steak, Brisket, Beef Bulgogi, and the Hwaro Premium Steak. 
Getting the skirt steak first, it came to the table sliced thin. It paired with the already given sauces at the table made for a savory pair.
The beef bulgogi was next to come. This time it came marinated with a sweet sauce that added sweetness to the whole meal.
Last to come was the Hwaro premium steak. It was tender and juicy. Since it is a better quality of meat, customers are only allowed one per person. Once everyone in the party has gotten their order, customers can not buy anymore.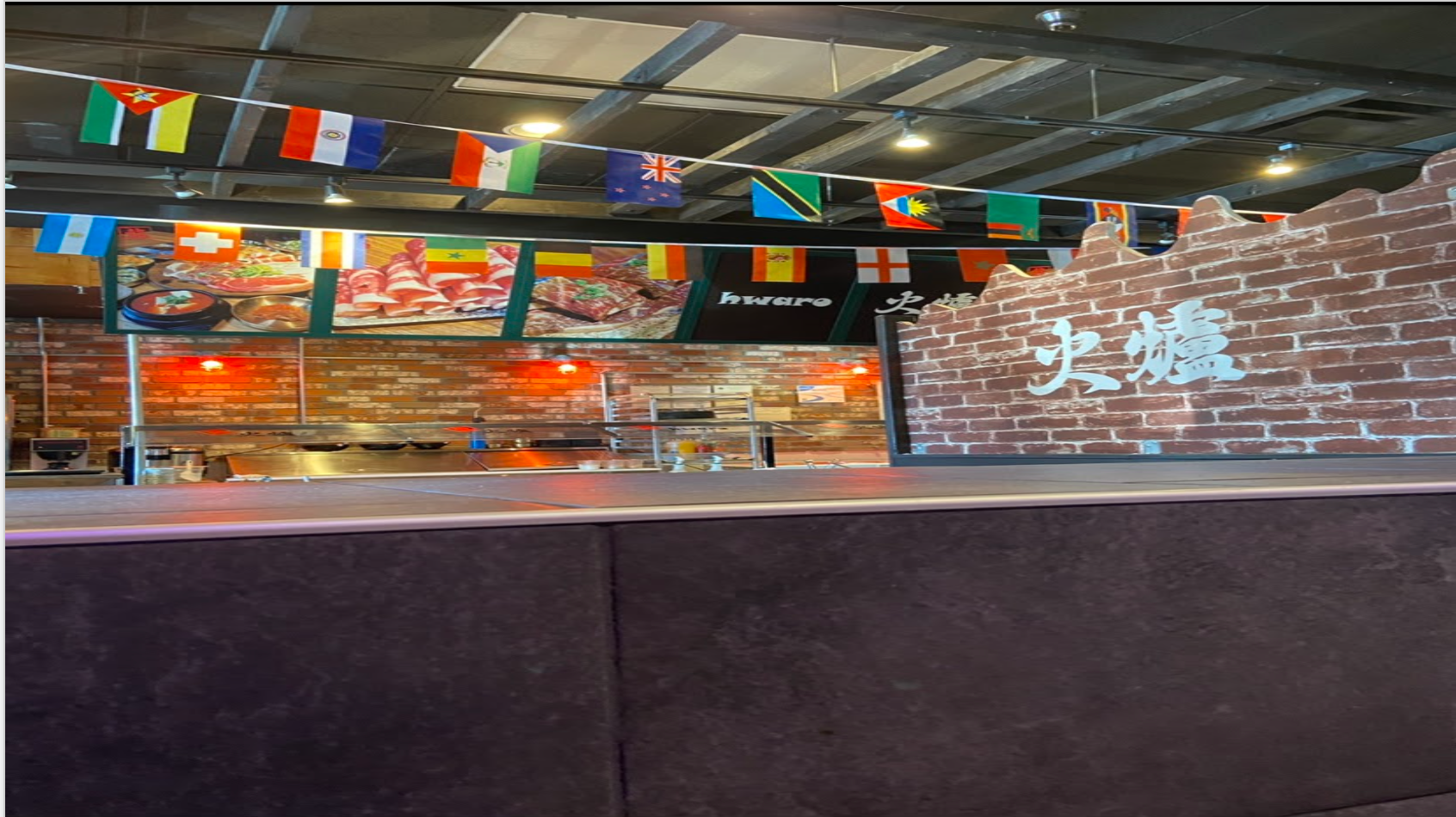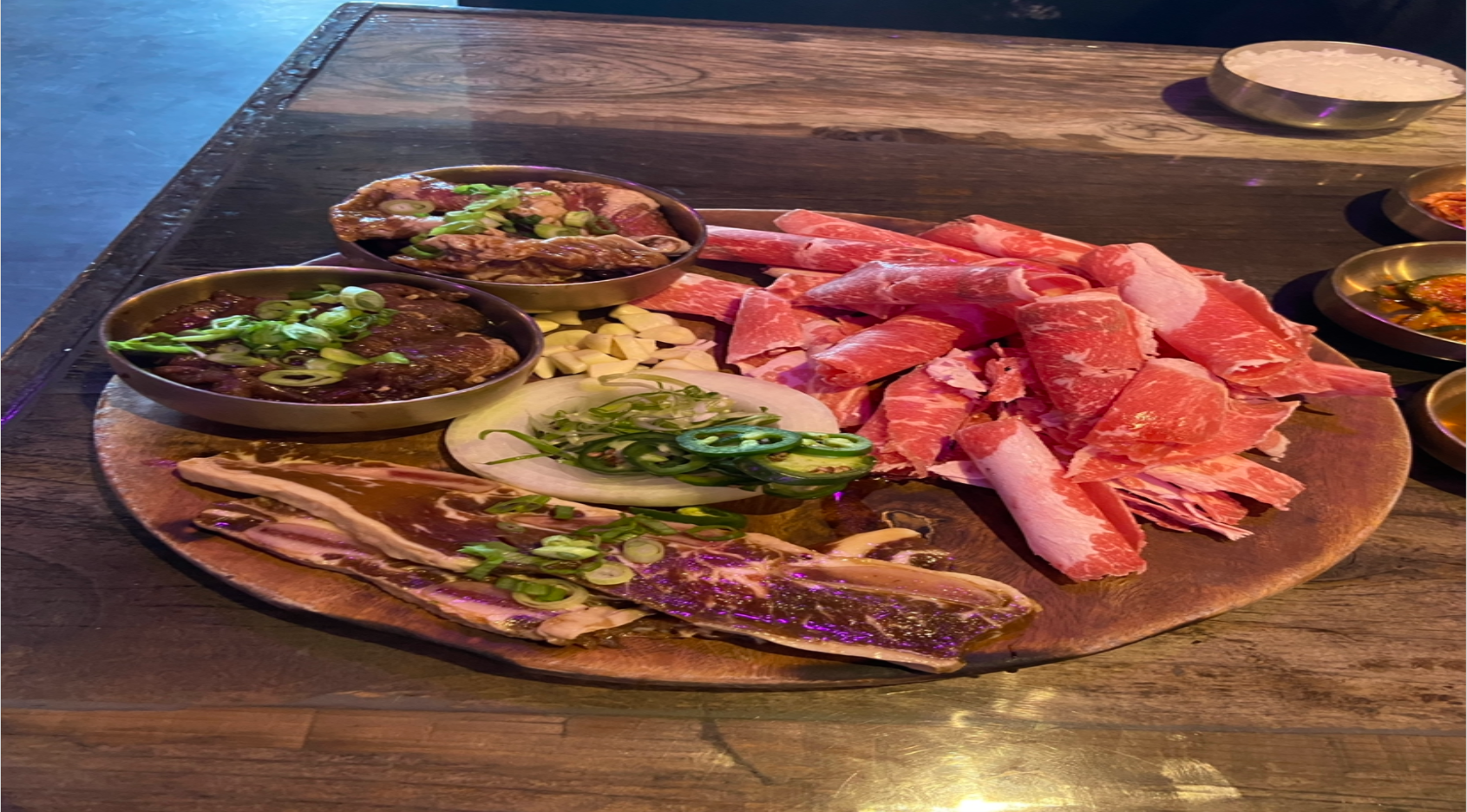 Along with the leftover starters, rice and meat, we were quickly full to our stomach. By far a family favorite was the Beef Bulgogi, with its tenderness and pungent flavor always leaving us wanting more.
With barely any room for more, I still couldn't resist trying the Affogato. Affogato is vanilla ice cream with sweet coffee, a no-brainer for people to try. The sweet and tangy coffee paired with the ice cream was a good way to end our savory lunch. Something so simple, yet so delicious.
Hwaro is an upbeat and unique place to go with friends or family. R&B playing through the speakers and great food will surely have me coming back for more.