Sway With The Southern Blues of 'Good To Be' by Grammy Winner Keb' Mo'
Combining blues, soul to share his childhood stories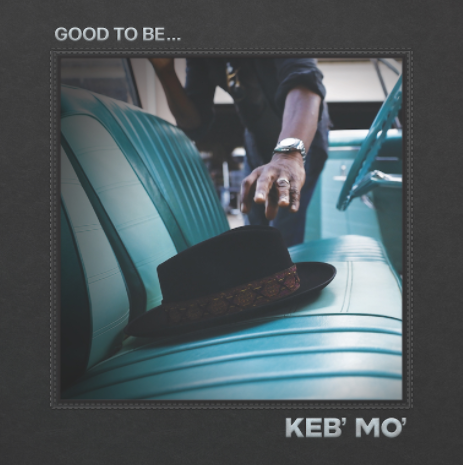 Born in the early 50s, Kevin Moore established his musical career at the age of 21. He began as a guitarist and songwriter, and currently carries those skills into his music today, combining country, blues, soul and folk elements in his songs. Working with other acoustic blues musical groups, Mo' found his passion in music by opening for jazz artists and collaborating on albums. In his newest album, "Good To Be," Mo' takes inspiration from his childhood, expressing his feelings and nostalgia of the past. 
The leading track, "Good To Be (Home Again)," starts with a touch of country, as a soft guitar strums in the background. Along with the guitar, traditional African conga drums and shakers work together to incorporate a cultural music element. With lyrics like "It's good to be here / It's good to be anywhere / It's good to be back, good to be home again," Mo' shares how relieving it is to return to one's roots. He embraces the highlights and lowlights of his history, learning from his experiences and mistakes. 
Next, on "So Easy," Keb' Mo's vocal range stays relatively the same. The song introduces an optimistic drum beat and piano notes. The chorus is catchy, with the lyrics, "It's so easy to say / I need you night and day / It's so easy to say, I love you." The song focuses on how easy life is once you grow to accept the things that happen. He acknowledges his growth once he moved on from what was holding him back.
My favorite track from this album is "Good Strong Woman" because Keb' Mo' takes a moment to appreciate women and their contributions to men's lives. Instead of thanking only his wife, he thanks women as a whole. When his seasoned voice sings, "Life can be kinda hard on a man / You're gonna need a good strong woman that's got your back," he breaks the stereotype that women are only to be caregivers and take care of the house. Instead, he accepts the idea that men rely on women in their lives as a partner, which I find important because women are often unfairly compared to men.
On first listen, most of Keb' Mo's songs share common characteristics such as the instrumentals and the beat. Though more instruments are used to add diversity, his classic voice can only remain the same for so long. One can tell that he hasn't experimented with different vocal techniques or attempted to sing in varying octaves to contrast with his other albums.
Nonetheless, the album isn't quite flawless. Songs like "All Dressed Up," "'62 Chevy," and "Louder" seem to be fillers. These tracks tend to use similar musical instruments. The lyrics in some of the songs, like "I got my hands on the wheel, y'all / Rolling steady/ Rubber on the road, in my '62 Chevy," are not as passionate as lyrics in his other songs. 
Though a handful of songs don't meet expectations, storytelling songs like "Good To Be (Home Again)," "Good Strong Woman," "Marvelous To Me," and "Quiet Moments," make the album all the better. By providing relatable stories for his audience, Keb' Mo' uses his emotion and reminisce to produce an inspiring album. As he thanks the people he's known and the people he's grown to love, he thanks the life he's lived.
Leave a Comment