Trump's America: Day One
Donald Trump's vision for the U.S. could create an unfamiliar nation.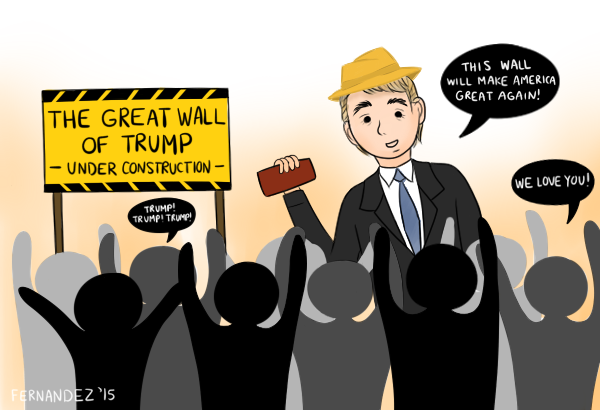 The day is Jan. 21, 2017. After all the exciting events of yesterday's presidential inauguration, our 45th U.S. president Donald Trump has entered office; it is bound to be an eventful day.
8:00 a.m. – Construction of the Great Wall of Trump is officially underway. Americans all across the nation are tuning in to a livestream of the first brick being placed directly on the U.S. Mexico border. The righteous civil servants who dedicated their time in the past to patrolling the U.S. border are cheering and crying tears of joy on the sidelines—an image that resembles the "Move that bus!" crowd on an episode of "Extreme Makeover Home Edition."
The majority of the working class has been deported, and the upper class is struggling to perform their own housekeeping.
10 a.m. – The Trump administration are on phones contacting several shipping and packaging companies to assemble all the proper materials needed for shipping Syrian refugees back to where they came from.
Noon. – Architects are working to redesign government buildings to resemble Trump Towers, complete with gold plating, diamond encrusted doorknobs and a complimentary toupee spun from Trumpelstiltskin gold.
2 p.m. – The majority of the working class has been deported, and the upper class is struggling to perform their own housekeeping. A nationally televised tutorial is aired instructing rich Americans how to unclog their toilets and use a washing machine.
4 p.m. – Women everywhere finally realize their proper place in society and decide to go home and start dolling themselves up to look more appealing to their husbands, as according to Trump's 2006 book Trump 101: The Way to Success, women are essentially just aesthetically appealing objects.
7 p.m. – In the nearest town across the Canadian-American border, thousands of American families have fled to seek refuge in the comfort of the Canadian government, complete with free education and health care benefits. Meanwhile, Bernie Sanders and Hillary Clinton set aside their differences and round up defectors to convert to their support in order to take down Trump.

10 p.m. – Our President believes that "the concept of global warming was created by and for the Chinese in order to make U.S. manufacturing non-competitive." Therefore, due to negligence towards resolving global warming, the North American continent has begun flooding, slowly sinking into the ocean.