Fearless Taekwondo athlete: Meet Marivee Cadiz
Currently junior leader at Dojang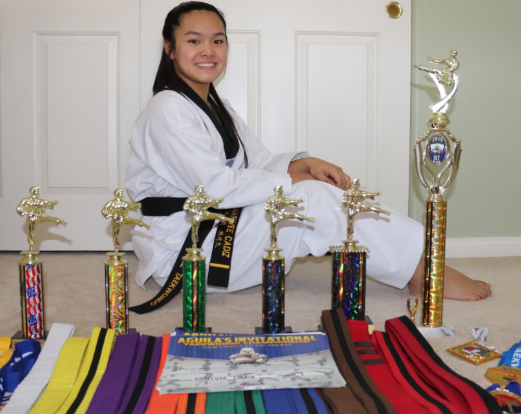 As she steps on the mat about to greet her opponent, sophomore Marivee Cadiz exudes confidence moving through her individual moves. As the crowd begins to cheer her on, Cadiz focuses on winning the battle and with one kick, she knocks her opponent down. 
"When I perform my tricks to an audience, whether it's only for my instructors, the entire class or actually performing in front of judges, I make sure that I look prepared and confident even if I feel like I'm not," Cadiz said. 
Always having a passion for all kinds of martial arts at a young age, Cadiz decided to give taekwondo a try.
"I got into taekwondo because I wanted to have a hobby that helped me with self-defense," Cadiz said. "I tried it out for $20 for four weeks and then I officially became part of the taekwondo family after that four weeks."
Cadiz trains at the Korean training facility, Dojang, four days a week. 
"I am in a leadership team that helps the instructors master with class," Cadiz said. "I help out in the kids class that's before my class which is 6:30 till 7:15 on specific days.  So in all, I practice and 'work' 10 hours every week."
For inspiration, Cadiz looks up to Pauline Louise Lopez who won an Olympic medal at the 2019 Southeast Asian Games. 
"She's an inspiration because not only was she proud to represent the Philippines, she started at a pretty young age, and was destined to excel," Cadiz said. "She competes all over the place and gets to experience competitions from another perspective, which is something I really want to do in the future."
Through taekwondo, Cadiz feels like she has been able to find a place where she fits in. 
"I feel special and feel like I have a role in my class," Cadiz said. "When I help out, it gives me a feeling of what it's like to be an instructor and to have a 'reputation'.  Taekwondo also helped me gain confidence in making friends. My peers come and go, but we are all a family. And it is definitely a stress reliever because when I am stressed at school, I rely on taekwondo to help me relieve that."
Being held to high expectations, Cadiz can still sometimes feel overwhelmed at times during practices. 
"Being a high belt and being the only original in the teen's class, they expect a lot from me because I've been with them longer," Cadiz said. "They want to see me improve every day, but sometimes it's hard to do that. Being in leadership is an indicator that they want me to work with them in the future, so having that mindset and experience they want me to show that to others in a positive way."
Due to an ACL injury, as well as the current pandemic, Cadiz has not been able to practice.
"I went to Phoenix, Arizona to compete at the Arizona Taekwondo Festival and I went against this girl who was taller, a bit bigger, but was one belt lower than me," Cadiz said. "During the last round, I decided to kick her to gain more points, but she slightly shoved me, making my right foot land weirdly. I went to my coach, and had a pep talk and I decided to continue, but my leg became unstable again. My dad took me to the ER and they told me that I tore my right ACL. In that situation I learned to never push myself to the point where it physically hurts me. And now because of COVID-19, my teammates and I don't have the connection we do when we are physically present."
But even with an injury and a pandemic, Cadiz is still seeking a way to find a profession in taekwondo. 
"In the future, I want to be part of the national team, and be an instructor who teaches students and teens my age," Cadiz said. "I want to coach in competitions and having the responsibility, dedication, and title of being a certified instructor, a member of the national team, and maybe participate in the olympics one day would be a huge thing for me. I want to represent the United States and do once in a lifetime opportunities."