Youngest Freshman: Meet Narek Tonoyan
Freshman Narek Tonoyan is three years ahead of his peers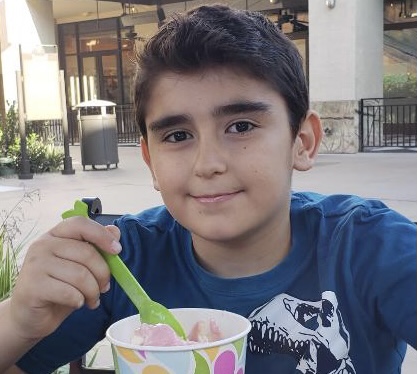 Logging into his first class, eleven year-old freshman Narek Tonoyan feels the nervousness set in. Starting high school at such a young age made Tonoyan weary about the challenges, but he reminded himself that he was here to pursue his passion, Video Game Design. 
"I think I was just as nervous as every other student on their first day of high school, but the excitement made it easier," Tonoyan said. "Because I have done online school in the past, I am used to it now."
For the past four years, Tonoyan has attended Nevada Virtual Academy where he had the opportunity to combine grades. He completed primary school years together, such as first and second, therefore going through nine grades in only six years. 
"I was an independent student at NVVA, this means that I was working at my own pace and this was how I was allowed to advance grades," Tonoyan said. "The teachers there were extremely helpful, but there was also a lot of work to do and it was pretty exhausting."
In fifth grade, Tonoyan switched to an in-person school, Lomie G. Heard Academy, where he was introduced to Digital Game Development. 
"I went to Eldorado High School for a Video Design Course and that's where I met my inspiration, Mr. Torres. This man was no joke, the coolest guy that I've ever met – plus he looked exactly like me, but fifteen years older," Tonoyan said.  "He knew a lot of code, was a game developer, and overall just had a really nice personality. He introduced me to Game Design and boy, did I love it. After the course ended, I took free online tutorials, downloaded a software appropriate for Game Design, learned the basic concepts, and that's when I decided, 'This is what I want to do in the future.' I don't think I can ever thank Mr. Torres enough for introducing me to this major."
After his interest was sparked, Tonoyan decided to further his interest in Video Game Design and eventually decided to come to Southwest. 
"I knew that SWCTA had Game Design and I had recently moved into the area, so it seemed like a perfect fit," Tonoyan said. "Online school was really antisocial and I wanted a change. I knew I could make more friends and get a real high school experience if I went to Southwest rather than staying at NVVA."
Although Tonoyan has dealt with high workloads before, the high school experience is completely new. Now with eight periods, and a different group of students in each class, the amount of peer interaction can seem overwhelming. 
"Group projects are the most challenging thing for me. I'm not too good at socializing and especially when you're the group leader, you have to kind of control other people. You have to make sure you're nice enough, but you're also enforcing the rules and the time periods," Tonoyan said. "It's all really complicated. It's pretty drastic from middle school, before they didn't give this much work and now it's like every day, every period and every class they give you an assignment. It's exhausting."
Moving from completely online to a more interactive environment had Tonoyan anxious about his relationship with the older students. However, Tonoyan has had a positive experience with his fellow peers despite the age difference.
"Thankfully the school has been super nice and nobody has really discriminated against me because of my age," Tonoyan said. "Everybody else that I've met in this high school has been extremely kind to me and hasn't cared about my age. I have felt very accepted."
Although his first years in high school at such a young age are virtual, Tonayan is enjoying his time at Southwest. 
"I am looking forward to the return to physical school because that could make me even more social and reduce homework, but of course it has to be safe for everybody first," Tonoyan said. "I finally have proper friends, the teachers are helpful, I'm very social. I am very happy to be here at Southwest and be learning more about Game Development."