A pile of college letters proclaiming "Hey! Come to our school!" sit on the kitchen table. You stare at each of them and wonder, "Should I go out of state to UCLA or Arizona State?" "Or should I just stay home at UNLV or head north to UNR?" The possibilities and opportunities are vast, but there are factors that come with deciding where to go for college.
With a projected 3,265,460 high school seniors graduating in 2016, they will have to decide if they will stay in-state or go out of state for college, or if they will not go to college at all. They may have to deal with several factors in their decision, building a sense of urgency and fear as they start to figure out what life is like after high school.
"When I think about life after high school, I am scared of all the changes in life I will face," senior Kimberly Yiv said. "Going to college means that I am becoming an adult and I will have to soon face reality."
Staying Home
Remaining in Nevada tends to be the option most students go with. The in-state tuition can be hard to beat and the ability to go home whenever one desires quells the feeling of home-sickness.
University of Nevada-Las Vegas (UNLV) and University of Nevada-Reno (UNR) are attractive choices for residents choosing to stay home. Going to either school is cheaper and closer than attending a school such as University of Oregon or University of Washington. In addition to those universities, there are community colleges one can attend, such as College of Southern Nevada.
"I chose to stay in state because of cost and being close to my family," alumni Jessica Wolf said. "I had originally planned on going out of state and almost did. But, at the end of the day having no student loans and being able to see my family whenever I wanted was more important to me than getting away and leaving for school."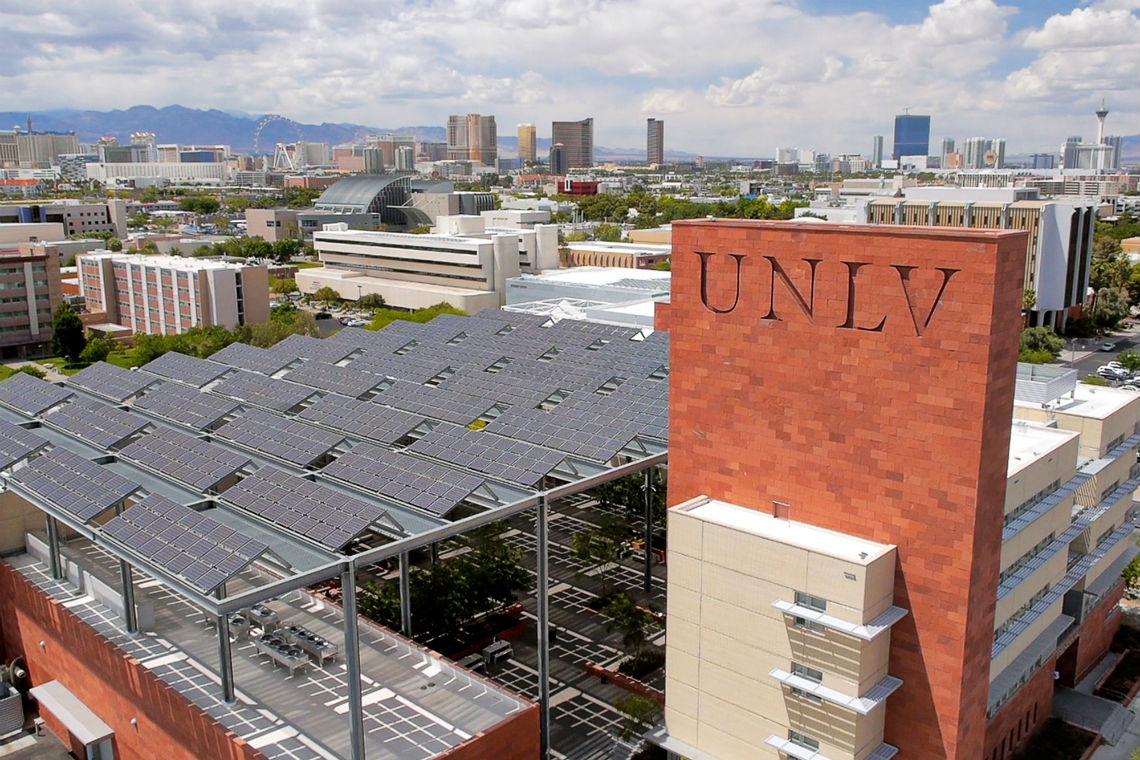 Fortunately, students staying in-state are able to save more money. The average yearly undergraduate tuition cost for UNLV is $6,943 and $6,882 for UNR, a difference of $61. Housing is an average of $3,000 at both UNLV and UNR. These housing costs are cheaper compared to the national average of $7,500 to $9,000.
UNR is eight hours by car and one hour by plane, providing an out of state experience for those looking to get away from home. UNLV allows students to remain close to the comfort of home, staying close to friends and family.
"Financially, it was a better idea to stay in state and use the Nevada Prepaid Tuition Programs because all I have to worry about paying for in college are all of the standard expenses," alumni Tom Hagen said. "Any and all fees for classes are paid by the state as per the program's rules. This is better versus paying $40,000 a year at the University of Tennessee."
Going Away
Although staying in Nevada has its advantages, some graduates have the desire to experience a new lifestyle, which encourages them to explore out-of-state options.
"I left so I could have a chance to learn something new," alumni Katarina Faulkner said. "I knew if I stayed it would be like an extension of high school and I wanted new experiences and I wanted to learn more about the rest of the country and the rest of the world."
Not to mention, moving is an opportunity to be independent. Leaving home lets the student be away from parents, providing a different environment such as preparing one's own meals, paying their own bills and taking charge of their life. Instead of going to an urban college like UNLV, one can go to a scenic college town like the University of Colorado.
"As a writer, I feel like there were more outlets in Portland because of the different publications there," alumni Alexandra Nedelcu said. "Furthermore, the weather in Portland is incomparable to the one in Vegas and I was ready to have an all together different experience than I was accustomed to."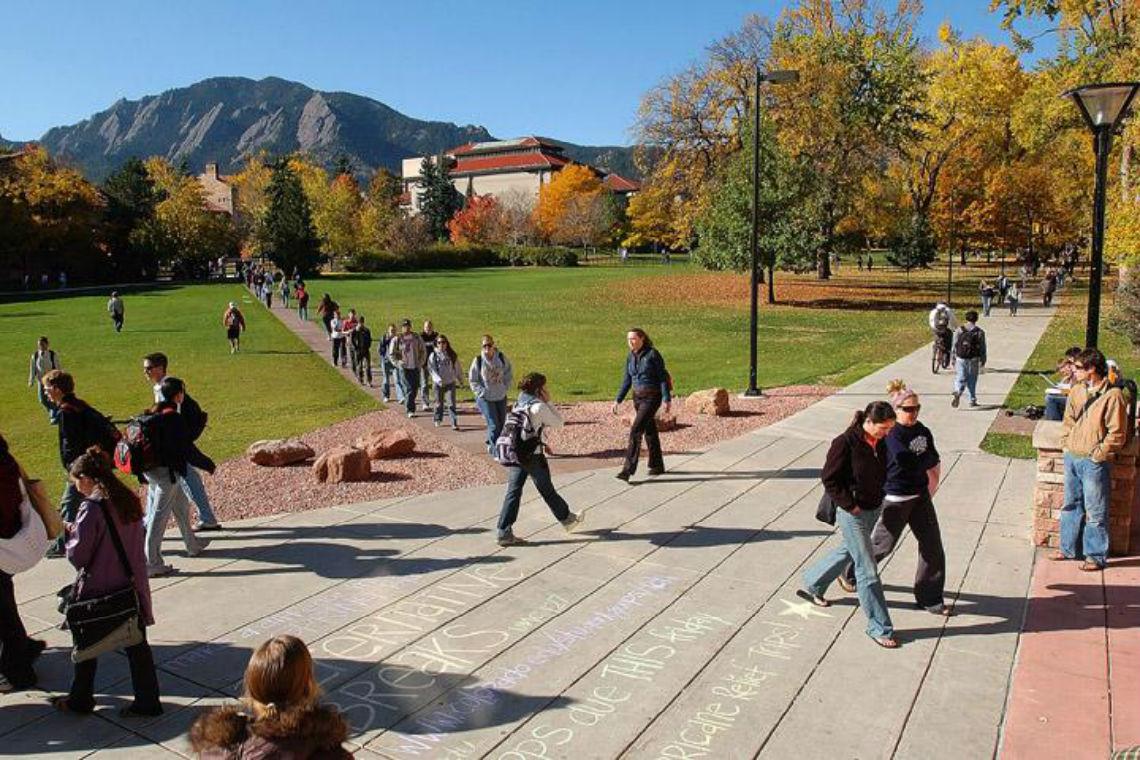 Going away also provides the possibility of making new friends and creating networks for future opportunities such as internships, research or jobs. Some majors or areas of study may not be available in Nevada, but could be available in other states. Or there could be majors offered that do not have credentials or are poorly regarded by students.
"NASA doesn't have any programs in Nevada and I'm currently employed working with both the Mars rovers, Opportunity and Curiosity," alumni Kelsie Crawford, who goes to Arizona State University, said. "I gave up the possibility of being able to afford college and instead end up with a lot of student loans, but an amazing world of opportunities at my fingertips."
Affording School
Paying for college can be expensive, but not all of the money has to come out of your pocket. There are other ways one can help pay for college, such as scholarships and federal aid.
Scholarships are financial awards ranging from academics, athletics, volunteer work, and more. For example, there is a scholarship for tall people, short people, duck callers, vegetarians and McDonald's has the Ronald McDonald House Charity Scholarship. Another benefit of scholarships is their renewability, which helps pay for multiple years spent in college.
"Apply for scholarships even after you begin college,"alumni Tazia Statucki said. "I have received additional scholarships every year of my undergraduate career, including one that I wasn't necessarily qualified for but was the only applicant."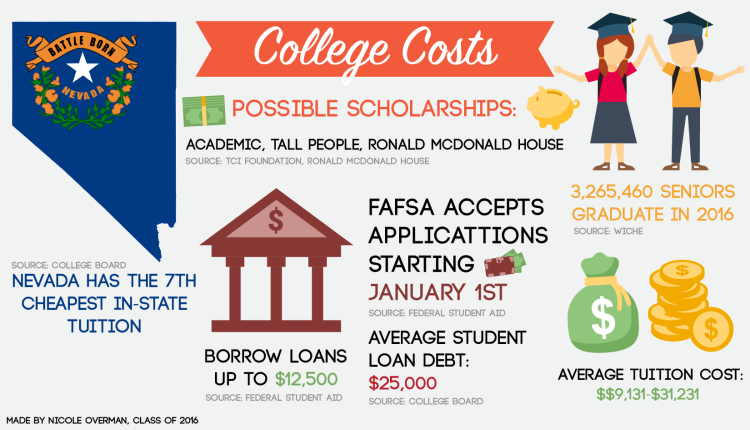 Student federal aid is another choice, as the government provides money through grants and other programs. This can be done through the Free Application for Student Aid (FAFSA). The amount of money awarded from grants and other forms of federal aid is dependent on the cost of attendance at the college and expected family contribution. A student should fill out their FAFSA early, as states and colleges use it to determine eligibility for nonfederal aid which have early deadlines or limited funding. By completing the FAFSA early, the chance of getting nonfederal financial aid is boosted. The Department of Education accepts FAFSA applications starting on January 1.
"Even if they feel like they are not going to qualify, it is still important that they apply for FAFSA," counselor Elena Clavel said. "Every institution highly recommends that people apply because every institution has their own scholarships that they're willing to give to kids, even if they don't have federal aid."
Another form of financial aid is student loans. With student loans, one can borrow money from the government. To check for eligibility, FAFSA must be completed. The William D. Ford Federal Direct Loan Program is the largest federal loan program, which is provided by the Department of Education. The program allows students to borrow up to $12,500 a year. However, the drawback with student loans is that they have to be repaid from a fixed interest rate, and debt may accumulate. Although, students may be eligible for deferment, allowing them to have a period of time where they do not pay loans or interest.
"I'm taking out student loans because if I didn't I would literally be drowning in debt for the rest of my life," senior Marissa Villarosa said.
Not Going to College
Heading to college after high school isn't on the mind of every student. Only 68.4 percent of high school graduates have gone on to enroll in colleges or universities. On the other hand, 72.7 percent of unenrolled graduates are looking for work and are more likely to be working than those in college.
"I chose to skip college to save time, money, and stress,"  alumni Chole Labbate, who currently makes YouTube videos said. "I didn't want to waste my time learning things in college that I wasn't interested in or that wouldn't benefit my life in anyway. Not every career requires a degree, and I'm not willing to waste my time on something so unnecessary."
Many factors cause a person to not attend college, with one of the biggest being financial issues. For some, paying tuition and possible student loans may not be affordable. Another reason graduates choose to work is to get work experience to ready themselves for future careers, or travel, intern or apprentice to gain professional skills.
"I'm currently working and preparing myself for college. However, a lot of what you need to know after high school you can teach yourself," alumni Isaac Roberts said. "College isn't necessary to get ahead in life, going straight to work is a good option. If there happens to be something you don't know, a quick Google search will tell you everything you need."
Instead of going straight to work or learning through the Internet, there are trade or vocational schools. These schools teach a person specifically on the profession they wish to pursue.
"Going to a trade school is so much easier than high school and a regular college," alumni Ryan Gonzalez, who goes to UTI for automotive, said. "UTI focuses on the automotive field, so all we learn is cars, trucks, and how to fix them. There's no core classes like math, English, or science, since a trade school focuses on the career you are training for. There's a bunch of hands-on learning to help retain what we learned better. Plus, there are some car manufacturers that have specific courses for us to learn how to fix their brand of cars and give us a better opportunity to immediately get a job after we graduate."
Your Choice
At the end of the day, staying home, going out of state, or not even going to college at all, the decision is up to you.
"Having the power to make my own decision for college is good because it's a stepping stone in preparing you for adulthood," senior Leonardo Castro said.
Choosing where to go after high school can seem like a daunting task to the majority of high school students, but evaluating all the options and deciding what works best for the individual will make the process seem less intimidating.
"I definitely know what to do after school. Going to college is the best possible thing I can do after high school because I'm pretty set on being in the medical field which of course requires a lot of schooling," senior Destiny Wilson said. "I've listened to my parents opinions but the final decision will always be mine. I've decided to go into biology because that's a good overall base for anything in medical."