The empire called Disney
Disney owns many big-name media companies
What started as a young man named Walt sketching cartoons and creating animations, and later on developing the Walt Disney Studio, has grown into an icon of American pop culture.
Whether it is the fairy tales, amusement parks or cartoons, Disney has had a major presence in the lives of people of all ages. With the recent release and popularity of Star Wars: The Force Awakens, which made $863 million as of Jan. 20, one has to wonder about how much Disney makes, and how far their ownership of major entertainment companies and studios reaches.
"I didn't know that Disney owned other companies, probably because they don't advertise it so that their demographic isn't predetermined to be children," junior Samrawit Misiker said. "I'm just shocked they own other things."
What they own
Disney owns a multitude of media networks, film studios and entertainment outlets. However, not many people know that Disney owns these companies.
When it comes to the media, Disney owns the American Broadcasting Company (ABC), which is one of the Big Three television networks. Disney also owns ESPN, one of the largest cable sports networks in the world. Through Disney's ownership of ABC and ESPN, Disney integrated ABC Sports with ESPN, combining the two networks
"It's convenient that ESPN shows some college football, NBA, and NFL games and that there isn't the need for a ton of different sports channels," senior Colby Ceniza said.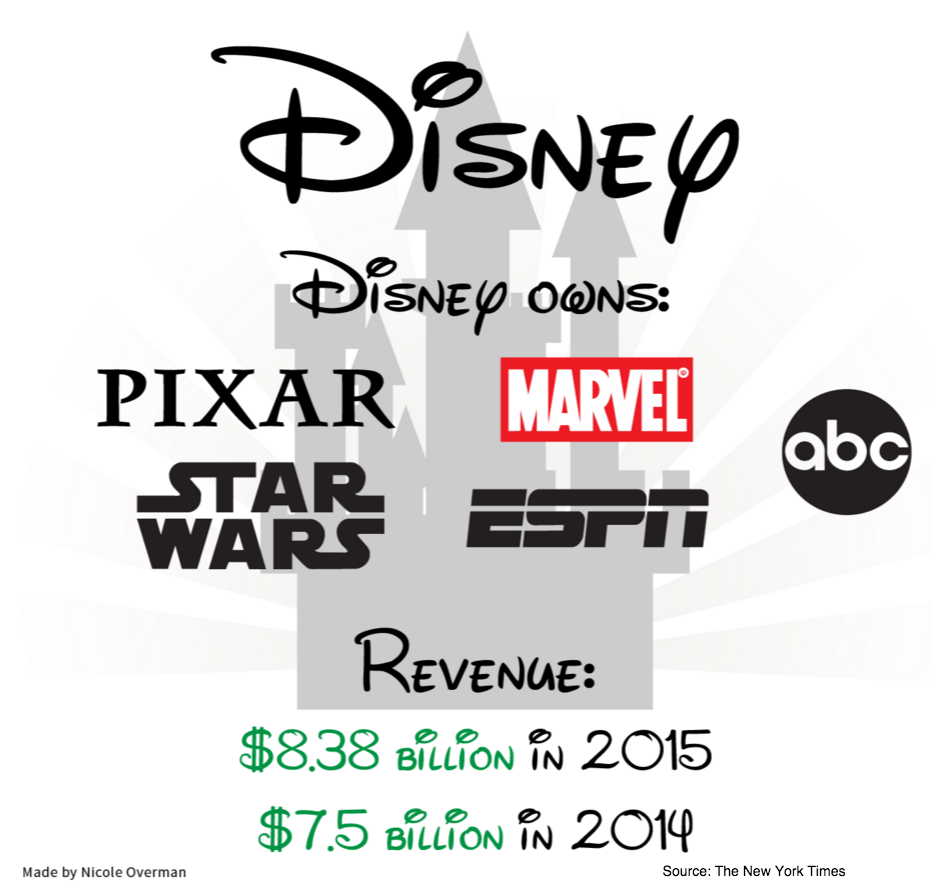 However, Disney's reach of ownership also includes the film studios of Marvel Studios, Lucasfilm Ltd. and Pixar. The ownership of these studios means that Disney has the rights to use Marvel and Star Wars for content which has created the Marvel Cinematic Universe and a new Star Wars canon. Pixar creates animated feature films for Disney.
"I knew that Disney owned Marvel and Star Wars, I think it's fine that the company is using them for content," sophomore Darmy Effo said. "Disney is a very big company with lots of money. Lots of money means big production budgets. The bigger the production budget is, the better the movie will be."
Disney even owns Maker Studios, a company that produces YouTube videos for KassemG, Timothy DeLaGhetto and Epic Rap Battles of History.
The conglomerate also has a multitude of amusement parks from Disneyland in Los Angeles and Disney World in Orlando. The amusement parks also have expanded internationally with parks in Paris, Tokyo, Shanghai and Hong Kong. Disney also has a cruise line.
"I think the globalization of Disney is fantastic," junior Amatullah Aman said. "It helps expand the message of Disney, and gives others around the world the opportunity to live the Disney Dream that was once only available in the United States."
What it cost
How Disney was able to own these large, big-name companies required enormous amounts of money.
Disney acquired ABC in July 1995 for $19 billion in the belief that both companies would grow quickly together. Along with the ABC network, Disney also integrated ABC's television and radio stations, as well as ownership interests in The History Channel, A&E Television and Lifetime Entertainment. ESPN was also packaged in the same acquisition deal. ESPN has exploded since the deal, as 94,396,000 paid television households have the channel in the United States, and is broadcast in 200 other countries.
"I feel like Disney is getting everything," senior Joey Harvanek said. "Hopefully it doesn't change the dynamics of my favorite ESPN shows like SportsCenter or Pardon the Interruption, but as far as a business decision, they're getting smart with their purchases."
In 2006, Disney acquired Pixar to be a subsidiary of the company by buying them out for $7.4 billion. This deal was made in an attempt for Disney to re-focus on animation. The deal also made the late Steve Jobs the largest individual shareholder and a new seat on the board of directors. Pixar has made 16 feature films for Disney, before and after the acquisition.
"Under the ownership of Disney, Pixar has made an abundance of different movies that I find to be really cute and funny," sophomore Cassie Ann Valdez said. 'They've been able to make iconic films that are easily recognizable."
The company has since spent a boatload more money, as they bought Marvel Entertainment for $4 billion in 2009. Disney and Marvel have gone on to create 12 films using famous superheroes such as Captain America and Iron Man, and television shows such as Agents of SHIELD.
"Yes, I did know Marvel was owned by Disney," senior Grace Petrykowski said. "The Marvel movies and television shows are entertaining to me. I always forget that Disney owns Marvel now; I don't even notice the difference."
$4 billion was spent again when they bought Lucasfilm, giving Disney the rights to Star Wars in 2012. Disney has already created a new film to continue the Star Wars Saga, with the critically acclaimed Star Wars: The Force Awakens. Also, the show Star Wars: Rebels is currently showing on the channel Disney XD.
"I was neutral on the subject when it first happened," senior Makaio Wakeley said. "People were scared that Disney would mess up Star Wars, but so far I believe they have done a good job handling the content."
How they profit
With the ownership of these household name companies, Disney has been able to rake in lots of money for profit. In the 2015 fiscal year, Disney had a profit of $8.38 billion, a 12 percent increase from the $7.5 billion profit of 2014.
Revenue from feature films brought in the majority of profits with $1.78 billion, also, "Inside Out" and "Ant-Man" were blockbuster movies in 2015. Cable networks, led by ESPN, brought in $1.66 billion and ABC brought in $1.58 billion. Consumer products brought in $1.2 billion in revenue and the Disney amusement parks brought in $758 million.
"Disney always comes out with unique and exciting movies," senior Kimberly Yiv said."'Inside Out' was a great movie for everyone of all ages to enjoy, so it's no surprise to me that these movies were a big part of their revenue."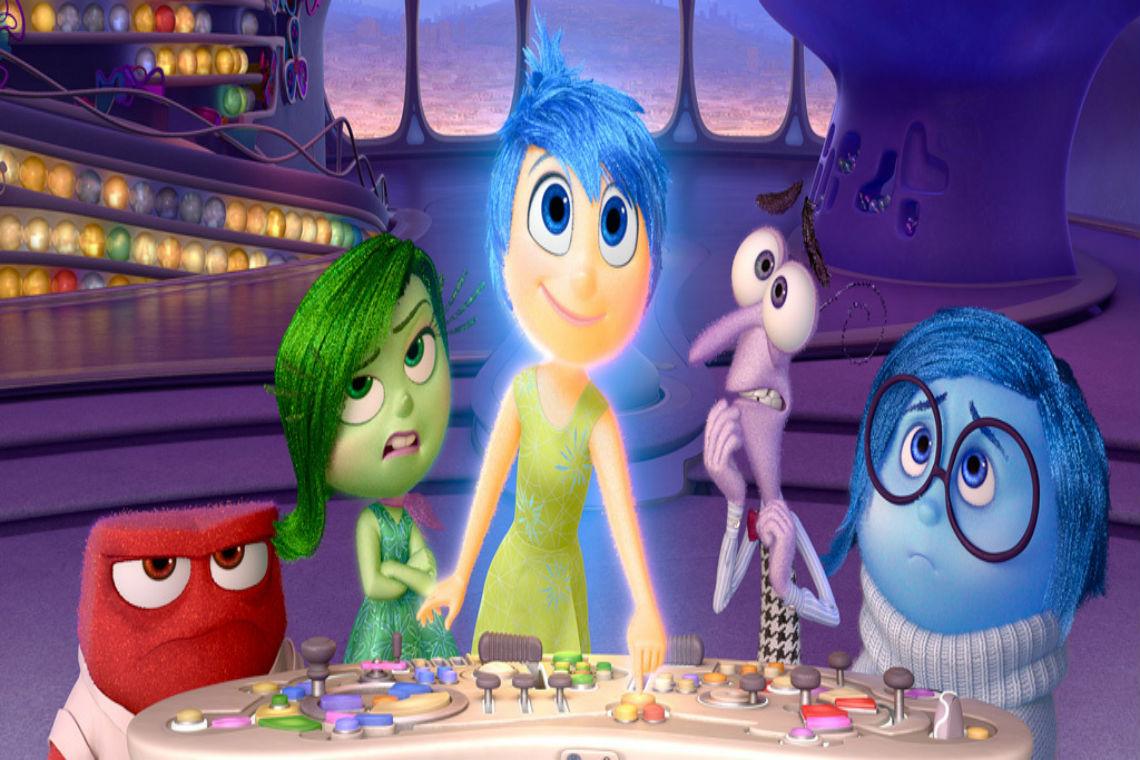 What it means for the competition
With the ownership of all these household name companies, Disney stands over the majority of the competition, especially in profits. They are ranked 11th on the Forbes "The World's Most Valuable Brands." However, the company was narrowly beaten by Comcast, who own Universal Studios and NBCUniversal, who earned $8.4 billion in profit compared to Disney's $8.38 billion.
Disney's empire beat out mass media conglomerates 21st Century Fox ($8.37 billion), Time Warner ($3.81 billion), CBS ($2.96 billion), and Viacom ($1.92 billion)
"With all Disney owns and the billions they make from all these smaller companies, Disney has become one of the most powerful and successful corporations," junior Austin Tang said. "It's inevitable that they will continue to be one of the best corporations around."
Disney also dominates in the world of movies, having five movies in the top 15 grossing movies, compared to four from Universal Studios and two from Fox. Disney also controls the world of superhero movies. Seven Marvel Cinematic Universe films created by Disney have higher profits than the highest grossing X-Men film, X-Men: Days of Future Past, which is owned by Fox. Also, Fox has the rights to the Fantastic Four, and the Fantastic Four reboot movie was a flop, having a 9% on Rotten Tomatoes  and only earning $167 million worldwide at the box office. Disney also beats the DC Extended Universe films from Warner Brothers, as Man of Steel only generated $688 million, less than seven MCU films.
"I'm not surprised at all," senior Brandon Ly said. "Marvel has been making a big push lately with the amount of movies they're releasing and advertisements they're doing. I mean just look at how big both the 'Avengers' movies were. Whereas, I don't even remember what the last DC movie to be released was."
The Future
The future looks bright for Disney. There are expansions planned for the amusement parks, such as Pandora – The World of Avatar at Disney's Animal Kingdom that is coming in spring 2016, and "Star Wars" lands in both California and Orlando parks.

In terms of film, Disney and the Marvel Cinematic Universe have 11 films planned for the future, including "Captain America: Civil War" releasing on May 6, 2016. There are also plans for a Star Wars film to be released every year with "Rogue One: A Star Wars Story" releasing in 2016, "Star Wars: Episode VIII" releasing in 2017, a Han Solo Anthology film releasing in 2018 and "Star Wars: Episode IX" releasing in 2019.

"I am very excited for the new Marvel movies," junior Carl Montemayor said. "Characters and stories that feature the Inhumans and Dr. Strange are great stories that many fans are not aware of. Marvel's approach to these movies is already successful and will hopefully generate more exposure to characters that may not be known. In addition, the new take on the Star Wars movies are refreshing and there is enough curiosity to satisfy most fans."

ABC will continue to produce prominent shows such as Good Morning America, Grey's Anatomy, Shark Tank and more. ESPN will continue to air Monday Night Football, NBA on ESPN, ESPN Major League Baseball, and ESPN College Football and the College Football Playoff.

"Disney has been incredibly successful as of late," senior Leonardo Castro said. "They are the driving force of entertainment right now. In my opinion, I have not seen a single bad film by Disney. And the by having the number one sports channel, and a top channel in ABC, they essentially control all aspects of entertainment."