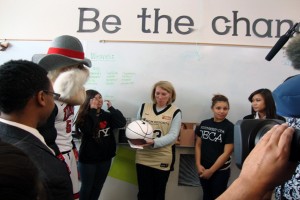 Fashion design teacher, Mrs. Sheilah Petrosky, was notified that she had been nominated and awarded the Teacher of the Game award during a surprise announcement in her third period class yesterday.
"I am excited, because this is an awesome accomplishment and teachers don't get enough recognition," Petrosky said.
MGM Resorts International Teacher Recognition Program is a partnership with the CCSD School-Community Partnership Program for the Teacher of the Game award where one local teacher is honored at each home UNLV Rebels game this year.
"It's really cool that Mrs. Petrosky was nominated and won the Teacher of the Game award because she represents our school
and she deserves it," freshman Jessica Neagle said.
A nomination program took place over the summer and early fall where anyone throughout the valley could nominate a teacher that deserved to win. Representatives from each partner in this program then came together to select a Teacher of the Game for each of the 16 home games. Sophomore Gabriela Brubaker nominated Petrosky for this award.

Loading ...
"I'm glad that I was nominated and excited about being honored at the UNLV men's basketball home games," Petrosky said.