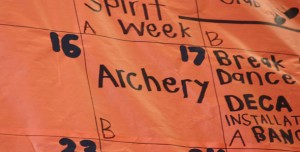 Archery Club will begin on Oct. 17, 2011. This is another year to practice your aim, stability, and accuracy with each arrow that you shoot.
"I can't wait for Archery Club to start; many other students love to shoot arrows and are always persistent in getting a bulls-eye. It helps me on my precision as well, and I improve every time," says sophomore Tana Suksangasophon.
Archery Club trains for the Regional State Competition in order to maintain the school's rank in the top three. In the past two years, students have won state and several of them have placed in the top five for the individual competition.
"I'm excited for the state competition. I'm almost positive that we will get the number one rank again this year. Everyone works so hard and practices to the best of their abilities," expresses sophomore John Park.
All students are welcome to join the club, but must have an insurance waiver filled out and turned in by the next meeting. Practice will be held in the gym every Monday from 2 p.m. – 4 pm., unless announced otherwise.