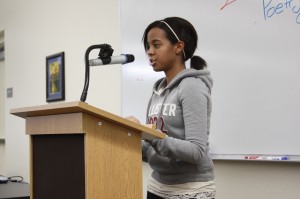 Freshman English teacher, Mr. Matthew LaPorte, organized a poetry slam on February 17th and 18th for his students as an opportunity to express their feelings through poetry.
"A poetry slam is a great way for students to share original pieces, but also including a competitive element to enhance the experience," said LaPorte.
There were three to five judges, depending on class period, who scored students off of first impressions.  Some of the judges included Mrs. Miriya Julian, Mr. Jonathan O'Brien, and Mr. Mark Belanger.  Each poem was scored on a scale ranging from 5.0 to 10.0.
"It was nerve racking knowing you're being scored and graded," said freshman Nha Trang Vivian Sam.
Students were also encouraged to vocalize their reactions to either a high or low score by cheering or booing.
"I loved being able to boo at the judges when they gave our team a bad score," said freshman Laura Nguyen.
Classes were divided into two teams and points were totaled up to determine a winning team in each period. The winners of the poetry slam were Team Operation Smooth Criminals, Team Emanon, Team Champions, Team 16 Poets Speak, Team Prodigious Poets, and Team Rhythmic Rhyming.
"I think it's easier to express your emotions through poetry, rather than just talking. It's really interesting to hear that people who you never knew that well, share the same emotions and feelings and can relate with you," said freshman Brianna Yee.
Student's poems were based on personal experiences or connections.  Many of these poems were personal and a few students became emotional during their performance.
"I think the poetry slam was really cool.  It gave us a way to express ourselves seriously, so no one could laugh at us," said freshman Sabine Bacha.