Graphic Design teacher moving across the country
Leaving to start new at Hendersonville High School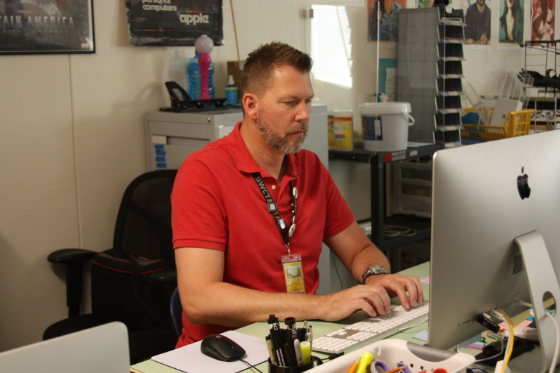 After working for 14 years in the district, Graphic Design teacher Jeffery Ball is finalizing his plans to move to Nashville, Tennessee. 
"I chose Tennessee for many reasons, but the greenery in particular. That's something we are missing from Las Vegas," Ball said. "I have chosen to leave Las Vegas for several reasons, but mostly that I have lived here for 14 years now and Las Vegas has given me everything it can for my future. I don't think there is anything more I can gain from this area, so I am moving on." 
Since 2010, Ball has taught Business Software Applications, Digital Game Design, Exploring Computer Science, Graphic Design, Animation, Independent Living on Automotive Technology, and performed the job of Community Partnership Coordinator
"When I first got out here, it was the second year Southwest was open so everything we were creating was new and we got to create all the things you are all enjoying today," Ball said. "So I think that's one of the things I will miss most about working at SWCTA was being a part of a new beginning, and creating something that really didn't exist in Las Vegas."
Being a unique and energetic teacher, Ball has left a positive impression on many of his students.
"I like Mr. Ball a lot as a teacher, because he has been a fun and unique teacher," Junior Xander Gisi said. "He gives us a lot of freedom for a lot of the projects he gives us, he doesn't give a lot of instructions, unless you ask him, he seems to be very open for what you want to do."
As the last few days of school are quickly approaching, Ball is most excited for the new opportunity that he has been presented with at Hendersonville High School.
"What excites me most is a new opportunity," Ball said. "It's like many of you as students are getting ready to go off to college and you're going out of state,, it's the mystery of the unknown and the idea of a fresh start – it's always nice to start from scratch."