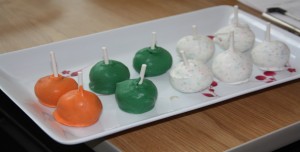 Cake pops are back and available for purchase. The Talent Club will be selling these every Monday and Tuesday at lunch.
Selling cake pops is a way for the Talent Club to fund-raise to pay for items such as a sound system and entrance tickets for their annual Talent Show.
"I think cake pops are great. They are very tasty. But they are kind of pricey for such a small serving," says sophomore Rayden Sisomphou.
Due to the new CCSD Health Code Regulations, the Talent Club could not begin selling the pops as soon as they hoped.
"We needed to make the recipe healthier," says Talent Club adviser Ms. Krista Boivie.
Cake pops are one dollar and come in flavors such as red velvet, Funfetti, and vanilla.