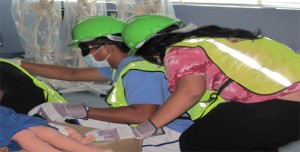 The Community Emergency Response Team (CERT) Training was held at Southwest Career and Technical Academy on September 23-25. Forty students from Mrs. Vicki Smith's Respiratory Therapy classes and HOSA attended to learn more about responding to natural disasters.
"CERT gives skills to prepare themselves and their families in emergencies and how to respond to emergencies. It is recognized that citizens would be very likely to be on their own during the beginning of a catastrophic disaster. It was decided that some basic training in disaster survival and rescue skills would improve the ability to survive until responders and other assistance arrives," says Smith.
Students that attended CERT focused on how they could assist victims in need of help during emergencies, as well as how they could help themselves.
"I got to treat people, learn what can happen in all kinds of disasters, and I learned how to transport victims," says Ashley Tolentino, junior.
On the final day of the CERT program, there was a disaster simulation where the students experienced what it is like to be in an actual disaster just as if they were a part of an emergency response team.
"I enjoyed it because we got to learn different ways to help victims. We got to do the drill at the end," states Tolentino.
At the end of the training, the students were certified to assist others when in an emergency and are now ready to take action to help and rescue other people. CERT allowed the students, who participated, to understand disaster preparedness.