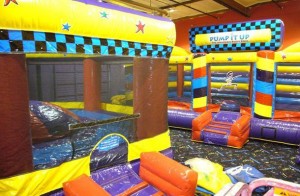 On Dec. 15, 2011, SWCTA's Student Council will hold their annual winter retreat. The purpose of this retreat is to help the members learn more about one another and to help make the council stronger as a group. This year, the retreat will be held both at the school and Pump it Up, a private warehouse filled with inflatable bounce houses.
"Last year's winter retreat was really fun and a great opportunity for the council to spend quality time together. I hope this year's winter retreat will be equivalent, if not better than last year's," says junior Emerald Tran.
The retreat will begin with each member participating in team building activities and a gift exchange on campus.
"I'm looking forward to the retreat because it gives us a chance to bond again. During the year, sometimes we get so stressed out and have so many things to do that we stop acting like a family, and I feel that the retreat brings us back together," states senior Selena Castro.
Each council member will also be making cookies for their social and teacher appreciation gifts. At 5:00 p.m., students will participate in a mini anti-bullying seminar held by SWCTA's council members to help the council be more pro-active and aware of bullying on campus.
The council will also be joined by 10 other council members from Rancho High School. Members will be eating dinner and the Christmas wreath cookies they made earlier.
"Through team builders and activities, our council hopes to grow closer as a group and learn to better accept and appreciate people for who they are," comments student body president Lacey Long.
Students will arrive back at school at 8:00 p.m. and will deliver the appreciation gifts to teachers the next day.