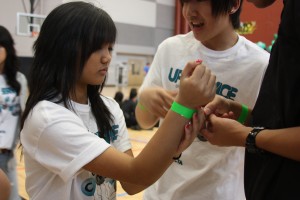 Kiwanis Educating Youth Club (KEY Club), hosted the 2010 Conclave to elect new lieutenant governors (LTG) at Southwest Career and Technical Academy on Saturday, Feb. 20.
"I was looking forward to the cheers and having fun," said freshman Nicole Brigola.
The 28 North, South, and SWCTA's division, West, were separated and designated banquet rooms in buildings D, E, and B, respectively, to listen to the LTG candidates' speeches and vote.
"Yuna Kim stood out the most to me out of all the speeches of the LTG candidates.  She had a powerful voice, and her ideas and proposals met my standards," said sophomore Andrew Meng.
After the speeches, the three divisions met in the gym for a spirit rally.  Winners were judged by the former LTGs and were scored according to their energy and loudness.  They also received trophies distributed by the judges that represented the division's mascot.
"I had a good time during the rally.  I liked listening to the other clubs because they had fun and amusing cheers," sophomore Jennifer Lee said.
Following the rally was the announcement of the new LTGs.  Tristaniel Evangelista from East Career and Technical Academy won for 28 North, Catherine Chao from Coronado High School for 28 South, and Yuna Kim from Clark High School for 28 West.
"I'm glad that Yuna Kim won as our LTG.  Her speech was really good, and I was impressed," said sophomore Jessica Lacaman.
Many people stayed for the dance that took place afterwards.  KEY Club members crowded around the DJ and danced until 8 p.m.
"I had a great time," said freshman Yerang Suh.