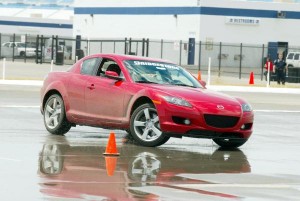 On October 16 and 17, 2010, Driver's Edge offered a driving workshop to students in Clark County. They offered a morning and an afternoon session both days at the Las Vegas Motor Speedway.
"Driver's edge helped me understand how to better maneuver a vehicle and what actions get the certain response from the car that you need in a stressful situation," comments participant Marisa Martinez, junior.
The workshop provided students with the opportunity to experience real-life driving situations under the guidance of professional drivers. There were four different subsections: law enforcement, vehicle walk around, skid control and ABS stopping/obstacle avoidance.
"My favorite thing about the program was that it allowed kids to be put into simulated stressful situations before they actually had to experience them on the highway and be put into harm's way," states Martinez.
The activities in the program help to expose new drivers to the emergency situations that are present on the road.
"It is much better to learn to drive hands-on," comments junior Nicole Mayor.
Veteran drivers also believe that experience is key to success on the road.
"I didn't feel really comfortable as a driver, or confident, until I had been driving for a few years. It takes experience and exposure to be a good driver," states history teacher Krista Boivie.
Driver's Edge will be offering additional classes this winter. Registration information can be found at www.driversedge.org.