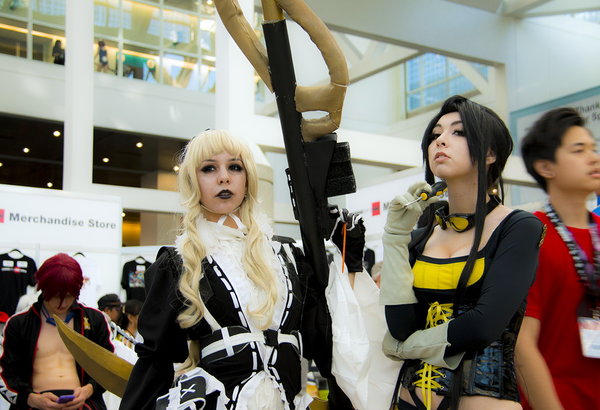 Since its development, gaming and nerd culture as a whole has been viewed as a male dominated playing field; as a result, the acceptance of girls into this alleged 'man's world' has been and continues to be arduous—or more difficult than need be to say the least.
As a matter of fact, the reality is that today, practically half (48 percent according to the Entertainment Software Association) of gamers are female. Despite this, time and time again, girls who embrace nerd culture (whether it be through comics, video-games or other mediums) face accusations of being posers, therefore coining the term 'fake geek girl.'
Upon digging deeper into the reasoning some male fans offer in order to rationalize what makes someone a 'fake geek girl,' I found that the basis of their arguments did not quite add up.
One of the most common accusations women in geek culture face, particularly while attending conventions, is that they are only participating or cosplaying a character for the purpose of gaining male attention.
Some male geeks and even comic book artists (ex.Tony Harris, known for his work on comics like Starman and Iron Man, has expressed his contempt for 'fake geek girls' in online rants)assume that an attractive woman wearing a revealing cosplay outfit is only seeking attention, and using the convention as an excuse to be admired by others. Some convention goers claim that this is her only intention, and believe that she cannot be a 'real' fan of whatever media form she is cosplaying from. Many women face this kind of behavior, regardless of the fact that their costume is an exact replica of the (usually scantily and provocative) costumes the artists who condemn female cosplayers designed themselves, and the extensive amount of work that is put into creating homemade cosplays.
This mentality is carried out to the extent that female fans often face unnecessary quizzing on their object of interest; whether it be a show, video game, comic, etc. Simply because they express an admiration for these works, their validity as a fan is tested through obscure knowledge. Additionally, in many video games, female characters tend to be depicted as weak, therefore setting up females who cosplay to be considered as such.
On the other hand, when girls who are deemed unattractive by conventional beauty standards attempt to cosplay certain characters, they are criticized for disgracing the character by portraying them inaccurately. When taken by the root, one can conclude that a woman's worth in geek culture is not based on their contributions to the fan base nor their enjoyment of the fan culture, but their appearance.
The mistreatment of girls in geek culture goes way beyond conventions, as female players face several burdens online as well. For example, my older sister has expressed her frustrations in playing the popular online MOBA (Multiplayer Online Battle Arena) game League of Legends, due to something as simple as having a somewhat feminine screen name. By assuming that she is a girl, she has dealt with male players presumptuously concluding that because of her gender she will not be a valuable player in a match.
Additionally, with the emergence of an online video series entitled Feminist Frequency, creator Anita Sarkeesian became the target of a massive online hate campaign for her efforts to provide an educated perspective on women's representation in video games. The harassment toward her included death threats, disturbing images (including a game in which the player could click to increasingly abuse Sarkeesian's face), and even a threat promising a mass school shooting at Utah State University targeting Sarkeesian and anyone attending a speech that she was due to deliver on campus.
This treatment toward women in geek and gaming culture gives a bad name to the vast amount of male players who embrace and welcome women into the community. The idea of the 'fake geek girl' is one that should be diminished, as it only encourages exclusion and harsh circumstances for nearly half of the gamers in a worldwide community.
Rather than acting as if gaming and geekery is some kind of exclusive boys club, accepting women and all people who enjoy taking part in geek culture is the best way to create a community in which all parties are happy and comfortable. After all, what brings these people together is a mutual interest and love for platforms that serve the purpose of entertaining all who encounter them.