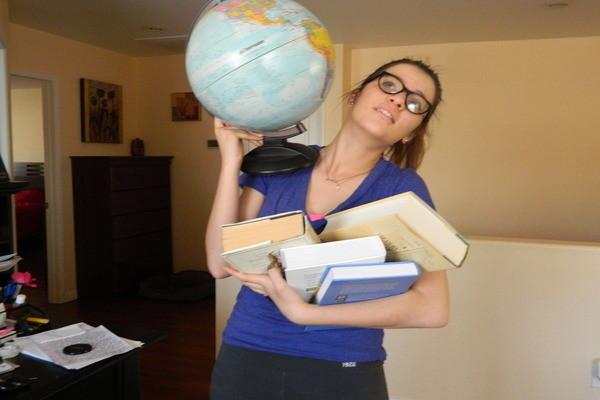 Essays. Photos. Coriolis effect. Tests. Quadratic formula. Column. Eat! Just kidding, you have to dissect a sheep's trachea (YUM!). Sleep! No, don't. Do your homework! Do the laundry! Breathe! Run to the store. Stay after school. You're late. You're early.
The latter motion has been my life in a nutshell for the past week or so. Not only am I up to my neck (and about to drown) with responsibilities, homework assignments, and, uh, trachea dissections, the most important school trip of the year is about to take place.
Brace yourselves…
Yes, ladies and gentlemen. It is not 81 days, nor is it 54 days or 29 days until the New York trip, but five days. Five. CINCO! Although I am beyond ecstatic to spend time with some of my journalism family in the most populous city in the U.S., I must first cater to my academic needs. Not to mention, the quarter will end while I will be eating street food and taking selfies with skyscrapers. Instead of preparing for my trip by reading articles about the top things to do in New York City, I am writing essays about scientific occurrences and making up assignments in advance for an entire week.
[vision_pullquote style="1″ align=""] The pressure of always having something to do is enough to make me go mute for a while. [/vision_pullquote]
Despite all of the work I've been immersed in, one fact is for certain: I have been doing a remarkable job at not becoming sidetracked by the fact that I will be hanging out with Lady Liberty (shrieks and does little happy dance) in about 120 hours. Although I have never visited New York, I have always loved the stereotype of hailing a cab, looking up and seeing buildings hidden by clouds, and strolling through Central Park. I just hope that all of my hard work is paid off by my experience in my dream city.
Not only have I been going the full nine yards to accomplish my tasks, I have also been extremely selfish and irritable toward my close friends lately. The pressure of always having something to do is enough to make me go mute for a while. It is true that I have been distant, but it is nothing personal. The central truth is that I am simply worried that all of the work I have been doing will not be enough.
I realize I am not the only one that goes through small periods of retrograde. But if it is one lesson I have learned about these times, it is that breaks are good for you. Not only should I be taking breaks to send a witty text to a close friend, or simply take a drink of water, I should also be more positive. Sure, the quarter will end next week, and the fact that I will be gone does worry me, but it should not eat me alive. Staring at a list of tasks is not going to make me less stressed. So what if I take fifteen minutes to read an article about whether leggings should be worn as pants? As long as time management is the dominant quality, I can even read the article about which cat breed is better.
Workload does not equal happiness, and I regret not realizing this sooner. Broadway, here I come! But first, let me finish my English project…