10895 S Eastern Ave #100,
Henderson, NV 89052
Sun-Sat: 11:00 a.m. to 8:00 p.m. 
Credit cards accepted
For a while now, I've been meaning to find healthier options to eat at instead of the usual fast-food restaurants. After driving around for a while, I noticed HUMMUS and my first thoughts were that "Well, I love hummus, so I want to go and try it out."
HUMMUS not only tries to provide healthy and nutritious meals for their guests, but they also create a positive experience for the people of the Las Vegas community by building a value-driven dining experience. Their food is inspired by Mediterranean cuisine that is all naturally and locally sourced, as well as served in a casual, yet lively setting.
Walking inside, my friend and I noticed the aesthetic setting and the decor. The chairs had a marble rustic look to them and it was fairly cozy. I noticed that there was some type of movie in black and white projected onto one of the walls which was a unique touch. When we went up to the front to order, the menu was easy to navigate as there were only two main choices you could choose from: wraps and bowls.
Approaching the counter, the workers were friendly and cooperative and offered my friend and I samples of the meats and even different hummus options before ordering. After selecting our bowl or wrap from the menu, they asked us for the specific vegetables, greens, meats, hummus and other toppings we wanted and gave a very reasonable portion size as well. Whether a customer chooses a bowl or a wrap, the price will vary based on the choice of meat.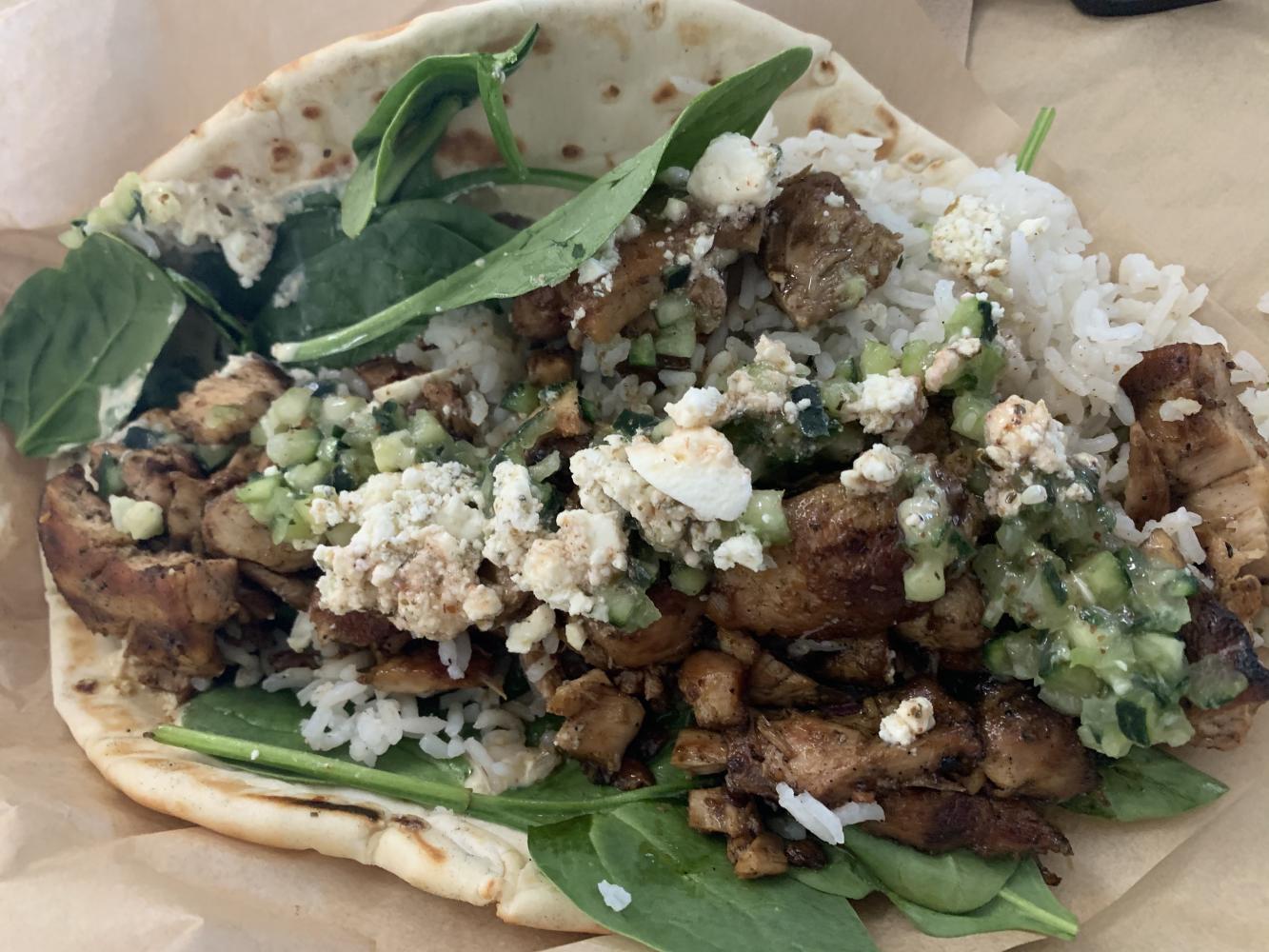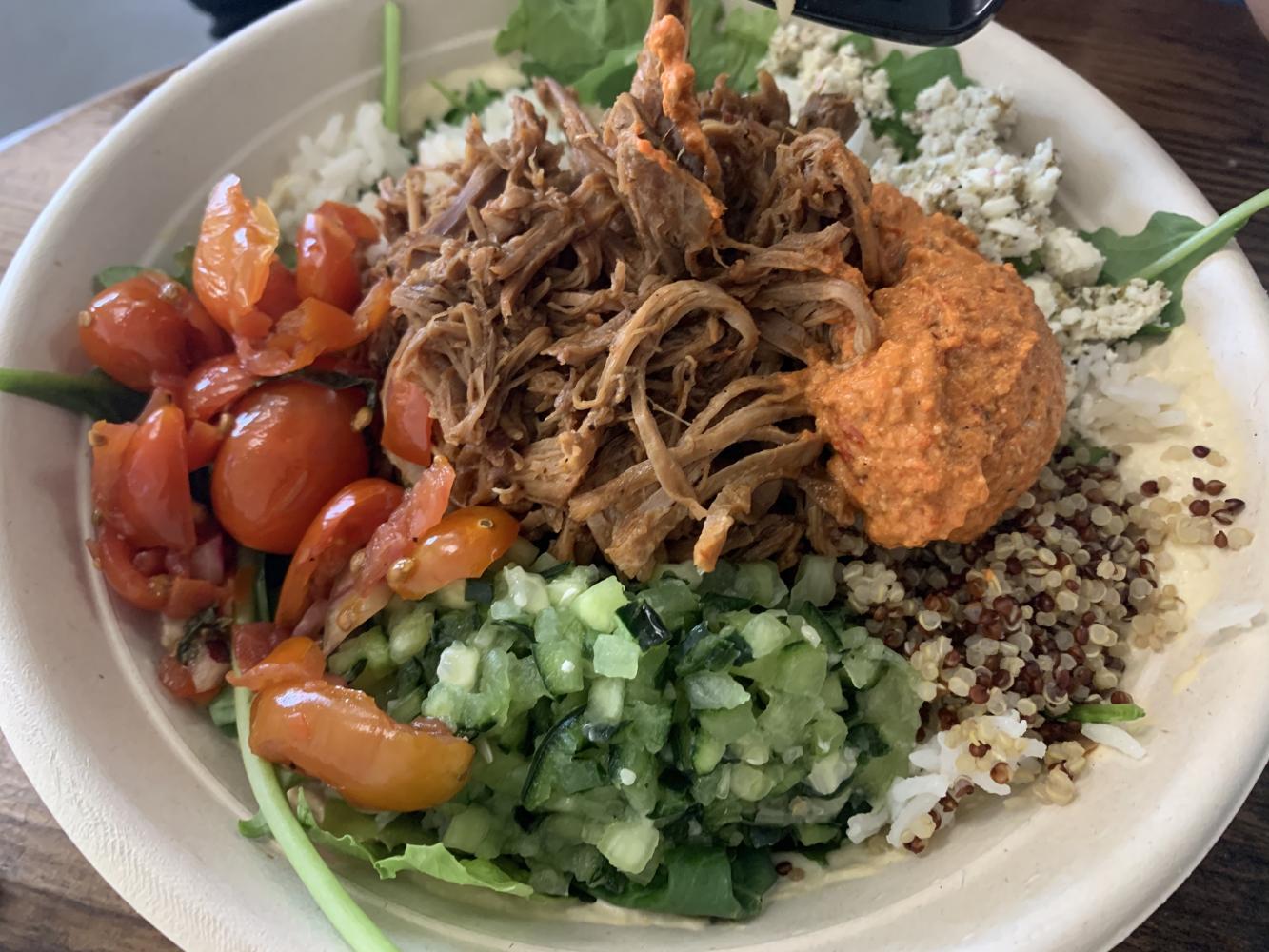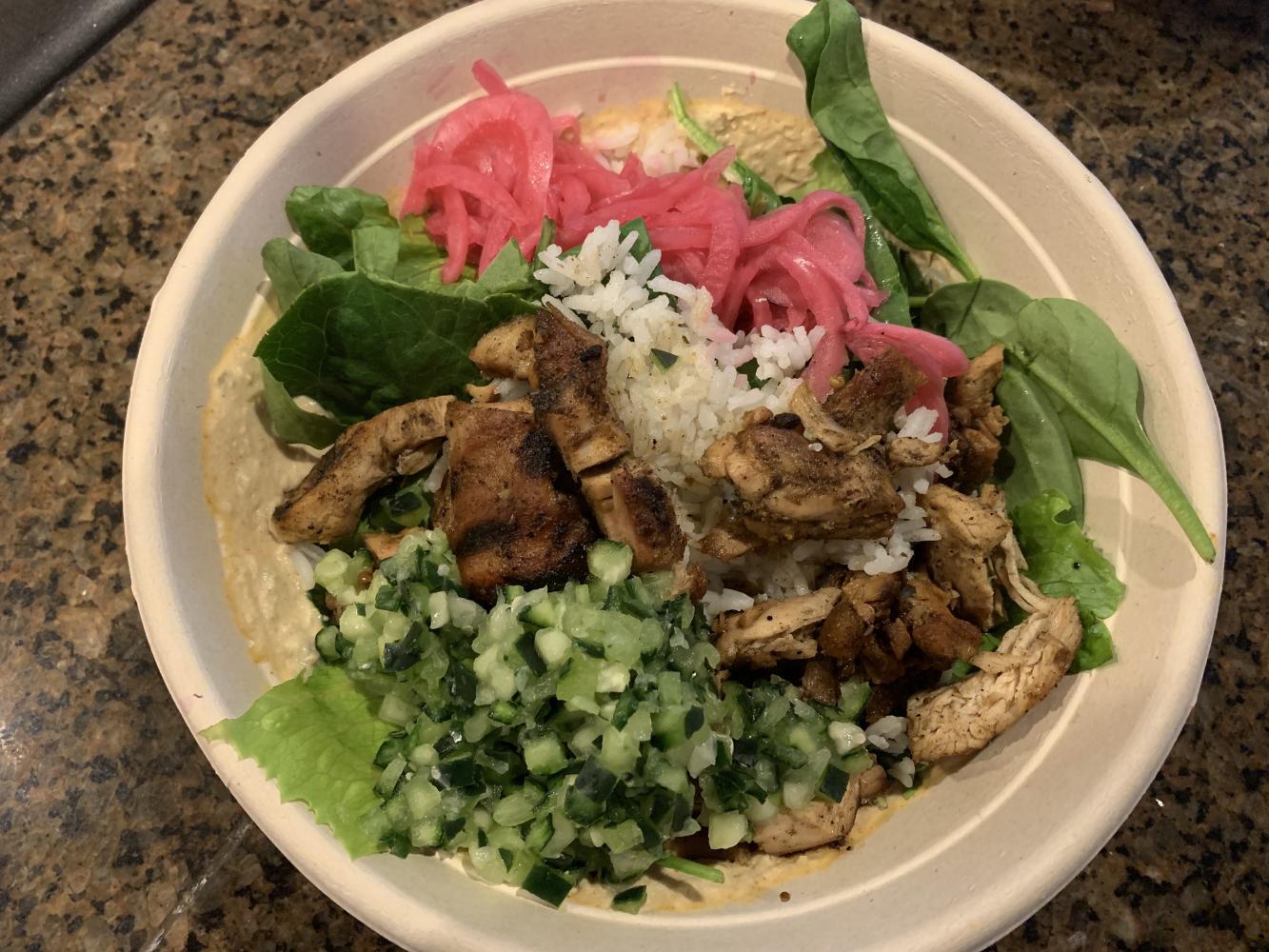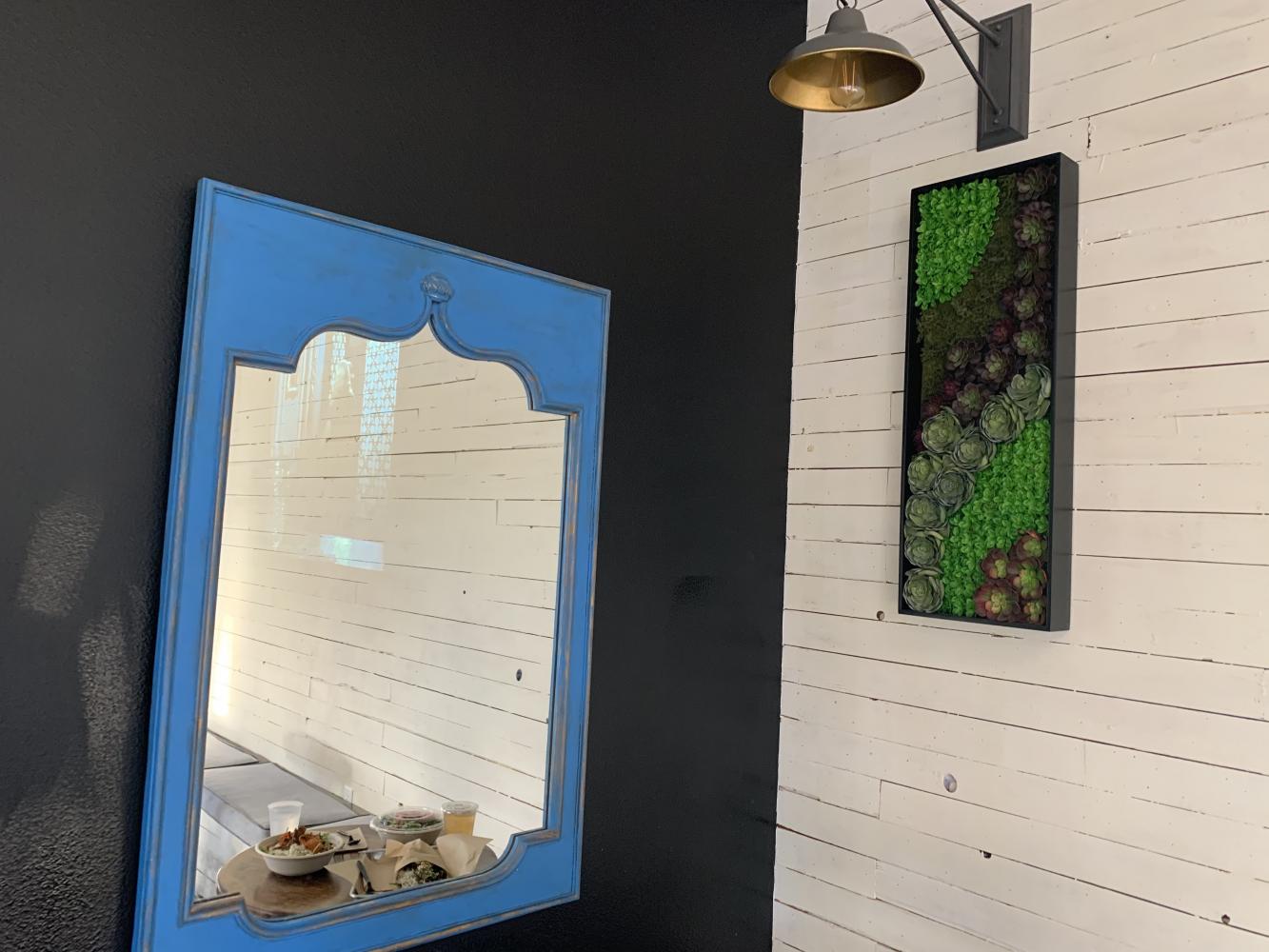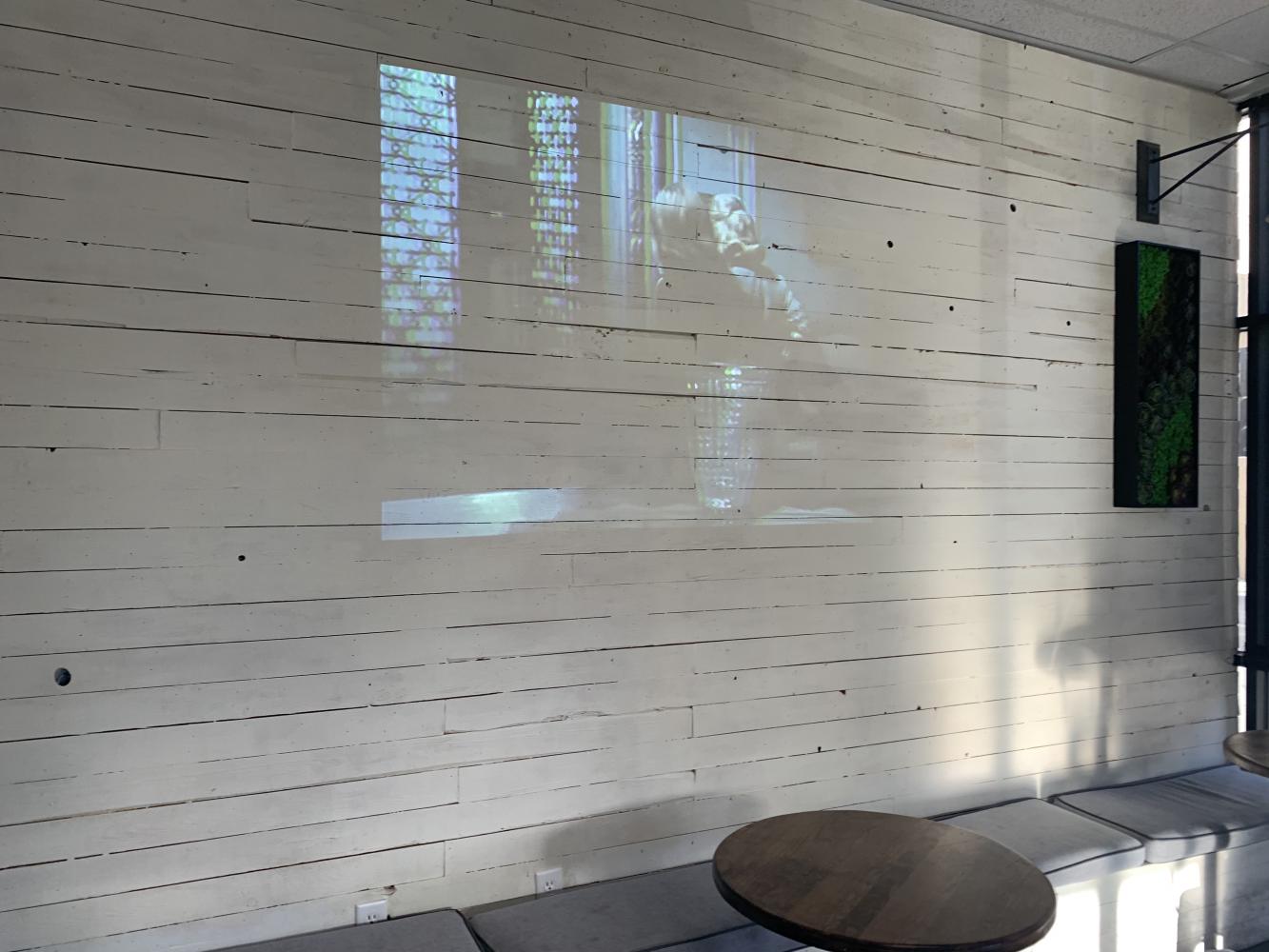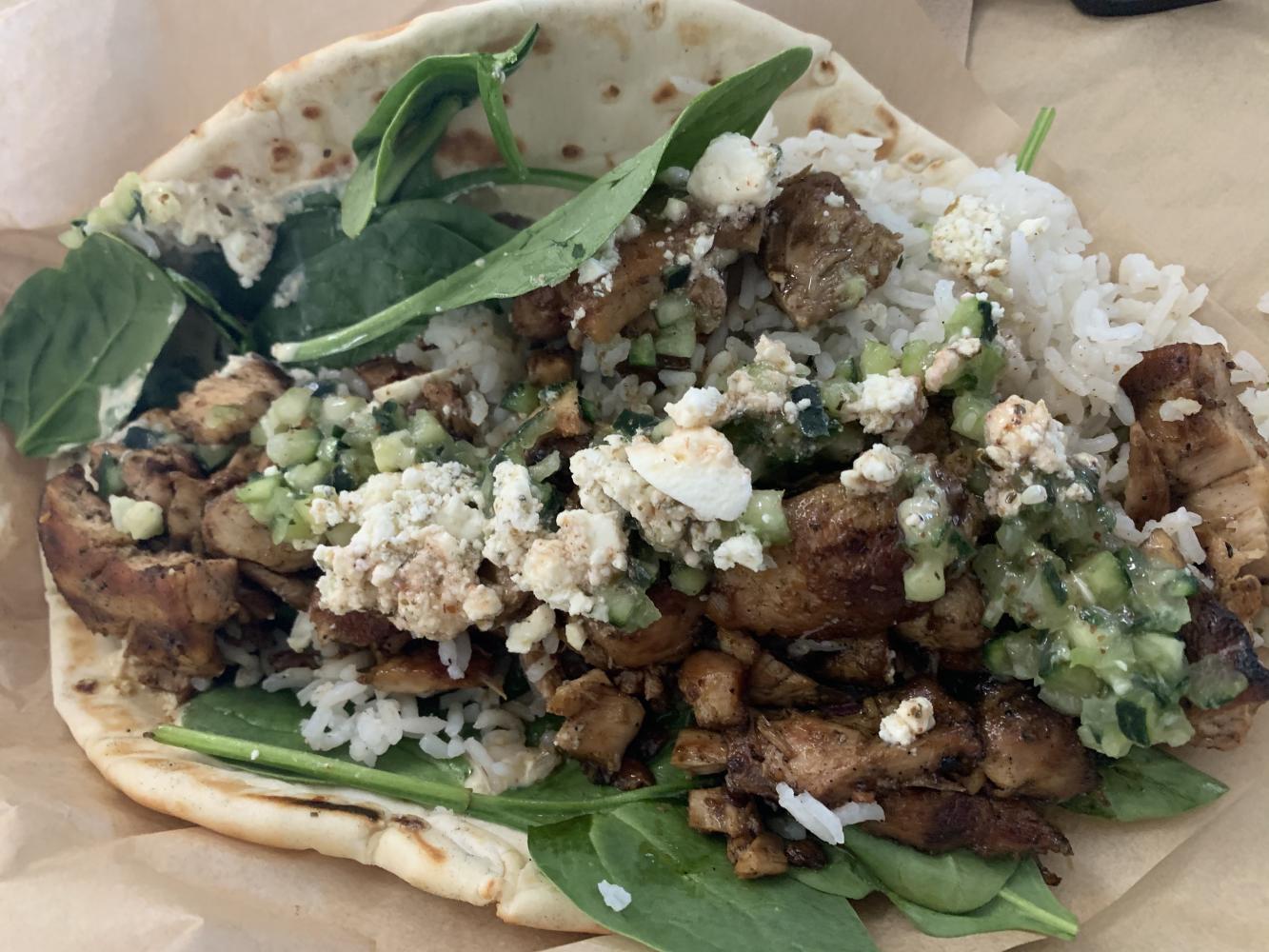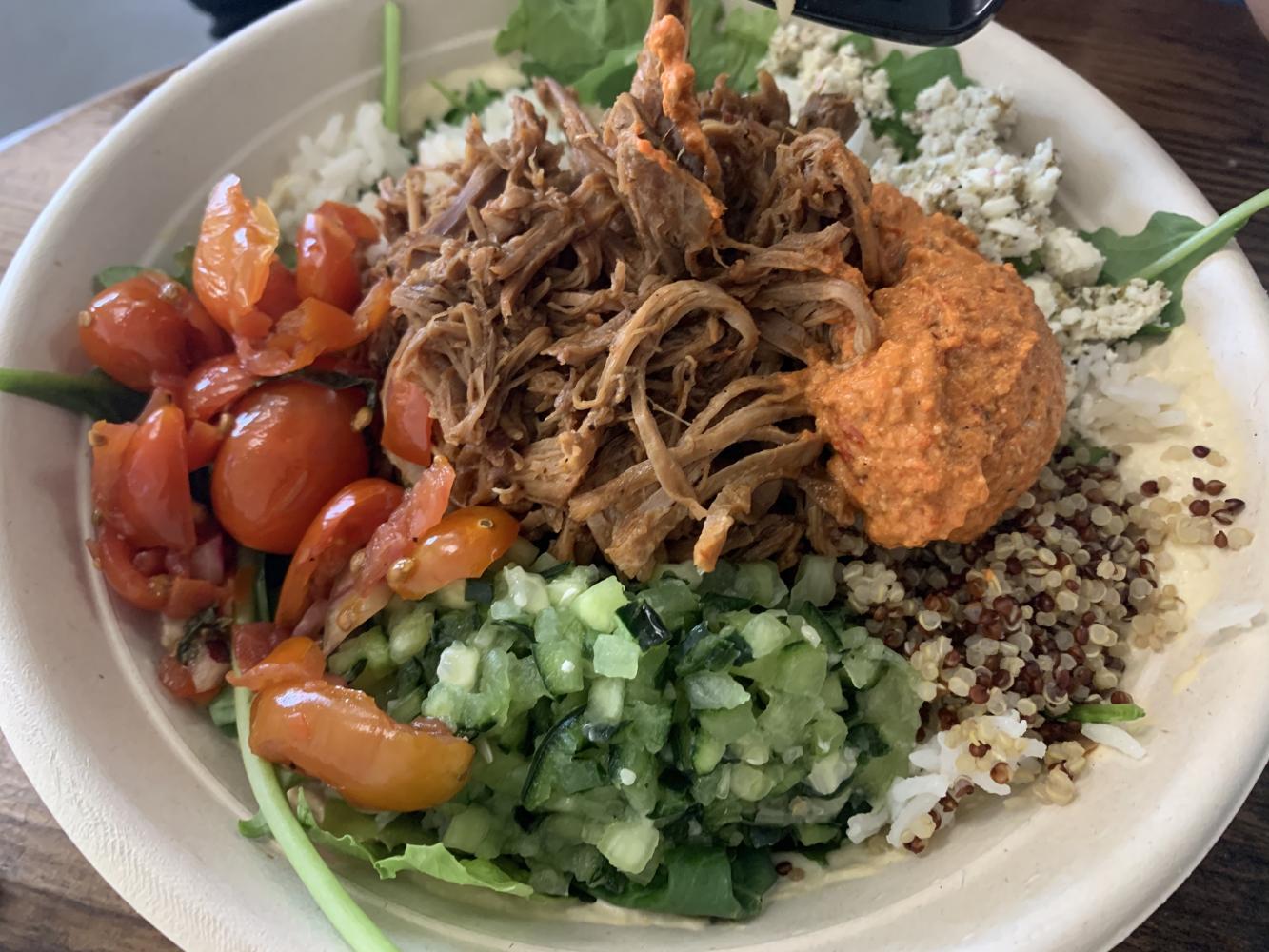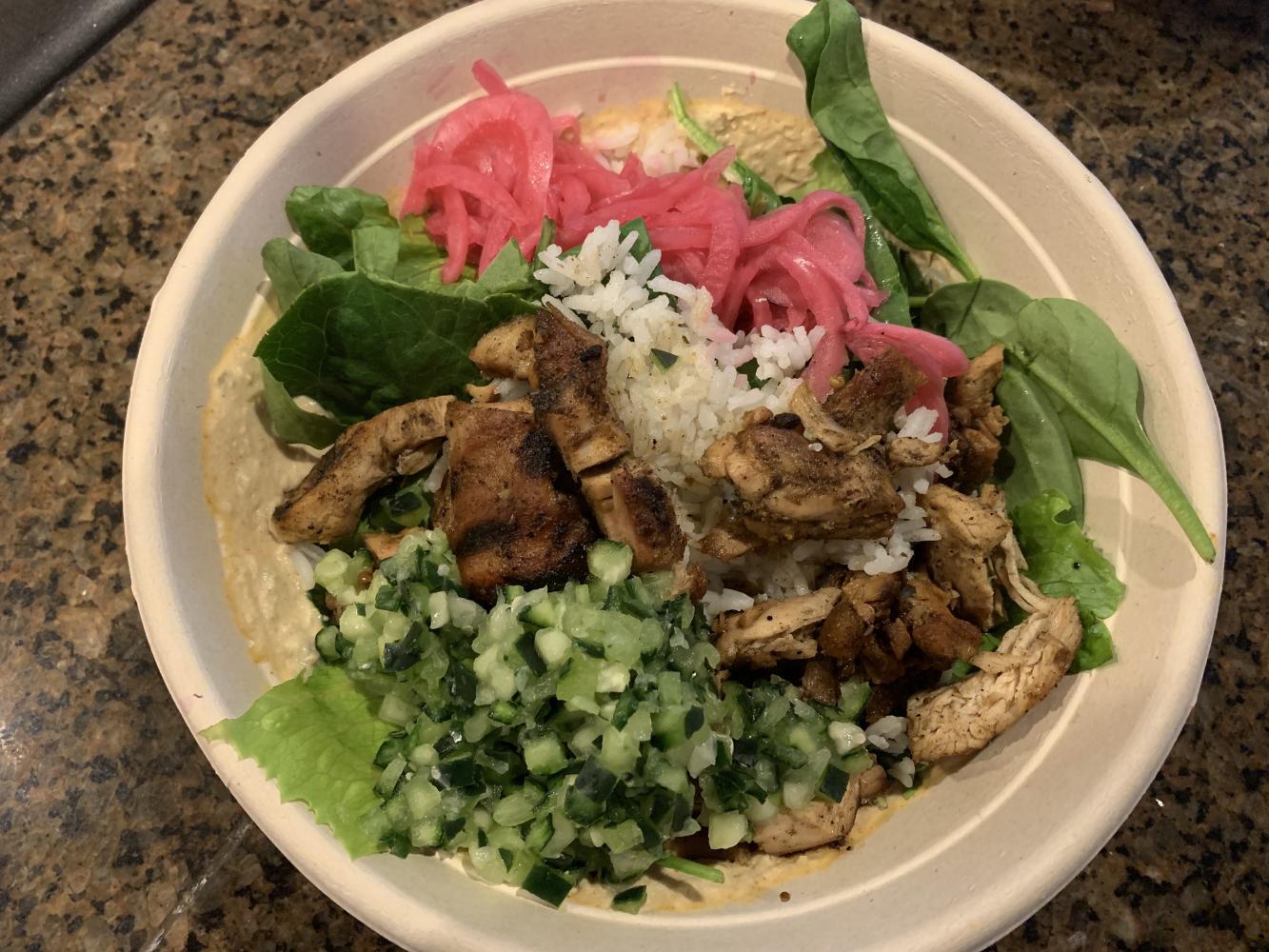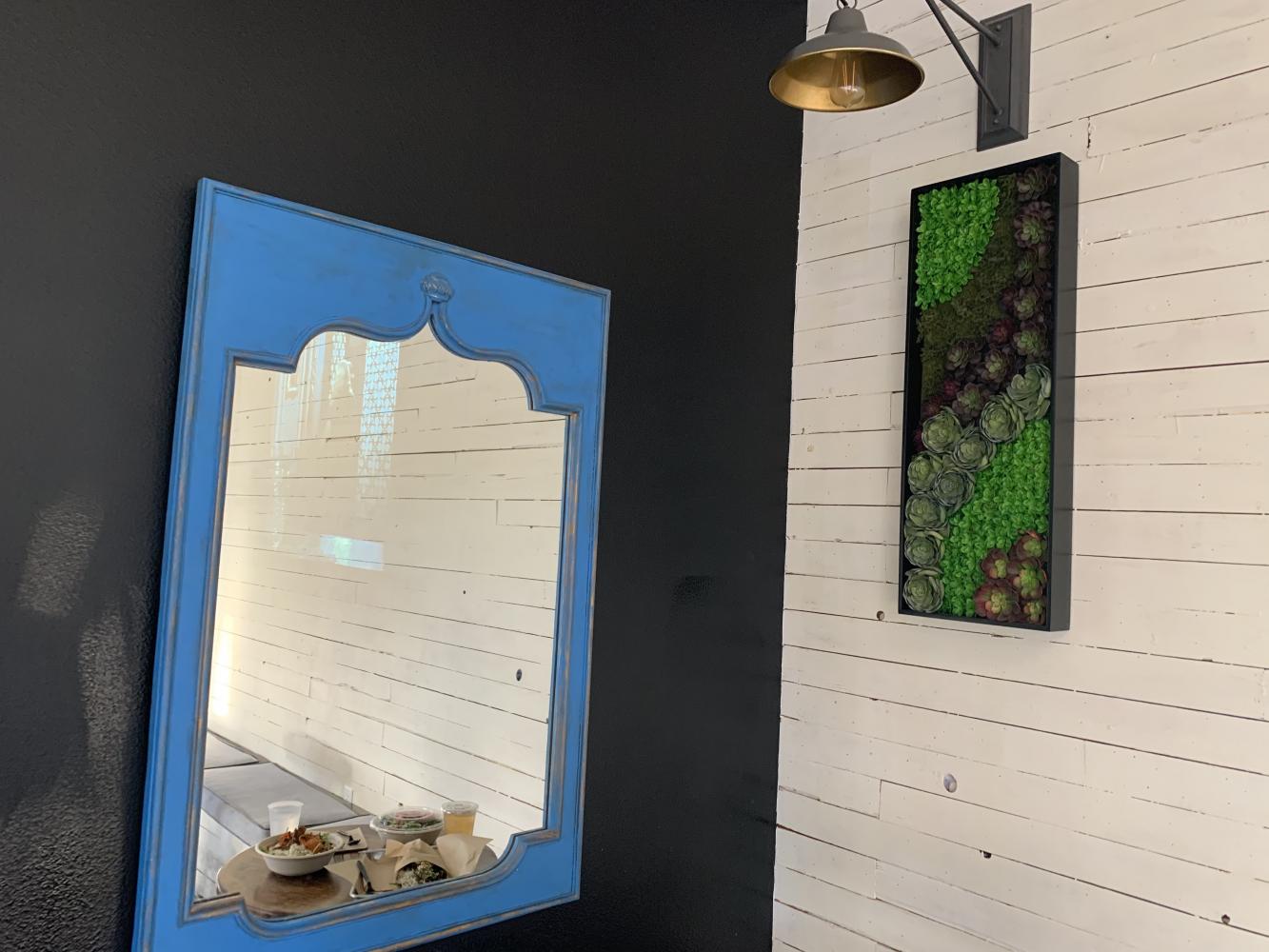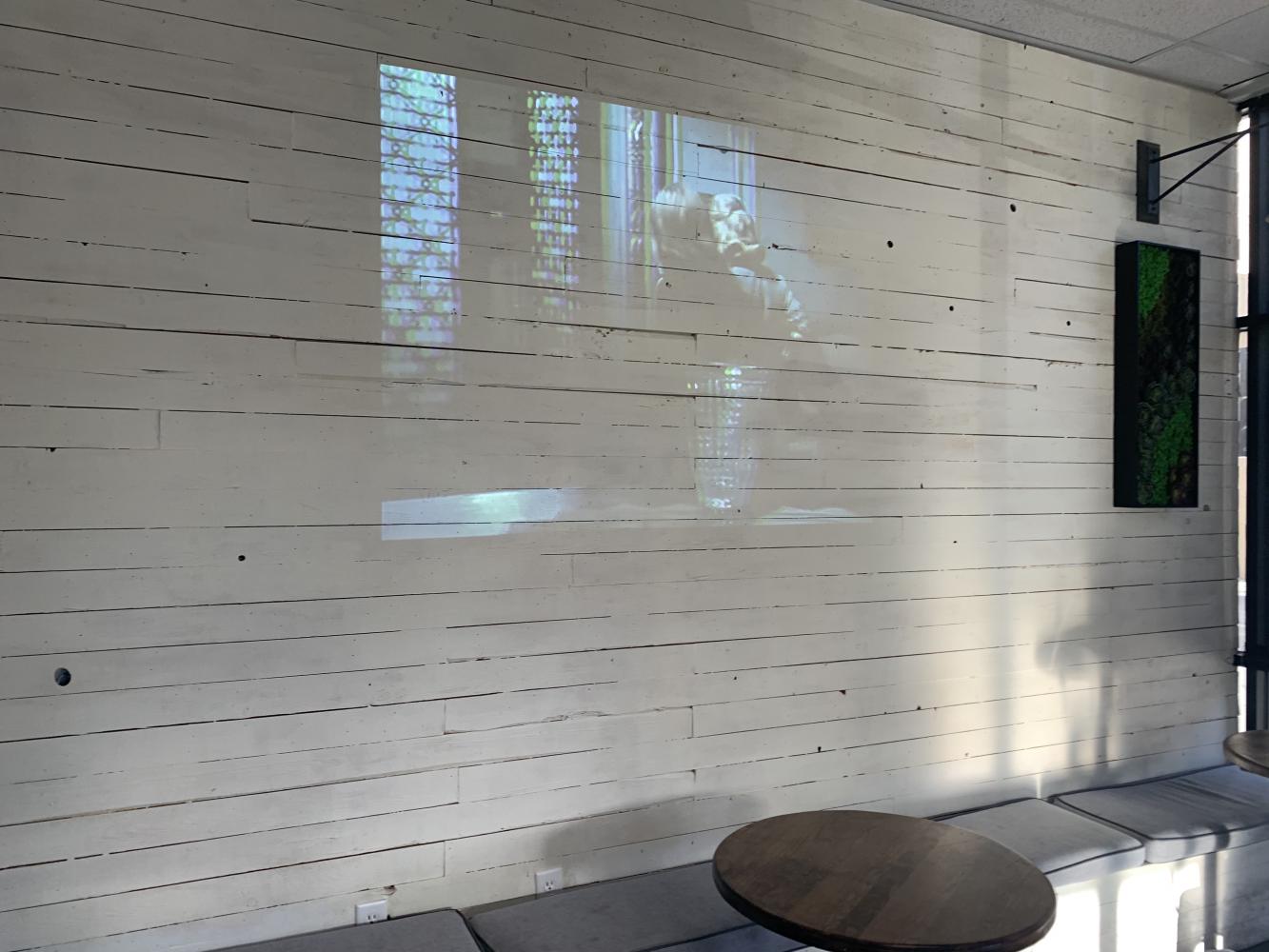 I chose a wrap with flamed grilled chicken ($9.79). Covered in classic hummus, the wrap was made on soft pita bread with diced cucumbers, feta cheese, house dressing, rice and spinach. The chicken was delicious and had the perfect amount of chewiness and zesty flavoring. The pita bread and hummus tasted great together. In short, this was a tasty and filling meal.
The second dish I tried was a bowl with braised lamb ($11.29). The bowl included sliced tomatoes, rice quinoa, white rice, romaine lettuce, and Muhammara – a roasted pepper and walnut sauce. There were many flavors and each topping tasted better than the last. The tomatoes were sweet with a mix of seasoning and oils to balance out the salty and sweet flavors, the cucumbers were cooling and soft, the braised lamb was very juicy and seasoned nicely and the sauce complimented the meat by giving a hint of spice and an overall smoky flavor and the hummus mixed with all of these toppings was the cherry on top of a great dish.
The last dish that we ordered was a bowl with flamed grilled chicken ($9.79). This bowl included diced cucumbers, spinach, pickled red onion, rice, classic hummus and chicken. The tastes of this bowl were simple, yet tasty. The onion, cucumber and rice were a nice mix of refreshing flavors and saltiness as well. The chicken was tender and filled with savory flavors and when mixed with the hummus and spinach, it made the perfect taste in my mouth.
HUMMUS's atmosphere, customer service and overall taste of food exceeded my expectations, and I was beyond happy with my experience. The simplicity and the prices weren't bad at all considering how much you are being given. This is a great place to come to after a work-out or just for a casual get together with friends and family. I know that I will definitely be coming back here and trying out the other toppings that they offer soon.