Skilled Kung Fu competitor: Meet Nathan Ly
Practicing jumps, kicks since age six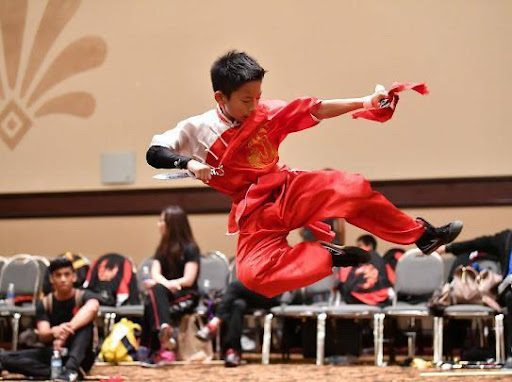 Stepping onto the mat, sophomore Nathan Ly shakes off his nervousness and prepares himself for the competition he's been training fiercely for. Ly has been practicing the Chinese martial art, Wushu, more commonly known as Kung Fu, from age seven.
Ly competes for Las Vegas Modern Kung Fu, where he trains with his teammates before contending against other groups.
"I started off with a few different schools and then I found the right one for me, which I've been going to since I was seven," Ly said. "I've been to over twenty competitions. Most of them are national, in California or Arizona, but I've been to international competitions in China."
With many years of training and competing, Ly has been able to receive many awards and recognitions.
"I have 70 gold medals and four grand champion awards overall," Ly said. "At my most recent competition, the international competition in Phoenix, I won four golds and a silver. During one competition I messed up my form and I had to improvise. It was super sloppy and I knew for sure that I was going to lose. But even with my mistakes, I still got gold. I was dumbfounded, but honestly I was glad."
Although Ly has won many awards, competitions can still be disappointing, especially when training for hours and still getting the lowest rank.
"I get really disappointed about losing because I've trained so hard," Ly said. "My endurance is definitely a problem for me. It takes a lot of stamina to hold poses and forms for minutes, and losing after all the effort is painful for me. I always think 'why do I still do Wushu?' There was this one competition where I only got one bronze out of four competitions. All of my nervousness and fear got to my head, and I was very mad at myself and my training that day."
On top of the stress from practicing, sometimes severe injuries can happen while practicing.
"A long time ago, I bruised my knee really badly," Ly said. "I did a 720 split into a split and I wasn't able to walk for about a day and my whole knee was swollen. I couldn't train for a week, and it felt so uncomfortable having ice on my knee for the entire day."
Although he often feels frustrated at times, Ly finds relaxation within all the tension. Focusing on nothing but perfecting a move, can help draw attention away from stressful events in Ly's life.
"Wushu stresses me out, but it also ends up relaxing me," Ly said. "I feel like training relieves my stress because I get rid of it physically. I focus on my form and put all of my energy towards perfecting it. Even if I do get tired, it lets me distract myself from everything else going on that [can] distract me mentally.
After encouraging him to start Wushu, Ly's mother Hanh hopes he continues this path.
"I love the fact that he does this," Ly said. "I'm glad that he has motivated himself into starting martial arts [because] it's a great exercise for him and builds his character. He's been doing good so far, and I hope he keeps it up."
Ly wants a future in Wushu and strives to keep up his competitive state.
"I think that I'm a good competitor," Ly said. "I can get fierce, but overall I think that I stay kind and respectful. Honestly I really just want to continue it, regardless of winning. I like competing and training and every part of it. I want to just continue getting better and better."