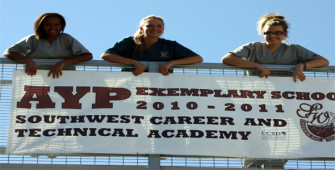 "The Southwest Career and Technical Academy made Adequate Yearly Progress (AYP) and we are designated as EXEMPLARY!  Congratulations and thank you to everyone for all of your hard work and dedication to education! Words can't describe how proud I am of this achievement," says Principal Felicia Nemcek.
SWCTA is one of only four high schools in the Clark County school district that met or exceeded every goal, per the federal No Child Left Behind Act.
"I'm very proud of our AYP status. I'm proud of the work that our students and teachers put into academics every day," says Assistant Principal, Michael Butler.
This year, although the Reading test pass score increased from 250 to 300, SWCTA still made AYP. But, more than 95% of the high schools in the Clark County school district have failed to pass the high standard and are deemed as a "needs improvement" school.
Tom Rizzo, broadcast journalism teacher, states, "AYP relies too much on test results. I believe the system is too simple."
In 2014, the AYP pass rate will increase to a 100 percent proficiency score in math and reading.
"I believe that it's going to be extremely hard or impossible to achieve the one hundred percent mark that the AYP standards are expecting," says junior Randy Bae.
The Southwest Shadow applauds the efforts of the student body and their exemplary status.