Sun-Mon: 11AM-10PM
4284 Spring Mountain Rd, Las Vegas, NV 89102
Cash and credit cards accepted
What started as a popular street food offering in South Korea, has now spread throughout the world due to growing interests in Korean culture. After Korean corn dogs became a trend on social media, shops have opened across the US over the last couple years to serve these savory treats. Located in Shanghai Plaza, Cruncheese was the first to bring Korean-style hotdogs to Las Vegas in 2019. CrunCheese offers many options, from different cheeses, batters, to 12 different condiments to complete your hot dog.
The small location is decorated simply with banners and flyers, with no current available seating inside or outside. It is easy to fill up the space for the line with just a couple of people which can sometimes overflow onto the already cramped sidewalk. However, the staff was more than friendly and patient when ordering and making recommendations. After ordering, you'll wait outside until your number is displayed on a small screen over the window. When called, you'll choose your condiments and any other available toppings. 
The first item my friend and I ordered was the Squid-Ink Hotdog ($3.99). It includes half mozzarella, half hot dog, and squid-ink batter, with sugar, ketchup and honey mustard as toppings I added based on employee recommendation. The idea of squid-ink in a hot dog already had me curious, as it stood out on the menu with recommendations from friends.  The sliced hot dog at the bottom to imitate squid tentacles was a cute detail I enjoyed. This was my first time trying squid-ink, and it was definitely a different, saltier flavor that I enjoyed. All of the toppings mixed together well, and there was a perfect balance between sweet and savory.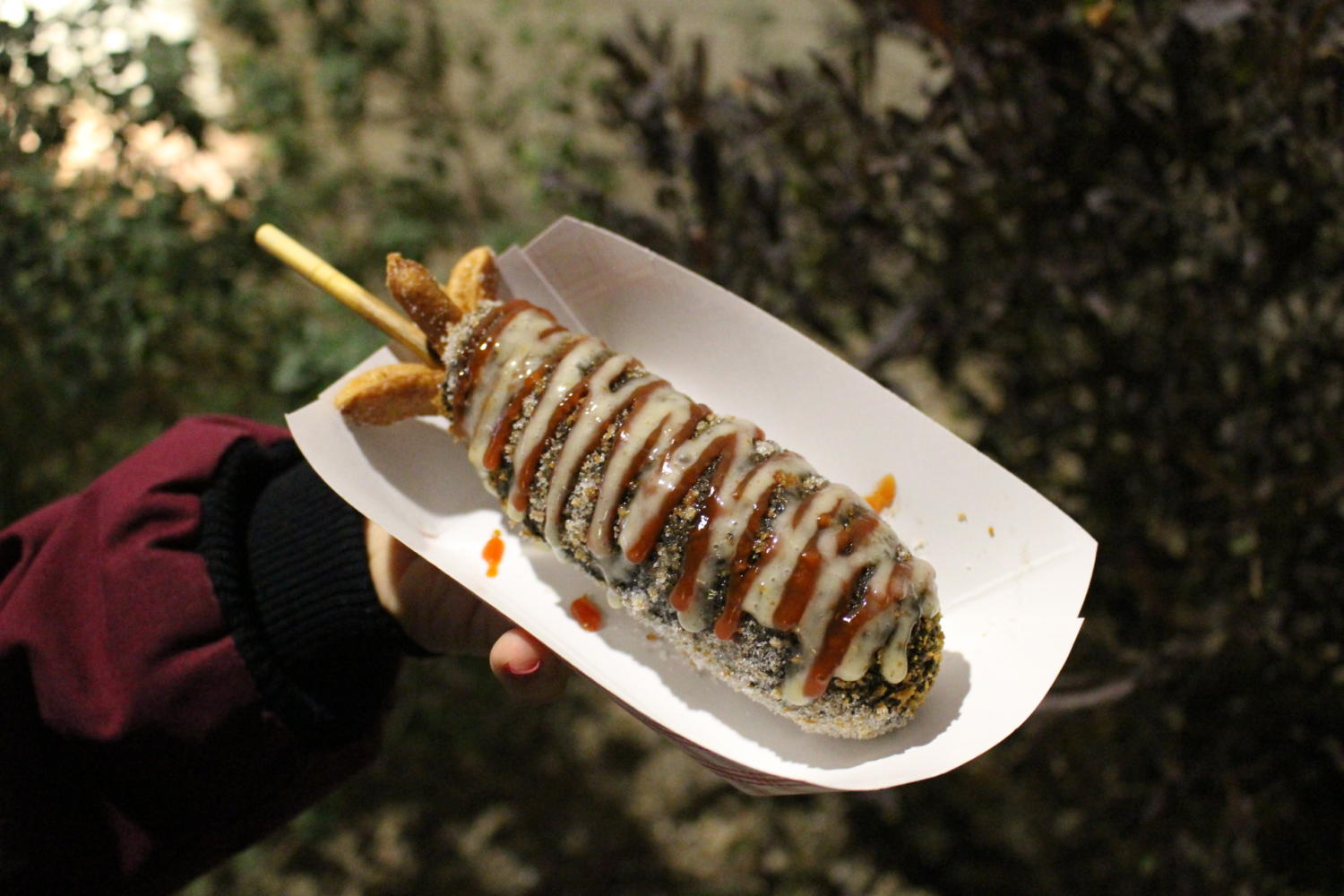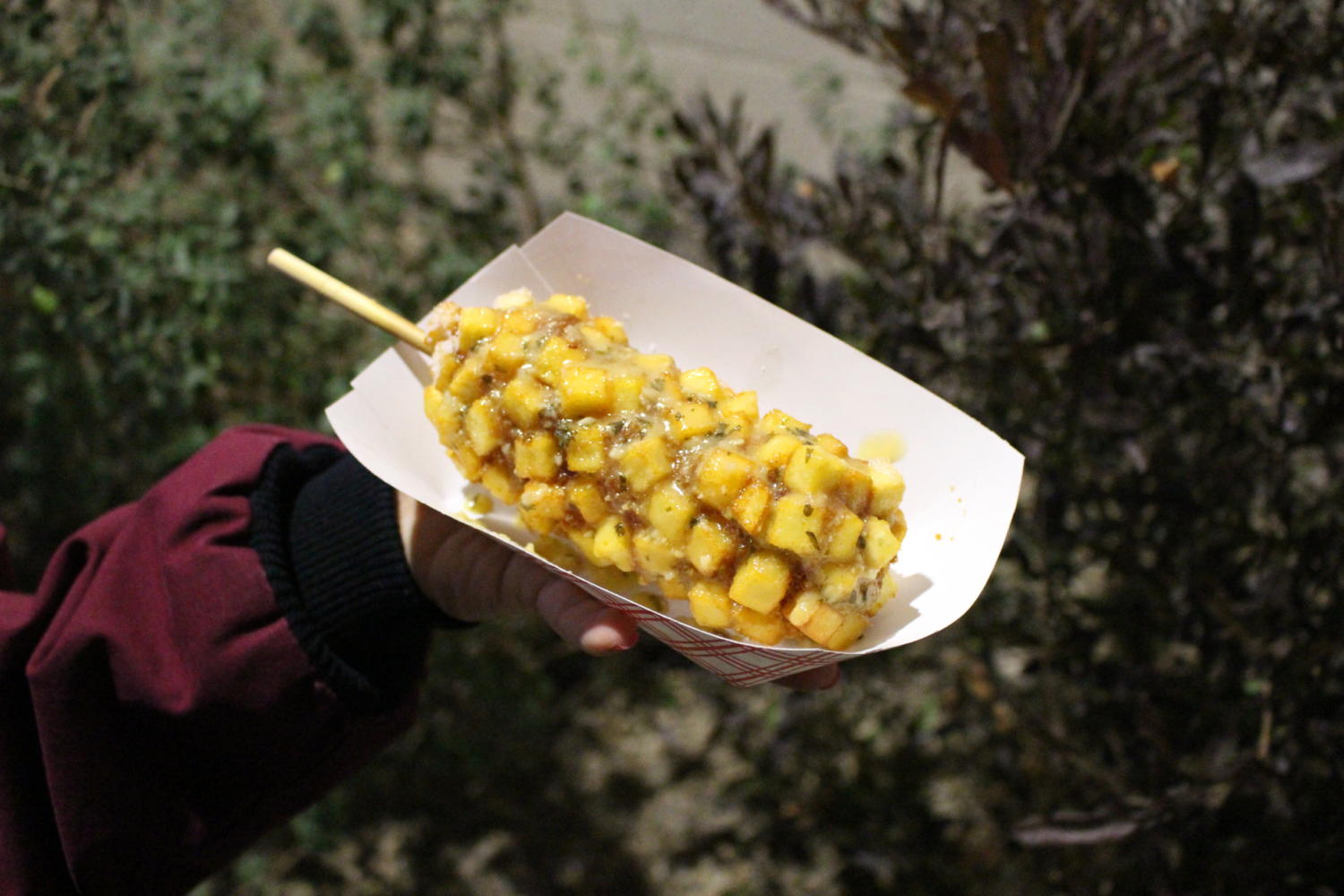 Next, we ordered the Potato Mozza ($4.99), which is normally my go-to at other Korean corn dog restaurants. This includes mozzarella with potato chunks mixed into the batter, and I added sugar and garlic parmesan as extra toppings. The potatoes were the perfect texture: crispy, instead of soggy like you'd expect from something this large. The mozzarella was stretchy and gooey, and was like eating a giant mozzarella stick, which I loved. Without the slight sweetness from the sugar or the extra kick from the garlic parmesan, I don't think the corn dog would have been complete. 
To finish everything off, we ordered the Rice Cake ($3.49) which was something I'd been wanting to try for a while. It was a fried rice cake, with sugar and honey butter I added as the extra toppings. It was a bit more on the sweet side compared to the other menu items, but not my favorite version I've had with rice cake. Though it was a nice chewy treat, it was a little drier than I expected. I've learned that I prefer rice cake in gooey desserts or soupier dishes like tteok-bokki instead of the deep-fried batter like this one had. 
Although each corn dog doesn't look very big, it was filling as I was able to get full from a little over half of one (to be fair, I do have a smaller appetite). For the price and welcoming staff, you can't be disappointed, and I'll be returning soon for these crunchy, cheesy goodies.