Inside the Wynn Plaza sits a calm, quiet cafe called Urth Caffe. Decorated with a beautiful water fountain and the azure, white and caramel theme makes this little place alluring along with its coffee, teas, and baked goods. Cakes and croissants garnished with flowers sit delicately inside display cases and hanging from the ceiling are menus for the beverages. Each of the items sold at Urth Caffe are sustainable and locally sourced, andI thought it would be worth-while to try it out.
Urth Caffe didn't begin with many options, like teas, smoothies, and cakes. It started back in 1989 when a couple named Jilla and Shallom Berkman crossed paths with a man named Jorge who owned a farm in Peru that produced organic, heirloom coffee. The Berkmans were moved by this and decided to help him. They found ways to use sustainable and non-destructive methods to produce coffee, and in turn, they became coffee pioneers. In 1994, they opened their first cafe in Melrose, CA, selling only a few coffee items. Ever since then, they have expanded to teas and baked goods and have continued to open locations worldwide. 
Now, it's onto trying out their products. To make it fair, I ordered one item from their most popular categories: coffee, tea and pastries. I ordered the Organic Green Rose Boba on ice ($7.95), the New York Mini Cheesecake ($8.95) and a medium-sized Italian Cappuccino ($5.95).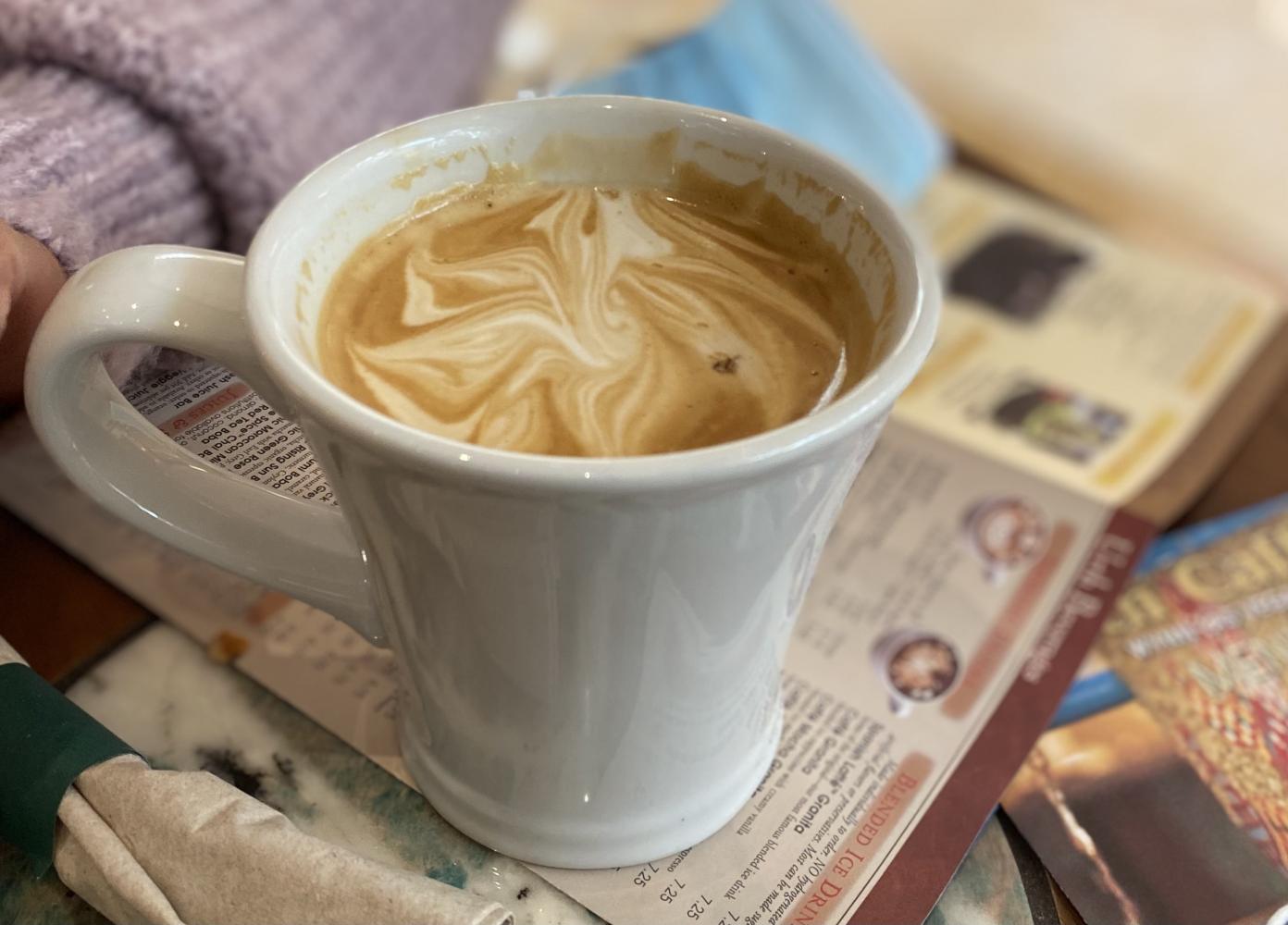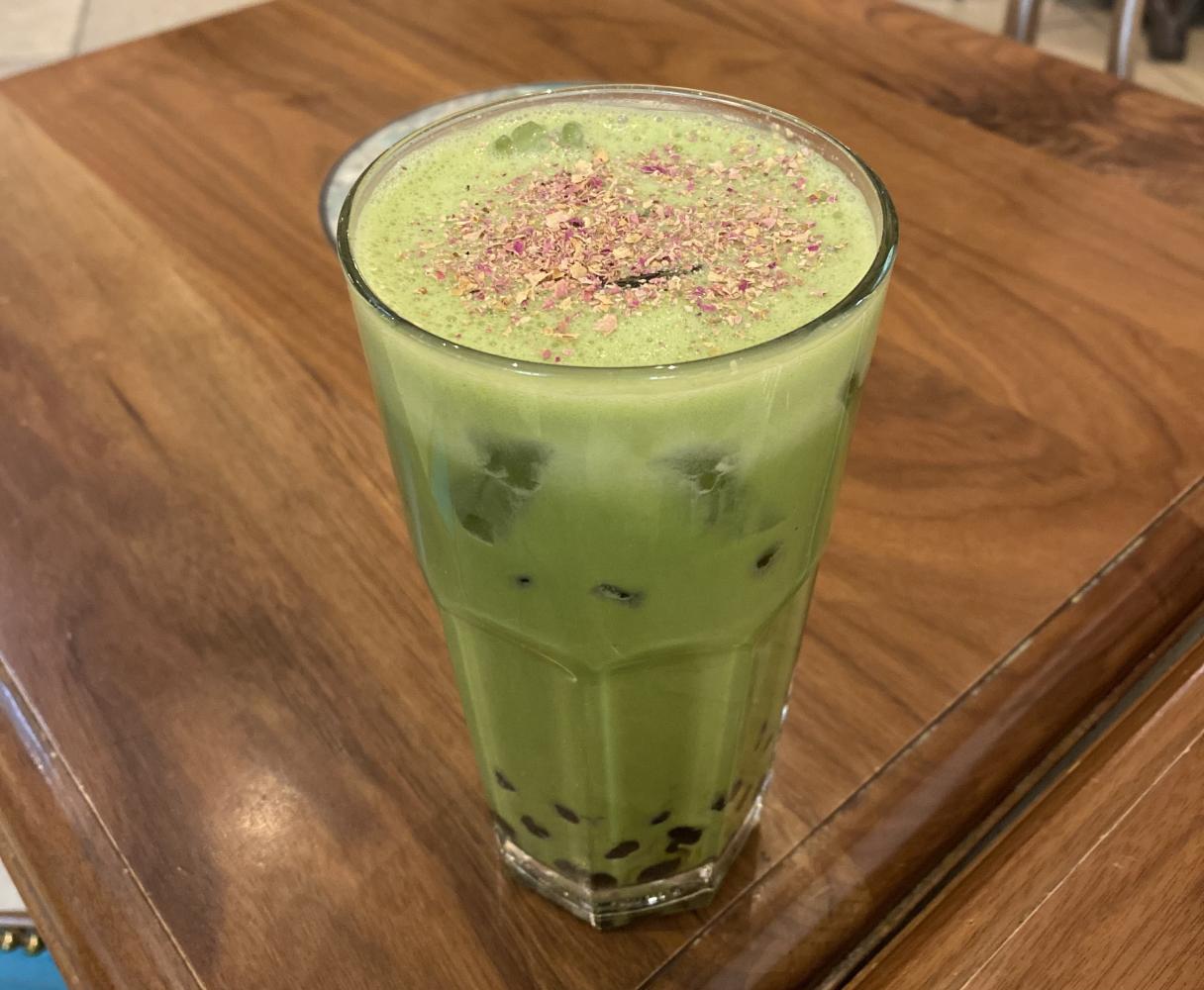 The boba tea and coffee came to my table within 10 minutes. I tried the tea first because it looked more appealing. The drink had a milky, light green color with dried, ground-down rose petals sprinkled on top and boba pearls sitting at the bottom. The tea had a unique taste, unlike anything I have tried before. It included a mix of organic matcha, earl grey, pink rose and oat milk teas. The matcha was the most prominent in the drink, but the earl grey and rose were noticeable in the aftertaste which made for a delightfully bitter drink. The boba was soft all the way through and didn't stick to my teeth. Hands down, this boba tea is the best I have ever had and I'm definitely going back to Urth Caffe for this alone.
Before trying the New York Cheesecake, I drank some water to cleanse my palette. The cheesecake was small considering the somewhat steep price. There was a strawberry on top with buttercream and glaze gluing it to the cake. It was a pleasing presentation and tasted amazing. The cheesecake was creamy, smooth and soft. The flavor was light, and the strawberry on top wasn't frozen solid when I bit into it, unlike some others I've tasted. It was overall pretty decent, but I don't believe it's worth the price.
Last, I drank the Italian Cappuccino. There was latte art on top of it and the fragrance was strong. When I first sipped the cappuccino, I was delighted to taste a mix of the foam and the coffee, rather than just a mouthful of foam. It tasted a little strong because of the espresso, but it was delicious. The cappuccino was creamy and airy, yet it was still flavorful. Overall, this coffee tasted fantastic and added in with the cheesecake and boba tea I tried, the entire order was more than satisfactory. 
Although the prices are a little high, it was well worth it because I found a few items I really enjoyed. The tea wasn't overfilling, and the boba was high quality, the cheesecake had a nice, smooth texture and the cappuccino was balanced. Everything tasted wonderful, so I will be coming back to Urth Caffe to try even more of their products.
Could not load the poll. Could not load the poll.