Graphic Design III students create yearbook covers for West Prep Academy
Designing front, back, spine, for Behind the Scenes theme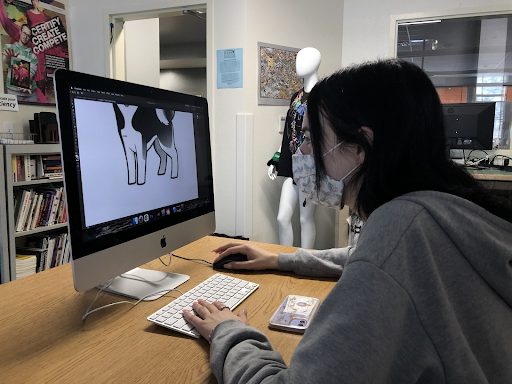 Helping out a yearbook program in need, Graphic Design III teacher Jeffrey Ball has assigned his students to create a yearbook cover for West Prep Academy.
"They're working for an actual client and this is a real life exercise," Ball said. "Even just to see your classmates succeed and to see the person sitting next to you, or in the same class as you, to see their work go from wherever it started to actually being published and turn into a real world object, I think is awesome." 
Because of SWCTA students' reputation as hard workers, West Prep Academy chose them to help with completing their yearbook. Students are going to be creating a front, back, and spine for WPA. The theme the students must incorporate is "Behind the Scenes," and they must include husky imagery to represent the school mascot.
"At my previous school, Mr. LaPorte mentored me and the students in the yearbook program," West Prep yearbook adviser Paige Dixon said. "When I moved schools, I had the task of creating a brand new yearbook program, as West Prep has not had one. Mr. LaPorte introduced me to Mr. Ball and it was an opportunity I just could not pass up."
Students in Graphic Design III began rough sketches for the project on October 12, having to go through two rounds of checking, one from Mr. Ball, and one from a peer. 
"I wanted them to go through me first because [during] first quarter, we didn't have a whole lot of success with students staying on task and things. I wanted to make sure that they were making appropriate progress and to make sure that we were kind of on the same page as [for] what the topic was," Ball said. "We're working without direct contact with our client. We just have some basic information that they've given us, so after our first submissions they will be able to give us feedback and narrow down our selection. If we were an actual design company, we would do the exact same thing."
This project was due on November 16, and students compiled a slideshow to present to the clients. Students are waiting for the clients to then leave feedback directly on the slideshow for them to know who is and isn't moving forward.
"I'm excited to see where this goes," Jones said. "I've worked really hard on this and have been balancing it between other schoolwork, my job, and college applications, so it would be a great opportunity to actually get published. I would love to see something I made be a real thing going into print."