New truancy law adds steps to acquiring drivers license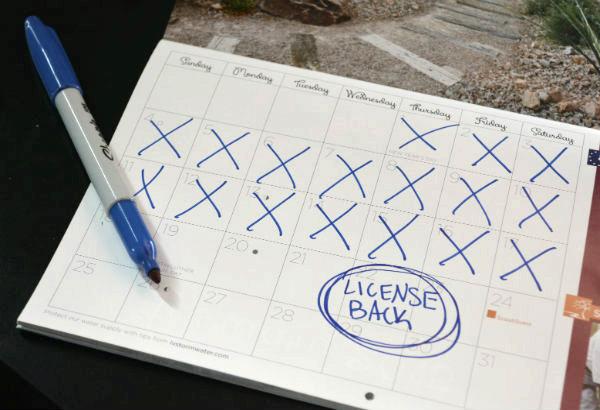 Once you reach the dawn of teenage-dom, one of your first thoughts is the possibility of earning your learner's permit or driver's license. But imagine, you wait hours in line to take the test, feel butterflies when actually taking the test, and know afterward you did perfectly. All of this only to find that you are not eligible to get your driver's license. You were absent too many times this school year. Guess you will have to wait another 30 days to try again.

Effective Jan. 1, students under the age of 18 may have their license suspended or lose the ability to earn their driver's license or learner's permit if they have 10 or more unexcused absences in a non-block schedule school and seven unapproved absences in a block schedule school.

When applying for a Nevada driver's license and learner's permit, students must submit a form signed by a school official to the Department of Motor Vehicles (DMV). Sponsored by Sen. Aaron Ford, individuals interested in obtaining these documents must meet the attendance requirements.

"It's [the law] smart because it keeps students from ditching and it helps students do better in school and progress more," junior Leonardo Castro said.

With over 120,000 students considered truant during the 2013-14 school year in Clark County, the law was created to lessen the number of truancies and dropouts, with its goal centered around reducing the number of truants. Ford hopes the law will be a motivator for students to attend school and hold onto their license, the Las Vegas Sun reported.

"In my opinion, only time will tell whether or not losing or obtaining your license is a motivational tool. Absences are not a problem here. District wide, I think it will be interesting what the data will show, and see if it affects change," Dean Sherrae Nelson said.

Currently, Clark County School District is one of the largest school districts in America, with one of the highest truancy and dropout rates. On March 25, 2013, Ford proposed Senate Bill 269 as a way to lower Nevada's rank on the truancy list.

"It's a great new law. It will help students attend class regularly, therefore receiving continuous education. It will make students think twice about missing a class, I know it did for me," freshman Alexa Dizon said.

However, a law similar to S.B. 269 already exists in Nevada. Within the juvenile judicial system, Nevada may suspend a student's driver's license for being habitually truant.

"This proposal takes the existing law a step further and requires proof of school attendance and passing grades for a student to receive and renew his or her driver's license," Ford said.

Additionally, there are currently 26 other states that implement a similar law used by Clark County. Florida, for example, suspends the driver's license or learner's permit of students absent for 15 or more days. In New Mexico, a letter is sent home to a student that has been absent 10 or more days, but if there is no reply within 30 days, the DMV is contacted to handle a license suspension.

"It should be altered to give students progressive consequences instead of going straight to suspension when being absent a number of times. It would be reasonable to give a student the chance to redeem themselves from their current list of absences in school," junior Ruffa Fortin said.

With 27 states enacting a law regarding suspended licenses, there are 23 states left that do not have a law pertaining to this matter. Colorado is one of them; truants may go to juvenile court, undergo house arrest or be assigned a truancy officer when deemed habitually truant.

"The federal court has the largest say on truancy due to the fact that they create the laws. If the court decides that we have to stay in school to keep our license, then we should," senior Andy Do said.

To keep track of how successful the law is in Nevada, Ford hopes to find the number of truants in each school district. There must be a report that includes the number of habitually truant students reported to school police and to an advisory board, as well as the number of students sanctioned under the provisions of the legislature.
As a state senator, and more importantly as a father, I want to empower our students to take responsibility for their education. – Senator Aaron Ford
"I think they will be fairly successful being [tracking truants] being that they require us to provide proof of our attendance records prior to allowing us to get our permits or licenses," junior Brittany Grossi said.
On the other hand, there have been flags raised over the law. For one, the school districts have not quite coordinated how the law will be enforced. School officials are also concerned that parents will not be engaged in ensuring children attend school.
"I feel like the law might just bring in more absences. Some students are forced to drive to school because they don't have any other way to get there and taking away their licenses would only prevent them from being able to come to school," junior Amanuel Ghebremicael said.
In regards to the new law, the responses have ranged from full-fledged support to strong opposition. However, since the law was just recently issued, only time will tell how effective a suspended license will have on the rate of truancy.
"Assuming there's a semester or year interval that the student has to wait through in order to be eligible to apply for a permit again, I agree with the new law. It isn't that hard to not miss school," sophomore Dyann Mones said.