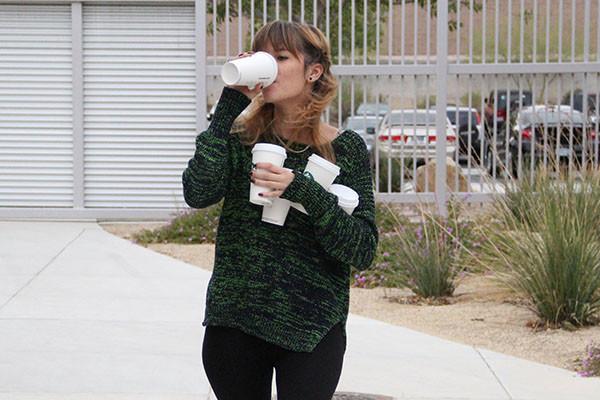 As a little girl, I would always see young, trendy people sitting in posh Romanian cafes, sipping on fancy coffees and laughing. I never thought I would be one of those people, except for the trendy, posh, and fancy part. My scenario goes a little more like this: tired eyes, frizzy hair, no makeup, and exhaustion coming out of my pores.
Quite frankly, coffee is my savior. Coffee can start your day, help you continue it, and/or put an end to your restlessness. Personally, I cannot live without coffee. And although I am a coffee savvy person, I know about the potential harm of caffeine.
To me, coffee is the reward of hard work. It is the symbol of waking up with puffy eyes, bed hair, and suddenly feeling squeaky clean from the caffeine rushing through your veins. To the common businessman, coffee could be the savior of their deadline. To the common student, coffee is the reason for their assignment being on time. Yet, to a small child, coffee is the bitter-smelling liquid that their parents guzzle by the gallon.
[vision_pullquote style="3″ align=""] Therefore, I did what any strong, self respecting adult would do: I did a cleanse. No coffee for a month. [/vision_pullquote]
In a sense, coffee is a right of passage. Personally, when I started drinking coffee, it was my way of realizing that my days of natural energy were over. I started depending on coffee to get me up in the morning, and take me through my day without crashing. The more coffee I would have, the better I would feel, but the less I would sleep, and the less I was able to function. I was a rabbit in a fox's trap.
Initially, I was not fully aware of the health risks that coffee had on me, but I knew I was feeling like I had just climbed the highest mountain, and then tumbled down, face first. I knew my addiction had to stop immediately, yet coffee's pull was almost irresistible. Therefore, I did what any strong, self respecting adult would do: I did a cleanse. No coffee for a month.
I then promptly failed after three days.
I realized that moderation is key when it comes to all things, especially coffee. Sure, it is okay to have an addiction to journalism, working out, or reading. But, even a healthy addiction is an addiction nevertheless. Someone should never allow an addiction to get to the point of it taking over their lives. I know coffee took over my life a little bit, but it is important that I am recovered now.
One cannot doubt that coffee can be very beneficial throughout a long and tiring day, while it can also be hazardous to your health if it is used excessively for an extensive amount of time. Coffee can be a savior, or a destroyer. A blank or a blank.