What We Should Learn from HOCO This Year
Embarrassing as it can be, perhaps the best thing to do is take a risk next year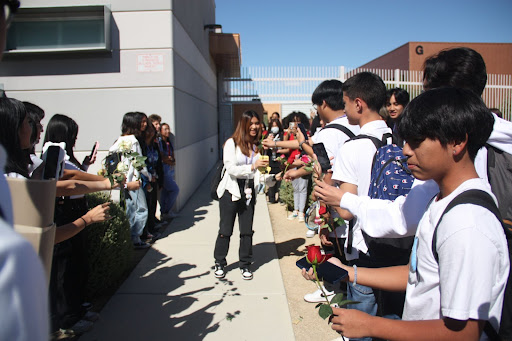 If I were to go around and ask a sample of random people what someone my age should focus on in high school, I'm confident a vast majority of them would enlighten me with something along the lines of "just focus on having fun." To an extent- they're not wrong about this: high school offers some refuge from the early stages of adult life that few recent graduates are satisfied with.  
There are negative aspects to this concept of "fun," however. Out of every available choice, the worst candidate for a "fun" activity to welcome touch-deprived high school students back from a two-month summer break is the archaic, ritualistic homecoming proposal process.
The pressure to find a homecoming date this season, and no effort was spared for these extravagant proposals, whose ridiculousness often rivals that of gender reveal parties. Handmade posters, pricey gifts, and the incredible social pressure from dozens of supporting friends are the most favored aids to the ritual-like act of public proposing. With all of these factors encouraging somebody to respond in an extremely specific way, it's no wonder that you've never heard anything but an elated "YES!" this homecoming season.
At first glance, it wasn't really obvious why public rejections were so few and far between this season; after a full month of watching proposals and asking other students, though, I've developed a theory: to understand why everyone seems to have a better love life than you, we first have to split up proposals into three categories: private, pre-approved, and spontaneous. 
Private is what most homecoming proposals would be in an ideal world – if you've asked somebody in private and got the yes, then why do it again in public? Pre-approved proposals are the extension of private proposals, consisting of those that have already been approved or have been met with a heavily implied "yes." Couples who were together before the event typically fall into this category as well – or at least most of them do. 
Spontaneous proposals are just as they sound: unexpected, unprompted, and out of nowhere. In most circumstances, the spontaneous proposal is not actually that much different from the pre-approved proposal, because there's almost always at least a sense of obligatory pity to give the green light. While this final category starts to get closer to what the public really wants to see, we have to dig a little deeper to find where the actual excitement is. 
As you would expect, the most sought-after of all the proposals is, of course- the spontaneous acquaintance- when somebody you barely know, asks you completely out of nowhere. There is nothing more exhilarating for sadistic high school students than witnessing a situation which holds the prospect of public embarrassment, even if it probably won't happen. 
While there is definitely a niche minority of the student body that is honestly interested in the personal and romantic well-being of their friends, and watch these proposals solely for those reasons, anybody who really thinks that's why everyone else watches has never been to a high school. In these scenarios, the probability of rejection can sometimes even step from the "possible" category to the "almost likely" category- and there's nothing that tickles the schadenfreude instinct of high schoolers more than a grand spectacle of rejection. 
If you didn't get yourself a date this homecoming season- don't feel so bad about it. This is the reality of high school proposals: most are staged, and the ones that do fail almost never fail in the spectacular fashion that high schoolers expect. In a way, we're losing on both fronts since homecoming proposals have become increasingly stale, especially since most students decided taking a risk wasn't fun anymore. 
I understand why couples wanted to display their affection for each other to an audience, as gross as it was. In some way, perhaps it can be interpreted as a statement of liberation from judgment, that you're not afraid of the way you are perceived around your partner. But I don't prefer this interpretation: on a more factual basis, the artificially inflated levels of romantic success students observe could be another point of comparison contributing to perceived increases of anxiety and depression among teens. On a lower level, it takes away the fun from proposing: when has anything without a real risk ever been exciting?
There's definitely lessons to be learned from this homecoming season. Here's the advice I would give to anyone thinking about their upcoming prom proposal this spring: if you've asked your partner in private- keep it private. If you want to take a real risk, bust out the art supplies, buy those tacky gifts, and gather all the friends you can think of- because you're going to need them.