EDITORIAL: South Dakota's bad medicine for transgender youth
Hate in the Mount Rushmore state
Dana Martin. Claire Legato. Paris Cameron. Zoe Spears.
All names of just a few of the victims of transgender hate crimes in 2019. The sort of dehumanization and delegitimization of trans people that leads to these horrific attacks doesn't come from thin air. It comes from legislative and political attacks on trans people that treat them as sub-human. Case in point: recent House Bill 1057 passed in the South Dakota House prohibiting gender-reaffirming surgery for minors with gender dysphoria.
We believe that bans on the abilities of trans people to live their lives are harmful and serve little purpose other than attacking people who are already marginalized.
The South Dakota bill seems to be aimed directly at puberty blockers for young trans people, one of the largest medical treatments for trans youth, other than reassignment surgery. While the bill had died in the South Dakota senate, states like Ohio are still poised to pass similar bans. Puberty blockers delay the body changes a biological male or biological female would see during adolescence, allowing children struggling with their gender identity more time to decide if they want to medically transition.
Puberty blockers have been the target of plenty of criticism from many mainstream figures. Supporters of legislation like South Dakota's, like Texas Governor Greg Abbott view puberty blockers as essentially "chemical castration," and some go so far as to argue that allowing children to socially transition by adopting clothes and a name associated with their gender is a form of child abuse.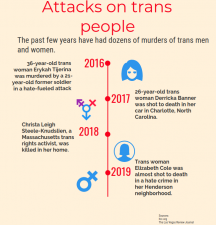 What puberty blocker detractors ignore, however, is the breadth of scientific research which says the exact opposite: safe puberty blockers medications are shown to substantially decrease suicide rates among trans youth. Moreover, a meta-analysis from Cornell University found that the vast majority of studies on the subject showed that gender-affirming surgery had positive effects on the person receiving the surgery. There's virtually no evidence that allowing young people to socially transition harms them.
None of this will stop legislators, however, who view trans people as an easy political target to scapegoat and abuse. This abuse is also aided and abetted by a media apparatus that struggles with dealing with transphobia. Almost 80% of trans people feel the coverage of them is inaccurate. This number isn't helped by articles like The Atlantic cover story on trans children, which flirted with the myth that social media can peer pressure kids into believing that they're trans.
From hallways in Nevada, to every other state in our union, trans people are under attack from those who seek to erase them. Just last year, trans woman Elizabeth Cole was almost shot to death in a hate crime in her Henderson neighborhood. Hate knows no state border, but hateful legislation can promote hateful beliefs that endanger trans people.
Protections for trans youth must be enacted, such as expanded medical care for children and teenagers dealing with gender dysphoria. These policies will serve trans people in two ways: one, it will provide crucial medical care for trans youth who may not have financial access to it. Two, it will promote the understanding that trans people are real and their concerns must be listened to.
We can't undo the damage done to the victims of transphobia. What we can do, however, is ensure that the legislation that harms trans people do not pass, and attempts to erase them fail.