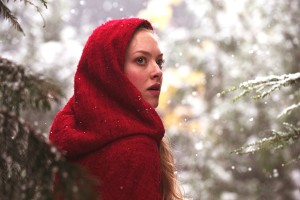 Catherine Hardwicke, director of Twilight, is the mastermind behind the revival of the classic Little Red Riding fairytale. The remake, Red Riding Hood, has an exciting plot, mysterious characters, and a mind-blowing twist. The filming, acting, and overall feel of the movie was nothing less than beautiful.
he movie appeals to the typical teen by adding a spark of romance into the story. The "bad boy," Peter, played by Shiloh Fernandez, was Valerie's one and only true love. Although, Valerie's parents planned on an arranged marriage with Henry, the rich, pretty boy of the town, who is played by Max Irons. The men work together to protect Valerie as well as their town.
The beautiful Amanda Seyfried plays Valerie or "Red". She perfectly portrays the sense of fear and confusion that the wolf brought to her town. Eventually, you find out the wolf is someone living in the village. The mystery as to who the wolf is, continues throughout the entire film.
Overall, the movie was good. It provided viewers with mystery and enough romance to keep it alive. If you're into classic fairytales with a dark twist, then this is the movie for you.