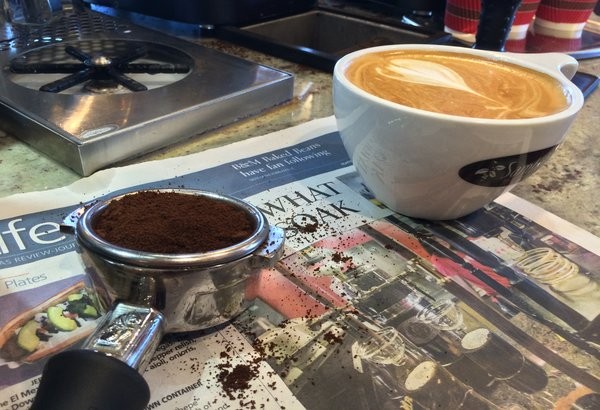 Two pumps of Nutella, pull the shot, steam the milk, pour it in (make it look pretty) and repeat. Write words, manage staff, post stories, take photos (and make them look pretty) and repeat.
The latter have been two lines that have made up the entirety of my life for the past few months. When I started working at my current job as a barista, I was both scared and excited to get paid for my love for coffee. All of a sudden, I was living in a world among adults and people who worked to live. I began seeing such a large variety of individuals, whether they were customers or coworkers. Slowly, I grew alongside the people around me, who all seemed so grown already.
As I lived vicariously through the different ways of steaming milk in accordance to drinks and the many ways of pulling shots, my year of journalism was coming to an end, but as my summer progressed, I began noticing similarities between the staff at my job and my journalism staff.
For instance, there is a constant demand for advancement. In the scholastic journalism environment, there is always room for improvement. When you write a great story and win an award for it, you can always write a greater one. When you make a smooth cup of coffee with beautiful latte art (a concept I am still trying to refine my skills for), you can always make an even smoother cup of coffee, with even more beautiful latte art. There is no extent that will label a journalist as a great one, much like there isn't one for baristas.
[vision_pullquote style="1″ align=""] There is no extent that will label a journalist as a great one, much like there isn't one for baristas. [/vision_pullquote]
Due to the constant push of patience and sanity that barista training required, I began believing that every person should be a barista at least once in their lives. Everything about applying skills in pressure-filled situations and working diligently to achieve the latter made me realize that working under pressure is something I will need to achieve whether I am working in a cafe, in a hospital, or in a newsroom.
The constant demand for meeting deadlines and writing stories that suit the community is similar to making the perfect cup of coffee. Of course, not in the same time frame, but creating something in the best way possible is the closest I will ever get to perfection. My goal is not that, however, and I did not acquire a job because I believed I deserved to be paid for my love for coffee (even though the extra buck is not bad). Instead, I chose to be hired in a cafe because of the same reason as I joined journalism in the seventh grade: because I desired to learn and absorb more information.
Additionally, balancing a job, school, and a social life is not as hard as people judge it to be, as long as time management is not an issue. After experiencing it all, it is not too shabby. Having a job has the ability of teaching one qualities of responsibility unlike any other experience. On the other hand, going to school trains one in basics of education as a whole, and a social life is a relief all in itself. I am a firm believer in being able to balance aspects of life as they should be, even if there is a little extra caffeine in my pores.