Prevent the Awakening of the Fell Dragon in 'Fire Emblem Engage'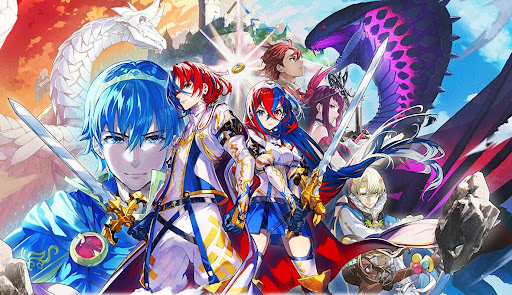 Fire Emblem has a long and rich history of games dating back to 1990, releasing over a dozen games in the series thus far. While I have only recently joined the Fire Emblem fandom at the edition of Fire Emblem: Three Houses, I quickly became invested in the series and was ecstatic about the release of Fire Emblem Engage. 
After a millennium, the main character Alear wakes up to learn a dark evil, called the fell dragon, has awoken and must be defeated. Along the way, Alear is assisted by the spirits of characters from past games who are contained within rings. While it may be cliche, it is far from boring as there are many side plots for the many characters that aid in creating a sense of uniqueness. 

The characters are crucial to the gameplay as this installment brings back many characters from past games. These characters serve as guiding spirits who lend players strength from their ethereal forms, while at the same time introducing a whole line up of diverse and interesting characters that each add something new to the line up. While I found some characters to be obnoxious, it was never to a point of making me want to quit the game. Instead, I found it added to the charm of the game as it created some sense of realism.
As is standard for a Fire Emblem game, the majority of the gameplay lies in completing strategic battles. The difficulty for battles is hit or miss. Sometimes it is perfect, but much of the time it is either too hard or too easy. It made for a frustrating game as it was impossible to gauge if I was going to be prepared or not for the next battle. 
Similarly, the graphics are also standard for a Fire Emblem game. They are of high quality and have minimal issues. There were a few times while running around that some of the background assets wouldn't fully load. But the issues were never big enough to detract from the game play. The battle graphics themselves were also interesting and dynamic, but got repetitive especially for long time fans. Fortunately, that is easily fixed by going into settings and simply turning off battle graphics. 
The musical score is appealing as it is energetic and creates a unique atmosphere for each section. The same applies to the sound effects: they are well done and add to the realism and depth of the game. I especially enjoy the battle sound effects from the sword clashing to the magic casting.
Unfortunately, this will not replace "Fire Emblem: Three Houses" as my favorite Fire Emblem game, but it will definitely enter my rotation of good games to play. With its familiar characters, dynamic music, and smooth overall gameplay, "Fire Emblem Engage" is worth checking out.