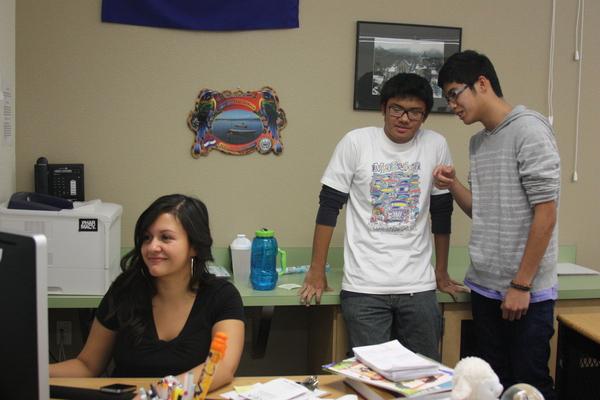 A huge part of my life is centered around my job. I have always had wonderful managers and other fellow employees that make a workday worthwhile and far less miserable. They have a way of finishing all that needs to be done, working hard, helping our business, while still making it an enjoyable and pleasant work environment. I talk to them as if they are my friends, but they make sure the friend/boss line is not crossed.
Some people do not know the limits of this line, especially the work environment's etiquette. If you are simply annoyed by another's action that are not negatively affecting the workplace, leave it be. When I started my first job, I had to distinguish this line. Although, I was taken aback by the closeness of the employees and managers at my store, I knew I could not be too open with them and had to maintain a decent work etiquette. Being the "new girl" can be tricky and you have to be sure not to cross any forbidden lines while still creating positive relationships with your coworkers.
But, I have heard of many issues where an employee has to deal with a new hire that ignites a wildfire where there was nothing to be burnt in the first place. It is far more than just gossiping with fellow employees, it is disrespect that causes problems.
I'll use my friend as an example who was immediately loved by her new manager that transferred from another store. She never has issues with others; she kept to herself rather than discussing her issues with anyone in the workplace.
Sadly, anytime my friend works with this new employee, she is constantly bad mouthing another manager that she hardly knows. More than a few of my friend's co-workers have been burdened with the new manager's persistent gossip and bad mouthing. My friend is becoming increasingly annoyed and the new hire's attitude is becoming completely unbearable and making their store a place of stress and constant revenge.
The gossip while working is not appropriate. Issues such as these should be taken to a manager. Although, the person complaining needs to make sure that it is a valid reason and not a rash judgement that was determined upon introduction to one another.
For my own future reference and to learn from my friend's experience, I am hoping to take any future issue, such as this, straight to my boss. I feel as if something of this volume is serious enough because it is truly affecting the way the staff works together, which, in return, affects their attitudes and how they treat their customers. I believe anyone with a job or career should do what needs to be done in the workplace and have fun within the boundaries of work and play.